When it comes to elevating a humble pork chop to something extraordinary, it's all about the sauce. And let me tell you, this Pork Chops with Apricot Brandy Sauce recipe does exactly that. It's like taking a regular weekday dinner and giving it a weekend makeover. You'll learn not just to cook a pork chop perfectly but also to create a sauce that's so good, you'll want to lick the plate clean.
In this Pork Chops with Apricot Brandy Sauce recipe, you'll learn:
Soak dried apricots in brandy to hydrate the apricots and infuse them with flavor
Spice combination of ground ginger and cumin adds warmth, complexity and pairs beautifully with apricot/brandy
How to choose the best type of pork chop for this recipe
How to prevent the pork chops from curling during cooking
Introduction to the flavor profile
I created this recipe with Al Goetze, a Gourmet Chief Spice Buyer for one of the largest spice companies, McCormick. We wanted a warm, earthy flavor profile, and include one of my favorite spirits to cook with, brandy.
Brandy is fruity, woodsy and subtly sweet. I also love the vanilla/caramel notes that come out, especially after letting the alcohol evaporate off in the pan.
We thought a dried apricot, rehydrated with the brandy would give the perfect sweet/sour flavor.
To complement the brandy and apricot, we chose ground ginger and ground cumin, both earthy, warm and just a little spicy.
Cooking with Brandy
Brandy is made from fermented fruit juices – most often grapes, but also apricots, peach and apples. The fruit is first fermented into wine, distilled into alcohol, then aged in barrels.
You can choose to use standard brandy (made from grapes) or flavored brandy (from other fruits). If you are using flavored brandy, look for a brand that doesn't NOT include additional sweeteners or artificial flavors. Those sticky-sweet flavored brandies are more like liqueurs, and just too sweet to cook with.
You don't need expensive brandy to cook with (save the good stuff for sipping). The more aged a brandy is, the more mellow and smooth the taste.
Flavoring the Apricots
I like using dried apricots (another favorite dried fruit that I enjoy cooking with is dried cherries). They are plentiful all year round, and affordable.
Chop up the dried apricots a bit, then soak them in brandy for 15 minutes, all the way up to….forever.
If you have a spare, clean jar lying around (I always save empty mustard jars for this reason), fill the jar with apricots. Cover with brandy. Refrigerate until needed. It will last forever.
I infuse dried cherries, apricots and raisins with brandy – and knead them to homemade breads, along with walnuts or hazelnuts. Best. bread. ever.
Ground Ginger and Cumin
Cumin has a very distinctive flavor is described as slightly bitter and warm, with strong, earthy notes. A quick whiff of cumin and you instantly know its identity.
The spice is the Did you know that cumin is among the top 10 selling spices in the U.S?
That's not so surprising if you think about how important cumin is to some of our favorite flavors, like taco seasoning, chili powder and other Mexican and Southwest-inspired dishes.
Ground ginger is warm, spicy, sweet and zesty. Surprisingly, the flavor profile is incredibly different than in its original fresh form, which is pungent, sharp and spicy.
If a recipe calls for fresh ginger, and you use ground ginger, it just wouldn't taste the same or even be close!
What type of pork chops to use in this recipe?
There are many types of pork cuts: center-cut loin chop, rib chop, sirloin chop, shoulder chops, are just a few.
The cut depends on what part of the pork loin is it carved from.
A center-cut loin chop has a T-shaped bone. Rib chops have the distinctive rib attached. Shoulder chops have more both light and darker colored meat, with some connective tissue running through the meat, and are cheaper (but have gristle and is best for longer braises)
This recipe is quick-cooking, so center cut loin chop, rib chop and boneless chop work great. My favorite is the RIB CHOP, with a little bit of fat around the edges.
Lean pork chops can dry out pretty easily in the pan, and the bone gives a little more protection. Meat this is next to bone is generally more tender and juicy.
If you use boneless, make sure there's some fat – otherwise, you might want to brine the boneless pork chop before cooking to prevent dry, tough meat.
How to prevent pork chops from curling during cooking
Pork chops tend to curl when cooked in a hot pan. That's because when the fat around the pork chop hits the hot pan and begins to cook, it tends to tighten, or "buckle."
To prevent this, use a sharp knife to gently score a few quick cuts along the fat that runs on the outside of the pork chop.
If you don't have a nice outer ring of fat around the pork chop, gently score one side of the pork chop. Kind of like a cross-hatch # pattern. This will also prevent curling.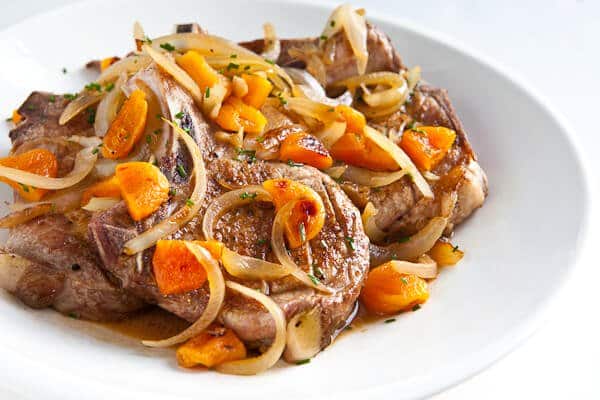 Pork Chops with Apricot Brandy Sauce Recipe Step-by-Step
The apricots take a nice little bath in brandy.
the pork chops are gently scored on one side or along the fat that is on the outside of the pork chop. The scoring prevents the chops from curling up when you cook them.
Ground ginger, ground cumin, salt and pepper are mixed together and then sprinkled on the pork chops on both sides.
In a large frying pan (I like my large cast iron pan) – sear the pork chops both sides, and remove them when they are almost, but not quite cooked through. We'll finish cooking them in separate step. Careful not to use too high of heat – you want a good sear, but you can do this on medium-high heat.
To the pan, add the onions and let them cook until they start to soften. Then add the apricots only (reserve the booze) and let the apricots caramelize a bit.
Booze time! Add the brandy and let the whole thing simmer for just a bit.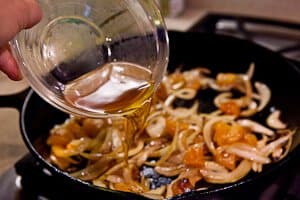 Next add the chicken stock and HEY, WHERE'S MY LAST PHOTO?! uh…errr….snuggle all of the pork chops back in the pan, cover and let cook until pork chops are cooked through. yeah. that's it (nice Photoshop job, eh!?) Oh one more thing – don't overcook the chops. Barely blush-pink on the inside is perfect.
Pork Chops with Apricot Brandy Sauce
Ingredients
1/2

cup

dried apricots

halved or quartered

1/3

cup

brandy

1/2

teaspoon

ground cumin

1/2

teaspoon

ground ginger

1/2

teaspoon

kosher or sea salt

freshly ground black pepper

4

thick-cut bone-in rib pork chops

1

tablespoon

olive oil

2

tablespoons

butter

1

large

onion

sliced

1

cup

chicken broth
Instructions
In a small bowl, soak the apricots in the brandy. This can be done ahead of time, even overnight.

Gently nick or score the outside band of fat on the pork chop, or score crosshatch marks on one side of the pork chop.

Mix together the cumin, ginger, salt and papper. Season the pork chops with the mixture.

Add pork chops, cook 3 minutes each side until browned and not quite cooked all the way through. Remove pork chops to plate (we'll finish cooking the chops in later step).

Return skillet to medium-low heat and add the butter and onions. Gently saute onions for 5 minutes. Make sure they do not burn. Add the dried apricots (try not to add the brandy just yet) and saute another minute. Turn heat to medium-high and pour in the brandy that the apricots were soaked in. Let simmer for 1 minute.

Pour in chicken broth. Return the pork chops back into the pan, snuggling them in the sauce. Cover and cook for 2-3 minutes until the inside of pork chop is barely blush-pink.
Nutrition
Calories:
394
kcal
Carbohydrates:
14
g
Protein:
30
g
Fat:
19
g
Saturated Fat:
7
g
Cholesterol:
105
mg
Sodium:
624
mg
Potassium:
790
mg
Fiber:
2
g
Sugar:
10
g
Vitamin A:
761
IU
Vitamin C:
7
mg
Calcium:
30
mg
Iron:
2
mg
More Pork Chop Recipes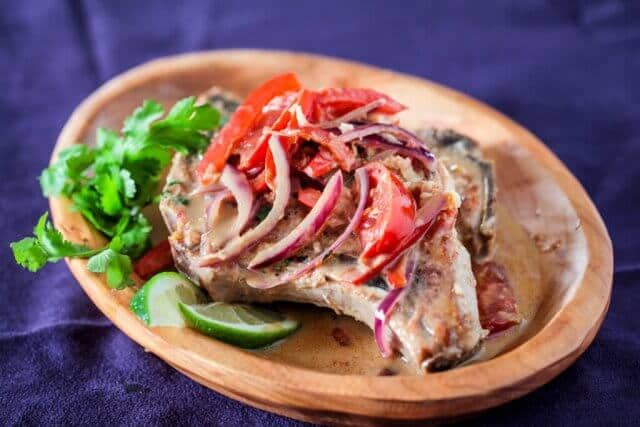 Pork Chops with Thai Flavors: Ginger Coconut Sauce