Crispy Tofu with Citrus Soy + Steamy Kitchen on TV
Steamy Kitchen on ABC7
Last month's appearance on ABC kinda snuck up on me – I didn't have time to solicit votes on which blogger dish to cook! Sorry about that, I ended up making Rice & Noodle's Firecracker Shrimp, a dish that I can practically make in my sleep. Well, I practically cooked it in my sleep – as I had to wake up at 4:00am to get to the station by 5:30am to be on-air at 6:40am. WHEW!
I'm getting better and better each time I go on. There are so many things to remember when you are cooking live on-air – including looking pretty, sounding intelligent, not cutting my fingers off, not burning the food, timing, pacing, not being nervous, more timing (it's not like they can cut a news story just so I can finish my damn Firecracker Shrimp!), smiling and LOOKING AT THE CAMERA (ahem.).
Wanna see the video?

I know wonderful anchorman, Ken Jefferson accidentally said that I'm from the "Steamy Restaurant!" 🙂 Maybe, one day when I have a few million in the bank, I might think about starting a restaurant just for fun. But gosh. I don't think I'm built for the restaurant industry! But perhaps Ken is foreshadowing my millions gazillions. In that case, thank you Ken! Santa will be good to you this year!

Come take a look – when you get to ABC's site, click on the VIDEO LINK right above the photo. The site uses Windows Media Player, so if it doesn't launch, it could be because you don't have Windows Media Player.

The finished dish photo and recipe –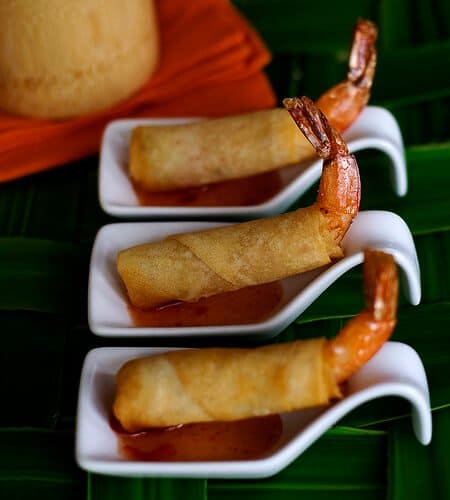 Firecracker Shrimp Recipe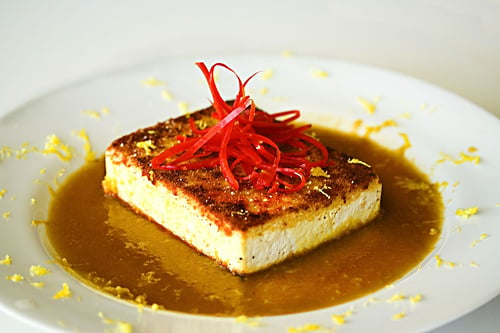 ***
Crispy Tofu with Citrus Soy
Ahhh…finally a tofu recipe. This recipe is from Eric Gower's The Breakaway Cook, which is a wonderful cookbook if you enjoy global flavors. In fact, it inspired me to start playing with
Flavored Salts (that's Sichuan Peppercorn Salt, Citrus Salt and Matcha Green Tea Salt.
Sidenote: these flavored salts would make great holiday presents Make different batches and package them up in pretty little containers with a bow. Read through the comments on the Flavored Salt post – readers have such great suggestions for salt ideas like Lavender Salt, Kaffir Lime Salt and Chocolate Salt (for popcorn). Its inexpensive and easy to make – the combinations are endless!
For this Crispy Tofu with Citrus Soy, I used panko bread crumbs, ginger, orange, lemon, and of course, my Citrus Salt.
Eric uses rice flakes to coat, but I only had panko bread crumbs on hand, which I grounded fine to almost like a powder:
I deviated from Eric's recipe just a bit. Here is his original recipe. It's light, tangy and would be great over Mizuna Greens and Arugula for a salad.
Question for my vegan friends – the recipe uses 1 egg yolk to act as a binder, allowing bread crumbs to stick. What would you suggest using to replace the egg?
Question for my Gluten Free friends – suggestions on replacing the panko bread crumbs?

Crispy Tofu with Citrus Soy
Servings: 2-4 as part of multicourse meal
Prep Time:
Cook Time:
Ingredients:
1 large tofu block (firm), drained and wrapped in paper towels
1/2 tsp fresh grated ginger (use a microplane grater)
zest of 1 lemon
1/4 cup orange juice
1 tbl soy sauce
1 tbl mirin
1/2 tsp rice wine vinegar
1/2 cup panko crumbs, finely ground
salt & pepper
1 egg yolk
Optional ingredients: Citrus Salt, salad greens, Japanese pickled ginger


Directions:
Combine lemon juice, orange juice, soy, mirin, rice wine vinegar and ginger in a small saucepan. Simmer on low for 5 minutes. Season with salt, pepper and lemon zest. Taste. Sometimes I like to add a little more zing...and add in just a touch more rice wine vinegar, especially if I'm serving it with salad.
Slice tofu block in half, horizontally, so you have 2 thinner pieces of tofu. Pat tofu halves dry. Arrange in this order: tofu, egg yolk, panko. You can either dip the block in the egg yolk, or use a large pastry brush to brush on a light layer top and bottom. Press both sides of tofu in the panko firmly. In nonstick skillet, heat 1-2 tbl of cooking oil on med-high heat. When oil is hot, but not smoking, carefully slide in the tofu halves. Do not let them touch. Fry each side 2-4 minutes until you have a nice, brown crust. Manage your heat - you may have to turn your heat up or down depending on your stovetop.
Arrange tofu on plates, spoon a bit of Citrus Soy sauce on top and garnish with Citrus Salt and Japanese Picked Ginger. Serve over salad greens if you wish!