I hope you're enjoying recipes from some wonderful and talented food bloggers from around the world featured here on Steamy Kitchen! Today, I'd like to introduce to you Shulie of Food Wanderings, who is of Indian Jewish ancestry, born and raised in Israel, and has been living here in the U.S. for over half of her life.
What has always caught my eye about her recipes is that they are healthy and naturally light, just with use of fresh ingredients. I love how she features the ingredient collage for each recipe – I could just frame each one of them and hang on the wall of my kitchen.
Shulie is featuring Indian Cabbage with Crispy, Crunchy Chickpeas, a recipe she's adapted from her Mom. Though make sure you check out some of her other recipes like her Mom's Best Kept Secret Dahl Recipe, Mache, Blood Orange and Pomegranate Salad in Citrus, Sumac and Champagne Vinaigrette and Medley of Cherry Tomatoes Salad. ~jaden
***
Recipes and photos by Shulie of Food Wanderings
The dish is super simple with a twist of a delicious crunch. I don't recall having it in my childhood, but my mom on skype impatiently scolded me and said, "you just didn't like it." Growing up, it was my brother's, the third out of six kids, favorite. How impossible I didn't like it?! Especially since I like everything cabbage!
This recipe is full of flavor and the added crunch of slightly fried chickpeas gives this dish its extra uniqueness. The chickpeas are crispy from the outside with a soft inside. In this dish you get your veggie and a toss of protein for contrast and a balanced nutrition. How brilliant is that?!
The ingredients include cabbage, onion, ginger, garlic, chili pepper (if you'd like), chickpeas, turmeric and garam masala.
Frying the chickpeas gives them a crispy, crunchy texture. You can certainly skip this step and just added drained canned chickpeas.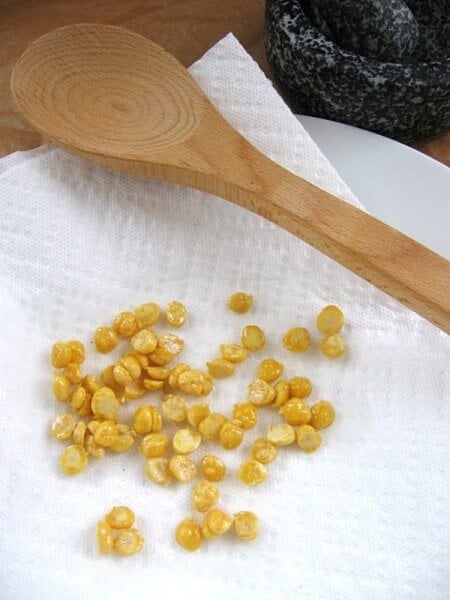 All of the aromatics: onion, garlic, chili pepper, ginger fry together until softened.
Until they look like this:
The finished dish….
Indian Cabbage with Crispy, Crunchy Chickpeas Recipe
Shulie's note: Garam masala for the crunchy chickpeas can be found nowadays practically in any supermarket or at an Indian grocer near you. My mother also includes grated tomato in this dish. If you'd like you can omit the 6 tablespoons of water and instead use 1 grated tomato (large holes of box grater)
Jaden's note: For a healthier version, skip the frying of the chickpeas - just use drained canned chickpeas (garbanzo). Also limit the cooking oil to 1 tablespoon instead of 4.
Ingredients
handful of canned chickpeas (garbanzo beans) or dried chickpeas

Hot water to immerse and cover an inch above surface

salt to taste

garam masala spice - just a sprinkle (optional)

4

tablespoons

canola oil

1

onion, peeled and quartered

2

fresh green chillies, stemmed and roughly chopped

2

inch

section of fresh ginger, peeled and roughly chopped

4

cloves

garlic

1/2

head of small/medium cabbage, halved and sliced (see photo for reference)

1/4

teaspoon

turmeric powder

6

tablespoons

water

salt to taste (about 1/4-1/2 teaspoon)

1

tablespoon

of chopped cilantro
Instructions
If using canned chickpeas, drain, rinse well and rub with paper towels to remove some of the skin. If using dried chickpeas: pour hot water over chickpeas and let soak over night. Press each chickpea between thumb and index finger to take skin off and dry on paper towel.

In a large pot, saute pan or a wok (something with high sides as you will be tossing the chickpeas), heat up oil on medium-low, toss in chickpeas and fry for couple minutes while mixing. It will sizzle and achieve a slight golden sheen. Taste one, it will be crunchy from outside and soft inside. With a slotted spatula take out of pot/wok and drain on towel paper lined plate, sprinkle with salt and garam masala if you wish and set aside. Reserve the oil and the pot for the next step in recipe.

Put the onion in a food processor and pulse until consistency is of finely grated onion. Add to same oil we fried the chickpeas in, turn the heat to medium-low and let cook until translucent to slightly golden, about 3 minutes.

Back to the food processor (no need to clean) - add the chillies, garlic and ginger. Pulse for a few seconds, scrape with a rubber spatula from the edges and pulse again for a finer chop. Add this mixture to onion in the pot and saute for an additional 3 minutes until very fragrant.

Add the cabbage, turmeric, salt and six tablespoons of water and toss cabbage in the pot until slightly wilted.

Plate cabbage and sprinkle with fried chickpeas. Garnish with a touch of cilantro if desired. I show it with samosas in the picture which I will feature in the future. Can be served with naan or any other Indian bread and chutneys.