Wait. Before you make a judgement…I actually do have a legit excuse for crocheting a sweater for the apples.
My kids bring a snack in their backpacks everyday, the same backpack that gets thrown, kicked, stuffed under bus seats, violently slung over the hook and hackysacked around.
Yes, I could pack their fruit in a titanium lunchbox, but crocheting an apple cozy seemed much more civilized, creative and crafty idea.
Still a little silly though, I admit. And no, the cozy didn't prevent bruised apples in their backpacks like I had hoped. Apparently, my kids are too rough for a little yarn cozy to stop them.
Thank goodness the boys are still at an age where "cute" is still in, though I reckon I don't have much longer before they want to be cool, not cute. I'll take what I can get.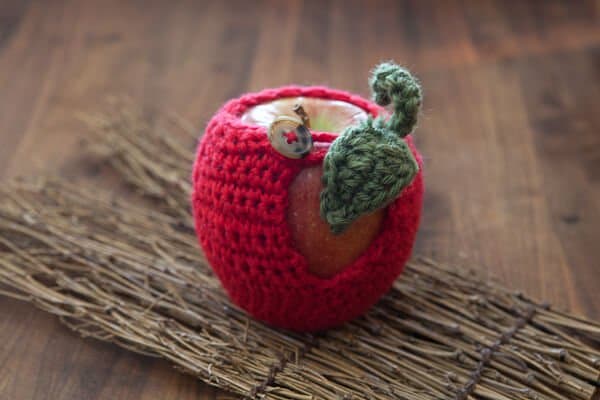 Apple Cozy Patterns
These Apple Cozies only take a few minutes to crochet. Perfect for scraps of yarn and maybe make one for your kids' teacher or something.
If you want to make your own, here are a few patterns:
These apple cozies make create gifts and place settings – Derricks Doll made these from Theresa Grant's pattern on Ravelry. This is the pattern that I based my apple cozy off of. I didn't follow the instructions completely (surprise) and pretty much winged it after I got the basic concept.
Not only does Vegan Lunch Box make Apple Cozies, but she's got free patterns for a Banana Cozy and Orange Cozy too. Go cozy crazy!
Crafty Anna's Apple cozy (and hey, if apple cozies are not your thing, Crafty Anna's got a ton of other crochet patterns – everything from ice cream, doctor kit,  pizza party and 5 little monkeys)
YouCanMakeThis.com has a colorful apple cozy ties up beautifully. The pattern is $3.50:
If you're more of a knit person, blogger "I Think I'm Gonna Purl" (cutest blog name ever) has this monogrammed version (left). On the right, blogger Warm Fuzzies version using the same pattern: