Introducing the McGowan family! Angie and her family are fellow Floridians and they publish the popular Eclectic Recipes blog and the fact that she has a recipe category called "Spanglish" wins my heart. Oh and that cute little boy, Julien, she's got there wins my heart too. I love Angie's blog – her recipes are simple and happy – check out these colorful Springtime Flower Treats perfect for kids and the Nutella Mug Cake!!!!

This week, Angie is my guest on Steamy Kitchen, featuring her Greek Style Mac 'n Cheese recipe — packed with olives, spinach, sundried tomatoes and feta cheese.
Enjoy!
Jaden
Greek Style Mac and Cheese
by Angie McGowan, Eclectic Recipes
I was just tickled when Jaden asked if I would like to guest post on Steamy Kitchen. I have been following Steamy Kitchen ever since I started blogging, and have picked up many tips and tricks not only about food and cooking, but also about photography, blogging and all the other aspects of social media. Jaden is such a huge inspiration to me, and always there when I need a bit of advice in this much to complicated world of food blogging.
So I guess your wondering who I am. My name is Angie and I have been blogging for about 2 years now. My blog is Eclectic Recipes, and I am also a daily contributor to Babble's Family Kitchen. I grew up in rural north Florida, which is very southern and much more like rural Alabama or Georgia than south Florida. I grew up eating very southern foods. We raised catfish, chickens, goats, pigs and cattle (although not all at the same time). We had pecan trees, fruit trees and a prized persimmon tree. We had a huge garden with just about everything, and what we didn't grow, we would get at local u-pick type farms.
I currently live in Orlando, Florida with my husband and three year old son, Julien. Although we don't have any space for a garden yet, I try to plant as many herbs as I can in containers. I can't wait until we have a good-sized yard where I have room for at least a small garden. When I'm not in the kitchen, I enjoy crafts, movie night with my family, and outdoor family activities like hiking, boating and skiing.
My family loves macaroni and cheese any way they can get it, but I get tired of doing the same old same boring recipe over and over. I like to experiment with using different cheeses, adding different vegetables, bits of ham or chicken, and even sometimes tuna. This is my Greek style mac and cheese. I used feta and creamy havarti with dill to make the cheese sauce.
I got the havarti with dill in the deli section of my supermarket, and just asked them to cut my a half pound slice so I could shred it. I also added some good pitted kalamata olives, a few capers, a bit of sun-dried tomatoes and lots of fresh spinach. This made the perfect quick fix vegetarian meal, and since it's mac and cheese, it will even satisfy your little picky eaters. I served this as a main dish, but you could add some grilled chicken and a small Greek salad if you'd like.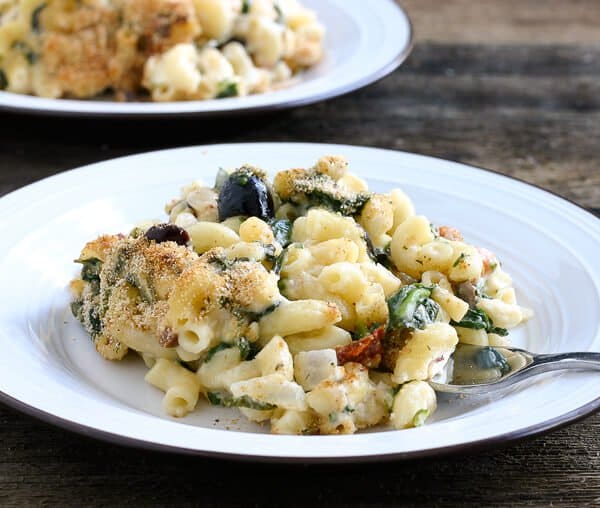 Greek Style Mac and Cheese
Ingredients
1

pound

elbow macaroni

3

tablespoons

olive oil, divided

1

medium onion, chopped

1

clove

garlic, chopped fine

1

10 oz bag fresh bagged spinach, roughly chopped

generous pinch of salt

3

tablespoons

flour

3

cups

milk

freshly ground pepper

1/8

teaspoon

freshly grated nutmeg

2

cups

grated Havarti cheese with dill , or regular Havarti plus 1 tablespoon fresh dill or 1 teaspoon dried dill

1

8 oz package feta cheese, crumbled

1

12 oz jar Kalamata olives, chopped

1

tablespoon

capers

2

tablespoons

sun-dried tomatoes, chopped

1/2

cup

bread crumbs or panko crumbs
Instructions
Preheat oven broiler to low. In a large pot, cook the macaroni pasta in salted water according to package directions. Drain and set aside.

While the pasta is cooking, heat a large skillet over medium heat. Swirl in 1 tablespoon olive oil and add onions. Saute until softened, about 3 minutes. Add garlic and saute for an additional 2 - 3 minutes. Add spinach and salt. Continue to saute until spinach is wilted. Remove spinach mixture from pan and set aside.

Wipe the skillet dry and return to the stove over medium heat. Swirl in the remaining 2 tablespoons of olive oil to skillet. When the oil is hot, whisk in the flour. Continue to whisk while adding a generous pinch of salt, pepper and nutmeg. Whisk over medium heat until flour smells nutty and is a light golden color. Whisk in milk and bring mixture to a boil while stirring frequently. This mixture will thicken. Simmer for about 5 minutes then remove from burner and stir in the Havarti cheese until the cheese is melted. Add feta and whisk, feta will get melty, but will stay in chunks.

Spoon in the sauteed spinach mixture, chopped olives, capers and sun-dried tomatoes. In a casserole dish, combine all of the ingredients with the macaroni. Mix well and top with bread crumbs. Brown under broiler for about 5 minutes before serving.