What you'll learn:
How to make a vegetarian version of this Asian Lettuce Cups Recipe
How to properly "cook" the apples
How long you should fry the mung bean noodles
Don't you feel like this dish should just ::wink:: and do a little sexy twirl? Such a flirty little thing!
"Asian Lettuce Wraps" or "Asian Lettuce Cups" is the most requested recipe on my site. I've updated this Asian Lettuce Cups Recipe to be lighter, more refreshing and healthier. No goopy cornstarchy sauce! Sorry, P.F. Chang! You can make a vegetarian version – just substitute crumbed tofu, more vegetables or even plain rice for the ground turkey. Traditionally, the recipe includes canned water chestnuts, which honestly taste like crunchy styrofoam. Instead, I've used crisp diced green apples – which is much tastier.
The mung bean noodles look clear and transparent when dried and puff up in just a few seconds time when fried. They are NOT "rice noodles" – when in doubt, look at the ingredient list on the back. It should say "mung beans."
Hey…who's stealing my apples?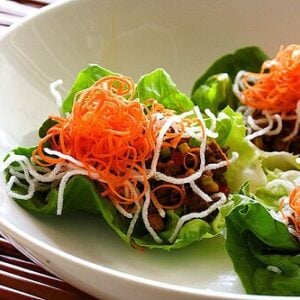 Asian Lettuce Cups Recipe
Ingredients
The Sauce:
1-1/2

tablespoons

hoisin sauce

1

teaspoon

soy sauce

1/2

teaspoon

sesame oil

1

teaspoon

rice wine vinegar

freshly ground black pepper

1

teaspoon

Sriracha hot sauce
Filling:
1

teaspoon

finely minced garlic

1/2

teaspoon

grated fresh ginger

2

stalks

scallions

1

pound

ground turkey or chicken

2

cups

mixed vegetables (frozen pea/carrots, finely diced bell peppers, etc.)

1/2

green apple, finely diced
Toppings/Wrap:
1

head

boston bibb lettuce, leaves washed and separated

2 skeins, Mung Bean Noodles

2

medium carrots, Use vegetable peeler to peel cut carrot into paper thin strips.  Use knife to further cut into super duper thin strands. Or, use the handy kitchen gadget linked below.
==================
Kitt's comment below just reminded me of the great weekend we just had with my baby birds.
Fighting for "THE BITE."
Andrew is taller, he has the advantage.
But Nathan has sharp teeth
And swoops in for the kill
Did I scold him? Hell no. Smart strategy I say!
More recipes to explore:
Grilled Shrimp Lettuce Cups with Tropical Fruit Salsa (Steamy Kitchen)
15 Minute Asian Light Meals (Steamy Kitchen)
Fried Noodles with Garlic Shrimp (Steamy Kitchen)
Asian Slaw with Ponzu Dressing (Steamy Kitchen)
Chicken Lettuce Cups (Epicurious)