When I think of a summer slaw to go with the barbeque, I want something light, tangy, cold and crunchy. Traditional coleslaw just doesn't do it – its heavy mayonnaise dressing really weighs down the vegetables. Instead of a mayo-based dressing, my Asian slaw is made with a bright, citrusy ponzu sauce – one of the most versatile Asian sauces that I own.
Ponzu is a Japanese "sauce" however I refer to it as both a dressing and sauce. It's much lighter than soy sauce, with a distinctive tangy lemon/orange flavor combined with a savory note. It's a perfect balance of salty, sweet and sour! You can use it as a dipping sauce for potstickers, a light sauce for steamed vegetables and combined with some crushed garlic, make the best marinade ever.
I'm working with Mitsukan (pronounced mit-soo-kon) to develop several recipes using popular Japanese sauces and vinegars. This Asian slaw that I've made is incredibly simple: thinly sliced cabbage, carrots, snow peas and fennel with a 4-ingredient dressing: ponzu, sesame oil, sesame seeds and salt. 10-minutes to make and you're done!
How to make Asian Slaw with Ponzu Dressing
Slice the snow peas on the diagonal into thin matchstick-sized pieces.
For carrots, you can purchase matchstick carrots, or slice them yourself — but only do this if you have a very sharp chef's knife. Skinny, round hard carrots are difficult to slice with a dull knife.
I cut the cabbage into four wedges – we'll only use 1 wedge. Then, I shred the cabbage as thinly as possible. To do this, use a vegetable peeler and go along the corner. You can also use a box grater with large holes or…..
use a sharp knife to shred by hand, which I prefer.
For the fennel, cut the white bulb from the green top, reserve the green fronds for another recipe (like Bouillabaisse) — you can use them just as you would fresh herbs. Cut the bulb into quarters and slice one of the quarters as thin as possible using a knife, vegetable peeler or mandoline (save the rest for another recipe).
The dressing ingredients are simple: ponzu, toasted sesame oil, sesame seeds and salt.
Add 1/4 cup of ponzu to a bowl.
The sesame oil and seeds are added.
Season with a big pinch of salt.
Whisk with fork.
Pour the dressing over the snow peas, carrots, cabbage and fennel.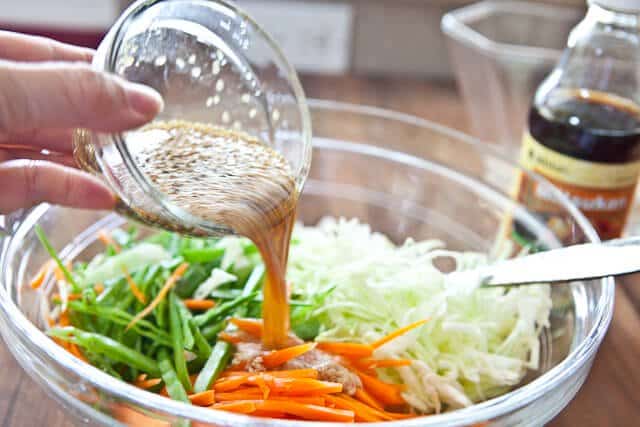 Toss to combine and taste. You can add more ponzu and salt if needed.
Serve immediately.
Asian Slaw with Ponzu Dressing
If you are not serving immediately, combine the dressing, but do not add the dressing until just before serving.
Ingredients
1/4

head cabbage, shredded

1/4

pound

snow peas, cut on the diagonal into matchsticks

2

carrots, cut into matchsticks

1/4

fennel bulb, sliced as thinly as possible

1/3

cup

ponzu sauce, Mitsukan brand preferred

1

tablespoon

sesame seeds

1/2

teaspoon

dark or toasted sesame oil

salt
Instructions
To make the dressing, in a bowl, whisk together the ponzu, toasted sesame oil, sesame seeds and salt.

In a large bowl, combine the cabbage, snow peas, carrots and fennel. Add half of the dressing, toss to combine and taste. Keep adding additional dressing until you get the desired flavor.