Suspicious criminal activity of is happening right under my roof! We entertain about once a week, usually for a weekend supper where we invite our close friends over and treat them to a massive feast.
They all know the routine. When I am finished with a dish, no touching until I get a photograph. With seafood, I make the photo shoot super-quick so that we can eat the dish while it's still hot.
::snap::
::snap::
and I'm done.
I've had to make Steamed Mussels in Lemongrass Coconut Curry no less than 4 times in the past 2 months. Each time, when I review the photos the next day, the shots are terrible…the exposure is all off, the mussels are out of focus and the whites turn out gray.
My friends know that since my husband doesn't like seafood, I will most likely serve Steamed Mussels in Lemongrass Coconut Curry when we are entertaining. They know that I really really want to post this recipe because it's one of my favorites, even the best restaurants can't produce flavors like mine….and that I won't post the dish unless the photograph passes the "drool-worthy" test.
These are well-known facts.
Even this morning, when I reviewed all the photos from last night, the photos came out funky. Everything had a blue-ish hue to it!
Hmmmmm…..something FISHY going on here ::cue Mission Impossible theme song::

Come to think of it….my friends last night devoured the mussels as if this was the best thing that ever happened to seafood. As if mussels were born to be bathed in the exotic flavors of lemongrass, coconut milk and Thai curry. As if my friends savored the dish with familiarity…like when you go to your favorite restaurant and order your favorite dish every time… I also observed a silent smugness amongst them.
Strange. Sussssspicious!!
Its a conspiracy! Someone is messing with my camera settings so that I take a crap photo so that I MUST make this dish again so that I MUST invite my friends over so that they can eat Steamed Mussels with Lemongrass Coconut Curry over and over and over again!!! EEEEEKK!!!!!

Well….I'm on to them!!! So I'm publishing this recipe, even though the photo doesn't meet my standards. Out of the handful of snaps, this was the ONLY one that was in focus. But you can't even see the Lemongrass Coconut Curry broth! The best part of the dish is the sauce, and my friends, you can't see it so therefore you will just have to imagine the flavors in your mind.
🙂
Secrets to Steamed Mussels with Lemongrass Coconut Curry
So I'll share the secrets to this dish with you AND hopefully my friends are reading this so that they too can make this dish at home and not have to resort to suspicious sabotage again. Really, its a VERY simple dish with few ingredients. The entire dish from start to finish takes less than 30 minutes. The hardest part was finding the can opener that I accidentally misplaced last week after unsucessfully whacking a coconut with it.
Secret #1: Clam Juice
Instead of making a standard Thai curry sauce, I wanted it to be more "broth-like" – chicken broth would be too chicken-y, vegetable broth would be too vegetable-y, and water would be to water-y. Clam juice was the perfect solution. To create a fragrant broth, I added grated lemongrass and let the two reduce down so that I ended up with a concentrated lemongrass-infused broth. Use a microplane/rasp grater to grate the white parts of the lemongrass stalk (the bottom 6″) If you don't have access to fresh lemongrass, come over over to my house where the stuff practically grows like weeds in my yard. If you don't live within 60 mile radius of my home, visit an Asian market or substitute with lemon peel. Take a lemon and a vegetable peeler. Peel just the outermost layer of skin (not the white part) – get about 4 large wide strips. Use that instead of the lemongrass. Just remove and discard the strips when the broth is reduced. The photo above only shows 1 bottle of clam juice – but please use 2 bottles (I had already opened and poured one bottle out when "aha! maybe I should take a photo of the ingredients!"
To find clam juice – go to aisle with canned seafood…tuna, sardines, etc. It usually is there. It's most commonly used in Italian Linguine with Clams Sauce dish. If your regular supermarket doesn't carry clam juice – try an Italian specialty market, or substitute with 1/2 cup white wine + 1/2 cup veg broth.
Secret #2: The Coconut Milk
At your supermarket, you'll probably find a few different brands of coconut milk. Don't bother reading the labels. Pick up each can, shake it. If it sloshes with lots and lots of liquid, put it back. Buy the one that sounds and feels solid and heavy. This is by far the simplest way to judge a good quality, first pressing, fatty coconut milk. The lesser quality brands contain diluted coconut milk or they use multiple pressings, which results in very little flavor. You might be tempted to buy the "light" version, but please don't. In this dish, you will only use 1 can, divided amongst 4-6 people…so really, you aren't consuming that many calories. The best brand I've found is a Thai brand for 89 cents and Thai Kitchen (above in lg photo) at double the price but a very very good quality.
Secret $3: The Curry Paste
Use a concentrated Thai curry paste. I happened to have Panang flavor on hand, but you can use any of the other flavors (Red, Green Yellow). You can find these at your Asian market or order online through EthnicGrocer. You can adjust the hotness of the final dish by the amount of paste that you use. Start with 1-2 tablespoons and go from there.
Secret #4: The Noodles
I love adding mung bean noodles (same thing as cellophane or glass noodles). Once you finish digging through the mussels, you're left with the golden prize – delicious curry broth clinging to the clear, slippery noodles. Slurp! Slurp! See more info on bean noodles at Temple of Thai.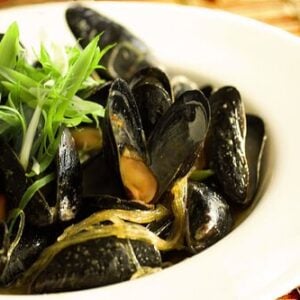 Steamed Mussels with Lemongrass Coconut Curry Recipe
Another great thing about this dish - less than $15 in ingredients!
Ingredients
2

pounds

mussels, scrubbed & picked through (discard cracked shells and ones that don't close when tapped)

1

stalk

of lemongrass, white part grated with microplane grater (or substitute with 4 wide strips of lemon peel)

2

bottles

of clam juice (or substitute with vegetable broth + wine)

1

can

(14oz) of good coconut milk, shake the can vigorously to mix the fat with the liquid

1/4

cup

to 1/2 cup of Thai curry paste (depends on your spice level)

1

tablespoon

fish sauce

1

teaspoon

sugar

3

small skeins of mung bean noodles, soaked in cold water for 5 minutes.

chopped scallions & chili for topping
Instructions
Fry the curry paste: In a wok or large pot, turn heat to medium. When wok is hot but not smoking, add 2 tbl curry paste and the lemongrass (or lemon peel). Fry for 30 seconds to release its flavors. Add the clam juice, fish sauce, sugar and coconut milk. Simmer for 3 minutes. If you are using lemon peel, discard lemon peel. Taste the broth. If you want more heat, add more curry paste. In meantime, drain your mung bean noodles. The noodles should still be a little stiff.

Steam the mussels: Turn heat to high and add your mussels. Immediately cover with tight fitting lid. Steam on high for 4 minutes. Open lid, scootch the mussels to one side, add mung bean noodles and cook for another minute uncovered. Use a large spoon to redistribute the mussels from the top to the bottom of the broth, cook another 30 seconds and it's done! Top with chopped chilies and scallions.