Cayenne Cinnamon Ribs with Maple Glaze
Sticky, sweet, salty, spicy ribs that are so crazy simple to make (the only cooking equipment you need is tin foil and an oven!)
We normally enjoy our baby backs fall off the bone – they are so tender that when you lift up the bone, the meat really does fall off. But I remember chatting with Dr. BBQ a couple of years ago when he came over to our house and he said that he likes a little "bite" and "chew" when it comes to ribs.
And yeah, okay, I can see the satisfaction of having to pulling the meat off the rib bones with a slight tug….something about that must be deep deep deeeeeep inside our veins that brings us back to Man. Cave. Hunt. Meat.
Instead of the usual 4 hour low-and-slow roasting of the baby back ribs, these ribs bake at a higher temperature (375F) and for only 1 hour.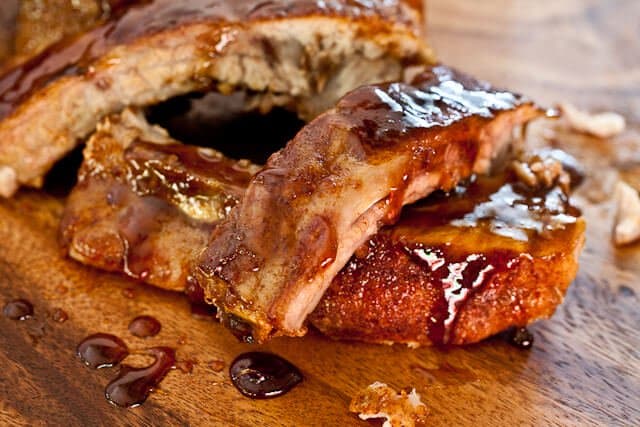 Yes, they were BETTER than fall-off-the-bone – it must be the cave-girl inside me.
Cayanne-Cinnamon Baby Back Ribs with Maple Glaze
The ingredients for the rub is simple:
Brown sugar, garlic powder, cayenne, paprika and cinnamon.
One of the most important things you'll want to do before putting on the rub is to remove the thick, chewy membrane that's on the underside of the ribs.
Removing the membrane makes for more tender ribs.
Turn the ribs over.
Stick a butter knife right under that membrane. Sometimes, the membrane is really thin, even see-through. Sometimes on a fat pig, it's thick and fatty like this one.
Wedge the butter knife in between membrane and meat/bone.
Pull membrane off.
Pull!
Okay, now rub the spice rub on both sides of the ribs.
Cover completely and then bake for 1 hour.
After 1 hour, remove from oven, carefully (hot steam!) open up the foil.
Brush the baby back ribs with maple syrup.
Put back into oven (uncovered) to let the sugar caramelize.
Enjoy the baby back ribs!
About Paprika
I'm part of the McCormick Gourmet team, bringing you in-depth information about everyday spices. From McCormick Gourmet's Enspicelopedia:
BOTANICALLY SPEAKING
From the sweeter, milder branch of the fiery Capsicum annuum family comes paprika, cousin to chili and bell peppers. Prized for its orange red color, it is made from the dried, ground fruits of the plant. Although it is available in several varieties that are very hot, paprika is most often used in its sweet or smoked incarnations. Although most paprika is without heat and is used for its vibrant color and mild sweet flavor, there are several varieties which are hot.
YUM FACTOR
Sweet paprika is mild, and often appears in seasoning blends for barbeque and chili or to dress pale dishes like deviled eggs. Hungarians love to use this spice in recipes like goulash and chicken paprikás, where the color alone is enough to warm the heart. But it is also popular in Indian, Moroccan and Middle Eastern cooking. Smoked paprika brings a toasty hint of the grill, and makes a wonderful rub for pork and chicken when combined with dashes of cinnamon, sugar and salt.
GLOBETROTTER'S GUIDE
Like all Capsicum species, paprika is a New World spice, native to the Caribbean and Central America. It didn't take hold in Europe until it was introduced there by Bulgarians and Turks in the 1600s. Today, paprika is primarily produced in Spain, Peru, South Africa, Israel, and the United States.
BELIEVE IT…OR NOT
Did you know that, pound for pound, paprika has more vitamin C than citrus fruit? This discovery won, Albert Szent-Györgyi, a Hungarian scientist the Nobel Prize for Research in 1937.
Cayenne Cinnamon Baby Back Ribs with Maple Glaze Recipe
Servings: 4
Prep Time:10 minutes
Cook Time:1 hour 10 minutes
McCormick
You can use other rib cuts if you wish, I like St. Louis rib cut.
Ingredients:
1/3 cup firmly packed brown sugar
1 tablespoon garlic powder
1 tablespoon paprika
1 teaspoon ground cinnamon
1 teaspoon cayenne powder (or crushed red pepper flakes)
1 teaspoon sea salt (or 1/2 teaspoon table salt)
3 pounds pork baby back ribs
1/4 cup maple syrup


Directions:
1. Preheat oven to 375F (or prepare your grill). Remove the tough membrane from the underside of the ribs.
2. In a small bowl, mix together the brown sugar, garlic powder, paprika, ground cinnamon, cayenne and salt.. Place ribs on a double layer of tin foil (large enough to wrap around ribs) and season the ribs on both sides with the rub. Fold over foil and completely cover ribs. Place ribs on baking sheet or roasting pan.
3. Bake 1 hour or until meat starts to pull away from bones.
4. Turn broiler on to high and move rack to upper-mid position. Carefully open foil. Brush ribs with maple syrup. Broil ribs 3-4 minutes until browned. Take care not to burn the ribs!