Fall off the Bone Baby Back Ribs with Sweet Chili Sauce
There aren't very many recipes that can boast "2 ingredients" and taste better than fall off the bone baby back ribs smothered in sweet, sticky Thai chili sauce, which by the way, isn't really all that spicy despite the name.
5-minutes hands-on and two ingredients: ribs and 1/2 cup of the sweet chili sauce. Salt and pepper don't count, but even if you did count it, it's still will be the best 4 ingredient-dish you can ever make.
Just a word on the ribs – there are 2 camps of rib-lovers:
a) meat fall off the bone camp
b) I want to gnaw and tear meat off the bone camp
I'm part of the first group, I enjoy tender, juicy, succulent meat that requires very little effort to pry from the bone. If you're like me, you'll love this recipe and I bet you'd never order ribs at a restaurant again.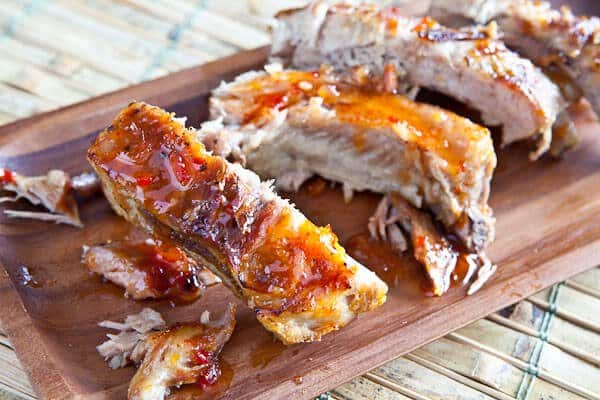 Also, I've got a trick for you that will make the ribs even more tender.
How to make baby back ribs fall off the bone
This technique can be used with ANY type of barbeque sauce. If you want, you can also use a dry rub instead of the salt and pepper.
To feed 4 hungry people, start with about 5 pounds of baby back ribs. Actually, you can use the larger St. Louis or country style ribs if you want. Tender baby backs are my thing. The amount of ribs really doesn't matter – throw in another rack if you've got more people.
Turn the rib over to the underside — see that layer of white membrane covering the ribs? You'll want to remove that – it's tough and stringy.
Take a butter knife, wedge it just underneath the membrane to loosen.
Pull the membrane up and off the bone.
Once you've got a section off, use your fingers to remove the rest – just peel it off.
See how thick and tough that membrane is? Removing this will make your ribs infinitely better. Sometimes this membrane is really thick (like mine) and sometimes it's really thin and a little more difficult to remove. Try to get as much as you can.
Place all the ribs in a roasting pan, it doesn't matter if they overlap. Season with salt on both sides.
Pepper on both sides.
If they overlap, I like to layer them like this.
Cover with double-thickness of tin foil. Bake at 275F for 4 hours or so.
After 4-ish hours, they'll look like this:
Use a spatula to move them to a baking sheet.
Here's sweet chili sauce. Mae Ploy is my favorite brand. Really, you can use any type of barbeque sauce, thick teriyaki sauce that you want. No need to stick to sweet chili sauce (but please, try it just once!)
Brush on the sweet chili sauce all over the ribs.
Be generous! Brush on a lot.
Now move your oven rack to the top 1/3 of the oven and broil for 5 minutes. Keep a good watch on 'em! Don't let them burn.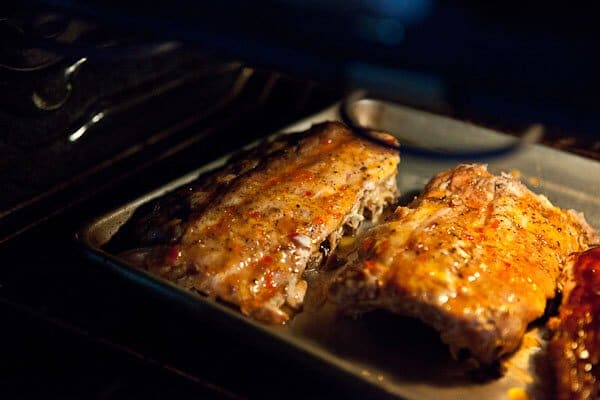 And that's it! Baby Back Ribs with Sweet Chili Sauce.
Baby Back Ribs Fall off the Bone Recipe
Servings: 4-6
Prep Time:5
Cook Time:4 hours
Ingredients:
5 pounds baby back ribs
salt & pepper
1/2 cup Thai sweet chili sauce


Directions:
1. Preheat oven to 275F. On the underside of the rib, remove the thin membrane and discard. Season both sides with salt and pepper.
2. Place the ribs in a roasting pan, cover with double thickness of tin foil.
3. Roast for 4 hours or so. Discard foil. Use a wide, flat spatula to carefully lift the ribs onto a baking sheet. Spread the sweet chili sauce generously over the ribs.
4. Place oven rack near the top of the oven. Turn broiler on and broil the ribs for 3-5 minutes, or until the sweet chili sauce begins to caramelize. Make sure you don't burn the sauce, so keep a close eye on the ribs.