We planted a few citrus trees in our backyard 7 years ago, but shhhh….don't tell anyone in my neighborhood watch program because technically us homeowners in this lovely planned community are not allowed to plant anything that's not on THE LIST OF APPROVED GREENERY and citrus trees are not on the list. Which means I have contraband kumquat limes, illegal lemons, hot calamansi and bootleg kaffir.
The trees are in my backyard, hidden from the road and everytime I go out in the backyard to tend to the trees, I feel like a naughty girl. Yes, all it takes is a few citrus trees to make me feel like a rebel. I feel so easy and cheap.
So it's been 7 years of careful tending, trimming, showering of love and of course, hiding with without a single fruit from year 1 to 6. I've heard that with fruit trees, it takes a few seasons for the plant to get settled in and bear fruit, so I've been extremely patient, each season daydreaming of next season's lemonade.
Finally, last year my calamansi bore fruit (woohoo!) and this year all of the trees are popping out fruit so fast I liken it to watching popcorn explode. pop! pop! POP! Citrus galore!
But now we're moving and I can't take the trees with me 🙁 though I've tried to reason to my husband that digging out the 20-foot tall kaffir lime tree and dragging it to our new home would be a fun adventure. NOT.
When we move, I'll have to start all over again. But in the meantime, I'll enjoy the fruits of my patience and lovely trees while I can.
This recipe is dedicated to my friend Joe Yonan, food editor of the Washington Post. Joe recently came out with his book called Serve Yourself, Nightly Adventures in Cooking for One.
I don't normally cook for just myself as I have an entire pack of hungry mouths to feed every night. But since we both work from home and Scott doesn't eat seafood, sometimes lunch is a simple fish fillet for one (Scott makes a PBJ for himself).
What I love about Joe's book is that recipes sound like they come from a restaurant menu, but the ingredients and instructions are so unfussy and simple that it's totally do-able for a party of one.
The recipes are also easily scalable so that you could feed 2 (fancy date!) or 4 (dinner party!) – we've made the Catfish Tacos with Chipotle Slaw for the family and it was a big hit.
This Fish with Citrus Caper Sauce recipe isn't in his book, it's just something I threw together for a quiet lunch with me, myself and I. Since most of my readers are cooking for more than one person, I've written the recipe out for both serving one (in the body of this post with photos) and four people (in the printable recipe).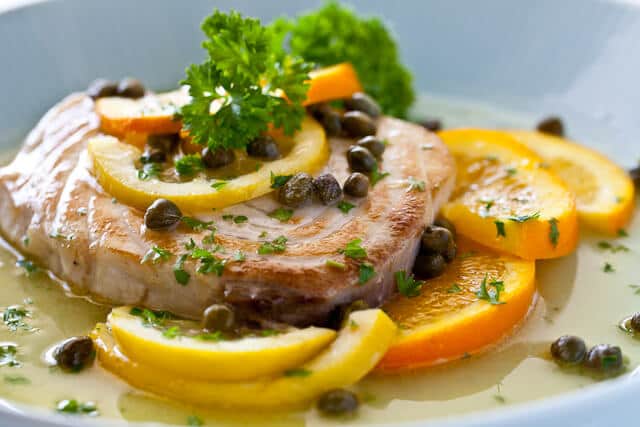 How to Cook Fish with Citrus Caper Sauce
Text below is recipe for one serving (see printable recipe at bottom for four servings)
You'll need:
1 fish fillet (or 1/3 pound shrimp), patted very dry
salt and pepper
2 teaspoons olive oil
1/2 orange (slice 1/4 of the orange into thin slices, the rest will be used for juice)
1/2 lemon (slice 1/4 of the lemon into thin slices, the rest will be used for juice)
1 teaspoon capers (drained)
2 tablespoons white wine
2 teaspoons butter
Season the fish on both sides with salt and pepper. Add olive oil to a hot skillet* and sear the fish fillet on one side.
*I like using a wok when cooking. It gives me the flexibility to cook for one or 8 people – look at all the available surface for cooking!
When you begin to see the color change from opaque to white creep up to halfway up the sides of the fillet, flip the fish over.
Add in the wine, orange/lemon slices, capers and the butter. Squeeze the remaining orange and lemon juice into the pan. Season sauce with a bit more salt and pepper if you'd like. When the sauce begins to bubble, turn heat to medium-low and cook until the fish is cooked through, about 1-2 minutes.
Throw in the fresh parsley and you're done.
10 minute meal for party of 1.
Fish with Citrus Caper Sauce Recipe
When it comes to fish, simple is best. This fish recipe only takes 10 minutes to cook, start to finish. I've used a combination of orange and lemon, capers, white wine and then finished it with a bit of butter.
Ingredients
4

fish fillets of your choice, patted very dry

salt and pepper

1

tablespoon

olive oil

1

orange

1

lemon

1

tablespoon

capers (drained)

1/2

cup

white wine

2

tablespoons

butter
Instructions
Cut the orange in half. Juice one half of the orange and slice the other half into thin half-moon slices. Repeat with the lemon.

Season the fish on both sides with salt and pepper. Heat a large skillet over medium heat. Swirl in the olive oil. When hot, add the fish fillets. Once the cooked edge has reach almost halfway up the fillet, flip the fish.

Add in the wine, orange juice, lemon juice, orange/lemon slices, capers and the butter. Season the sauce with a bit of salt and pepper. When the liquid begins bubbling, turn the heat to medium-low, cover and cook until the fish is cooked through, about 1-2 minutes depending on the thickness of your fillet. Serve immediately.