Grilled Corn with Lime Cilantro Wasabi Butter
I have so much to tell you that I don't even know where to begin!!!  But of course, it's always about the food, so I'll start with the food.  But the food part is going to be really, really short because I want to share with you my first television shooting experience.  I guess I could have posted without a recipe, but then I'd feel like it would be a totally inadequate post – because there are readers that possibly don't give a shark's ass about me and are here just for the recipes.  And that's ok. I'll pretend to like you too.
The Really Short Food Part
I saw
Elise's grilled corn in husk recipe but wanted to Asian-fy it with this herb butter:
Summer is just too hot to turn on the stove or oven inside – it's just so much easier to make my husband bear the heat and sweat outside to grill the corn. Just kidding. I give him a cold beer and all is good.  This grilled corn is perfect to pair with a simple meal of grilled fish topped with
Fresh Mango & Melon Salsa.
Grilled Corn with Lime Cilantro Wasabi Butter
Servings:
Prep Time:10 minutes
Cook Time:15-20 minutes
Ingredients:
1 stick of butter, softened to room temperature
Zest of 1 lime
2 tablespoons finely chopped cilantro
big 'ol squirt of wasabi paste (1 tablespoon-ish)
corn in husk


Directions:
1. Make the herb butter: Combine all butter ingredients. Use fork to mash and mix well. Lay a large piece of plastic cling wrap on counter. Spoon the butter on the wrap and fold plastic wrap over. Using your hands, mold and roll into a cylinder shape. I use a sushi bamboo mat and that worked really well. Place in refrigerator (or freezer if you're in a hurry) and let chill for at least 30 minutes. This can be made up to 3 days in advance.
2. Grill the corn on the cob: Preheat grill to 550F degrees. Carefully peel back some of the outer layers of husk and discard. Keep a couple of the soft, inner layers intact. If you have too many tough, outer layers, the corn takes longer to cook. Remove as much of the visible silky wisps as possible (which will burn on the grill). I like to soak the corn in water for 15 minutes. Elise of Simply Recipes does not soak her corn, but both methods work really well. Remove corn from water, shake off excess water. Grill on for 15-20 minutes, turning every 5 minutes to evenly char all sides. Remove the grilled corn on the cob with tongs and carefully peel back the husk (careful! it's hot!). Top with slice of Lime Cilantro Wasabi Butter. Enjoy your deliciously grilled corn on the cob.
End of really short food part.
Beginning of the part that rocked my world last week.
A few weeks ago, I met with Tampa Bay's PBS station. Of course, I brought along some
My Mom's Famous Egg Rolls.  Just in case I couldn't charm them with my good looks and crazy ideas, at least I could win bribe them with food.  The meeting went fantastically well and resulted in an opportunity to work with Jen Noble, a very talented Executive Producer for a multiple Emmy-Award winning show called A Gulf Coast Journal with Jack Perkins.  The Jack Perkins??? You mean the same Jack Perkins of NBC Nightly News and the powerful voice behind A&E's Biography!?!?  Pinch me with Oxo tongs, momma!
Well, last Thursday we had an entire day of shooting at the studio kitchen where I teach.  I hosted a sushi class – and invited my friends.  As this was my first television experience, I wanted to be surrounded by loving friends and not by heckling strangers.  Here are the highlights:
Look how massively HUGE this light was!!  There were two of these mammoths, repositioned each time they wanted a different angle.  I planned on swiping one of them to use as a tanning bed:
The calm before the storm.  My good friend, Jan, helped me immensely with the decorating – didn't she do a wonderful job?  Those banana leaves are from her garden. Here comes Jen, the producer.  btw, she's HOT, talented and single:
Getting mic'd up.  This is Tom the sound guy.  A mic went under my shirt in the front and stuck right between my boobs, the transmitter box clipped to the back of my pants.  For some strange, strange reason, Tom had to reach down and reposition the mike every 10 minutes.  And the batteries had to be changed multiple times in the transmitter.   🙂   The hardest part of the whole adventure was being mic'd the entire time and knowing that whatever I said, whispered or even thought in my little head would transmit between Tom's headphones, and then all would be confirmed that I was a little koo-koo.
DO YOU KNOW HOW HARD IT IS TO FUNCTION WITHOUT TALKING TO YOURSELF AND REFRAIN FROM SPONTANEOUS FARTING??!??!? I got a nice workout just clenching my ass-cheeks together all day.

Here we are at the ingredients table – talking about all how to cut and prepare the ingredients.  There is Alex the camera-god shooting:
This kid in the red is amazing.  Brian is Jeff Houck's (Food Writer for Tampa Trib) kid who said really nice things on camera about me.  I slipped him a $20 earlier.  Next to him are Jeremy (Chef de Cuisine of Cork) and his wife Jules (a professional opera singer), Susan (a Sarasota reader of the blog whom I invited to be a part of this adventure), Kelly (my very bestest friend to infinity and beyond), Jan (the uber-talented goddess of all things elegant & beautiful), Mike (editor in chief of Your Observer). Next to me in the kitchen is Joe (who loves to eat and was my right hand man in the kitchen).  Chef Bob is hiding somewhere too – he played sous-chef, helping me prep in the morning (Thank you Chef B!)
Do you want to know what happens when a very hungry chef tries to make sushi?
Sushi rolls the size of small children.  Overachieving hot shot chef!
But then my best friend Kelly veered off in another direction with her sushi.  I've never seen a sushi roll bleed to death with rooster hot sauce.
After the class, we did a one-on-one interview. Alex the cameraman is the King of Lighting.  They spent about 30 minutes just on the backdrop and getting the "mood" right.  I think they were going for Jaden's Buddha Bar Love Lounge. All we needed was some groovy music and an opium pipe.  I would have felt entirely at home then.
But we weren't done after this!  The whole crew came over to my house and filmed me cooking at home and dinner with the family, otherwise known as The Chaos of Jaden's House. But that is for another post, my friends….I'm not quite ready to share with you how my kids thought it would be fun to grab the long ties that held my shirt together and run in opposite directions ALL CAUGHT ON CAMERA. Thank goodness that by then I had already downed a half bottle of wine in 3 minutes.  Because I don't know how I would have handled that while sober.

Next week, we'll continue shooting with Jack Perkins coming to my home.  I'm sort of nervous. Will he read the contents of this blog and ask me how I learned to cook or what in the world would compel me to eat Cod Sperm Sac Soup or why I have a fan base of tranny cross dressers?  Well, I did name this blog STEAMY KITCHEN, not Amish Kitchen, you know?
=================
Brilynn started a new project, called the Jumbo & Jaden Project (in honor of Julie/Julia Project)!!!  She cracks me up…so far she's made:
Project #1:

Tropical Island Salmon
Project #2:

Pan Fried Lemon Ricotta Gnocchi
So now it's my turn to master one of her recipes. Which one should I choose? Please help!
These are not Pierogies Pierogies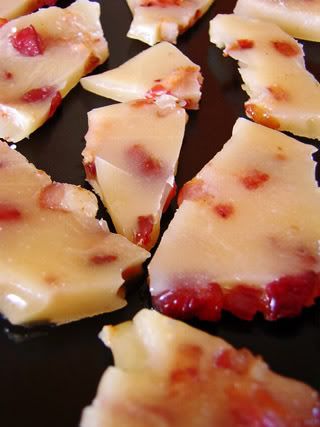 Bacon Brittle
===========================
**If you are NOT my husband or someone who is reading this to my children – highlight the text to read below.
Thank you Wok & Spoon for my Tim Tams!!!  I got them in the mail the other day and hid them in the fridge under the bag of spinach.and I am not sharing. There are 3 cookies left ….and they ARE MINE…..ALLLLLL MINE….
===========================
If you are in the Sarasota/Bradenton area, tune into ABC 7 this Thursday 8/23 at 6:45am-ish.  I'll be cooking live on the morning news program. Yes…you read that right.  Cooking live.  Am I insane? Quite possibly.  It was only after accepting the appearance offer that I thought about the consequence of cooking live.  No edits. No "do-overs" and no "oops!"  It will be the longest 3 minutes of my entire life.
Will I survive? Will the network survive without being fined?