If there ever was a time when I wondered why I never dated an Italian, it would be now. You see, I slept my way through a culinary education.
Yes, my friends, I whored myself out to learn the secrets of authentic Mexican steak tacos, Vietnamese pho ga, Cantonese steamed chicken, American BBQ ribs, Taiwanese deep fried tofu, Korean bi bim bap, Persian polow, Scottish haggis art of eating out every night, Japanese yakitori, French technique of cooking fish, Singaporean…..hmmm, that guy was totally hopeless. Oh yes, and the hunky Thai fling who taught me how to make curry paste.
Before that look of "OMG she didn't!"settles on your face, permanently creating an extra wrinkle on your forehead, let me further explain. No, I didn't sleep with all of them…just seduced them enough to divulge their secret family recipes. I only slept with them if I needed access to their mothers, grandmothers or grand-auntie for further clarification of ingredients or technique. I mean, really….you can only understand so much of a recipe between moans.
We all know that the best food comes from grandma's kitchen – so why spend $80,000 going to the Culinary Institute of America to learn from chefs who learnt from other chefs who learnt from someone's grandma?
I say go right to the source! It takes zero money, less time and I didn't have to wear a silly chef's hat while hustling mastering ancient culinary secrets.
One day, I might just have to even (TM) this technique. All I know is that if I ever got my own cooking show, young children and cute puppies would probably have to cover their ears.
What in the world would you call my cooking show…Boy Meets Bimbo? Jaden's Big O? Barefoot Tramp? Harlot on the Street? Molto Skank? Unzipped? Semi-Whoring with Jaden Lee? The Hungry Hooker? Good Eats with Loose Women?
Oh please laugh.
I'm just joking.
Sort of.
So I've never had an Italian boyfriend. Which is precisely why I've never made gnocchi before. I finally decided to experiment, because of this dinner
where I experienced the most sensual gnocchi ever in my entire life. I just had to re-create this in my own kitchen. No potato – I used whole milk ricotta. Instead of boiling the gnocchi, I pan fried 'em in butter. And in lieu of a sauce, I opted for simple, bright and tingling: browned butter, lemon and pepper.
I bought one of those wooden grooved doo-hickeys. I don't even know what they are called. It turns out that since I fried them, I really didn't need to use the thingamajibber, as the grooves disappeared.
Please try this recipe – I know you will fall in love with this Italian nugget. Slightly crunchy, carmelized exterior gives way to soft, voluptuous, passionate, and soulful interior….just like an Italian lover.
Pan-Fried Lemon-Ricotta Gnocchi
Ingredients
1

cup

whole milk ricotta

1/2

cup

freshly grated parmegiano reggiano (plus extra reserved for garnishing)

1

large egg yolk

1

teaspoon

lemon zest (use a microplane grater) (plus extra reserved for garnishing)

1

teaspoon

kosher salt (or 1/2 tsp table salt)

3/4

cup

all purpose flour, sifted + more for dusting

1

tablespoon

chopped parsley (plus extra reserved for garnishing)

1/2

teaspoon

finely minced chilli (or red pepper flakes) - adjust chilli based on your tastes

2

tablespoons

clarified butter (or just regular butter, but the clarified butter works much better)

1

tablespoon

olive oil
Instructions
Combine ricotta, parmagiano, yolk, zest and salt in large bowl. Mix well. Sprinkle half of the flour on the mixture, gently turn with spatula a few times to incorporate. Dump mixture on clean, lightly floured countertop. Sprinkle remaining flour on top of the mixture. Gently knead with your fingertips, just bringing together the mixture until flour is incorporated through. This only should take a minute or two. Any longer and you will be over-kneading. *If you are using skim milk ricotta - you may have to use more flour, as there is more water content in skim ricotta. See below to see what dough should look like.

Divide dough into 4 parts. Take one part and roll into a long, 1" diameter log. Cut gnocchi into 1" pieces. You may use your wooden doobie-bopper or tines of a fork to get those pretty grooves that will eventually disappear after frying anyways.

Heat skillet over medium-high heat. Add butter and olive oil. when butter is just lightly browned, add gnocchi in single layer. Fry on one side for 2 minutes, flip. Add chilli. Fry other side for 1-2 minutes. Timing really depends on how big/thick your gnocchi is. Do a taste test - do you taste flour? Not done yet. DOES IT TASTE LIKE A BEAUTIFUL ITALIAN'S LUSCIOUS LIPS? Then its done. Serve with a sprinkling of lemon zest, parmegiano and parsley.
Notes
Dough should look like this:

This post inspired Food Fusion to make this:
You think I'm kidding?
The Parking Adventures of La Tacqueria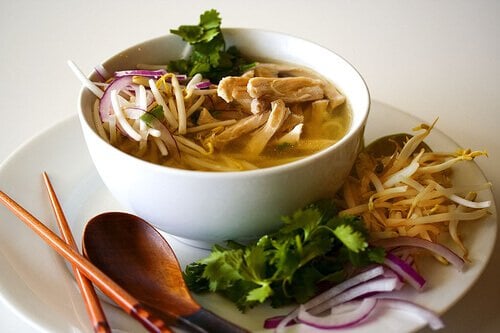 Pho Ga – Vietnamese Chicken Noodle Soup from T's Mom
Korean Kalbi & Bulgogi
How to Host a Sushi Party