Hello and welcome to 30 Days of Giveaways on Steamy Kitchen!
If you own an iPad, this giveaway is for you.
Unlock more uses of your iPad with the addition of a Tablet Touch Keyboard and Case.
Use the keyboard to type up documents and use your iPad like a computer.
The stylus make scrolling easy and precise touch simple.
Touch iPad Keyboard Case with Trackpad
Compatibility
New iPad 9th Gen (2021, 10.2″), iPad 8th Gen (2020, 10.2″), iPad 7th Gen (2019, 10.2″), iPad Air 3rd Gen (2019, 10.5″) & iPad Pro (2017, 10.5″) including models A1701, A1709, A2123, A2152, A2153, A2154, A2197, A2198, A2199, A2200, A2270, A2428, A2429.
Precision Trackpad
Navigate iPad in a whole new way with multi-gesture controls that redefine productivity; edit documents, browse the web and build presentations with unparalleled speed.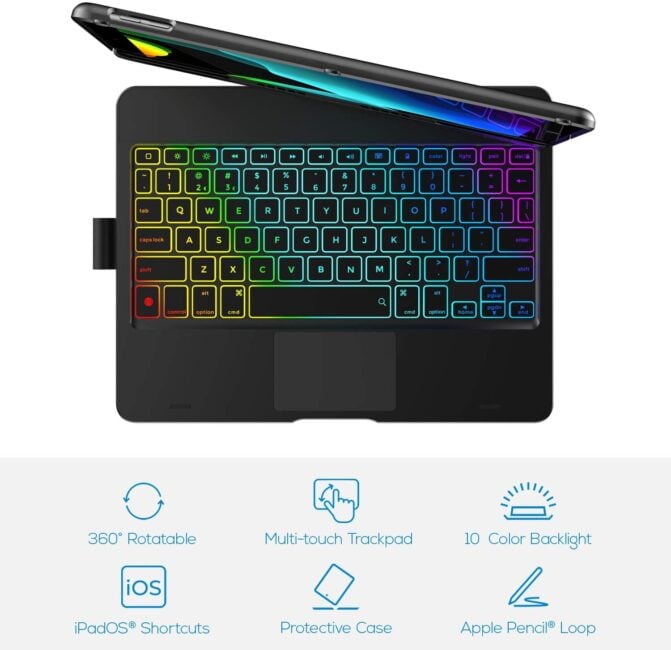 Illuminated Typing
Type quickly and accurately on a laptop-like keyboard with a full row of iPadOS shortcuts and laser-etched keys that allow an adjustable 10-color RGB LED backlight to shine through.
7 Use Modes
A patented 360° hinge (20,000-cycle stress tested) lets you comfortably use iPad for any task from typing notes to watching videos to using iPad in its native form in tablet mode.
Smart Features
Premium hard-shell design protects all sides of your iPad; auto sleep/wake initiates when keyboard case is opened & closed to conserve battery life; holder for Apple Pencil so it won't get lost or in the way.
Tablet Touch Keyboard and Case
Enter the giveaway below!
Slow Your Scroll!
Tell us in the comments why you would want to win this Touch iPad Keyboard Case for yourself or a family member!