I decided last month that our family should make a better effort to eat more seafood and less crap like deep fried nuggets of chicken fat. Not that I wasn't trying to be healthy or anything, because that would be called a D-I-E-T, which is against my religion, culture, gender and overall cellular structure.
Looking for inspiration, I browsed some of my favorite food blogs and drooled over a dish
that took a humble comfort food and paired it with lobster. So, my kids and I headed off to the supermarket to buy the ingredients for the dish.
The rugrats had fun poking at the lazy crustaceans in the tank, trying to guess which one the seafood monger would clumsily capture with his primitive wooden rake. A feisty three pounder was stuffed a plastic bag, weighed, priced and dropped in our cart. Off we went to pay, stopping briefly to pick up a hunk of nice cheese and a box of pasta.
Now, I have nothing against the teenage workforce manning the check-out line, but I feel very strongly that I simply must write these 3 letters.
Dear Ritalin:
When a customer gently places a bag of squirming lobster onto the conveyor belt, the appropriate response is not, "Oh shit, dude. You really gonna kill it and eat it?" Because a smart customer (for example, myself) will shoot right back with, "Why yes, pimple-ass, that is the plan. I might even torture it first with long, sharp objects before dunking it head-first in a vat of boiling hot water. Wanna watch?"

Dear Pep Squad Reject:
When that same bag is handed to you to place back into the cart, the itty-bitty buggy-boo with rubber bands on its claws really isn't a ferocious, drooling elephant man who wants to tie you up and lick your toes. Please don't scream. You're scaring my kids. You're even scaring the freakin' lobster.
Dear Parents:
I implore you to introduce the world of live seafood to your children at an early age. Teach them where our food comes from and how to properly handle and cook it. If you're vegetarian, maybe it wouldn't be a good idea for your kids to work at supermarkets where they might just come in contact with raw animal carcasses and squealing lobsters. Maybe a job at the mushroom petting zoo would be more appropriate.
Omnivorally yours,
Steamy Kitchen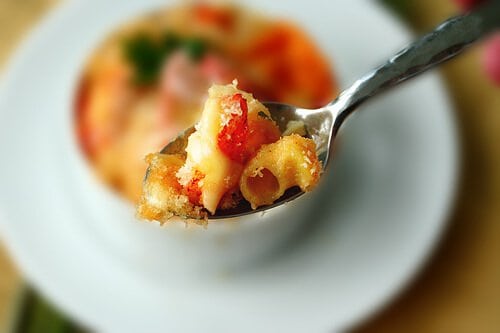 wanna bite?
Lobster Mac & Cheese Recipe
Notes on the lobster. You can buy uncooked lobster tails at the market and just remove the meat from the shell. Or, if you are buying a whole lobster, I've found it easier to steam or boil it for 1 minute exactly, drain and then remove the meat. The 1 minute steam firms and shrinks the meat just enough to make an easy job of cracking and removing the prized meat. But of course, if you are welcome to skip this steaming part.
Ingredients
Pasta:
1/2

cup

butter + more for ramekin

1/2

cup

flour

2

cups

half and half

2

teaspoons

salt

1/2

teaspoon

nutmeg

1/2

teaspoon

cayenne

pinch of ground black pepper

3

cups

sharp cheddar cheese, shredded

2

cups

gruyere cheese, shredded

1

pound

dried elbow pasta
Lobster:
1/3

cup

panko breadcrumbs

1

pound

uncooked lobster meat, chopped (see notes)

3

tablespoons

grated parmesan
Instructions
Boil pasta in a large pot of salted water until 1 minute shy of done. Drain well.

In meantime, with medium saucepan on medium-low heat, melt butter and add flour a little at a time, whisking constantly for 3 minutes to make a roux. Add half and half, a little at time, whisking to combine. Cook 3 minutes until sauce has thickened. Turn off heat. Add cheddar and gruyere, salt, nutmeg, cayenne and pepper. Stir until cheese is melted. Taste and adjust seasonings. Add cooked pasta to pan, stir to combine.

Butter 8 small ramekins or a large baking dish. Spoon pasta/cheese mixture into dish, up to 2/3 full. Bake in oven for 30 minutes.

While pasta is baking, melt 2 tbs butter in a medium skillet over medium heat. Once butter melts, turn off heat and add lobster meat, parmesan and panko bread crumbs. Toss to combine.

When pasta is done baking, remove from oven. Top pasta with a spoonful of lobster mixture. Set your oven rack to top 1/3 of oven, turn to broil and return ramekins to oven for 6-8 minutes. Lobster should be cooked through and a nice cheeesy crunchy crust will form.
***
Winners from the Saffron Giveaway
Did you enter my saffron giveaway? Here are the winners!
Here's winner #1: Threemilechild won!
Nathan got bored after just one. Had to enlist his brother to pick the 2nd winner: Marius
Bribed Nathan with chocolate to come back to finish his job. See his chocolaty mouth?
and Rudi won!
Congratulations to the winners! Email me your full name, address and phone number. Saffron.com will be shipping you your prize of an entire ounce of saffron directly to you! Promise me that you'll share some of your prize with family and good friends, ok? Good kharma.
If you didn't win, consider purchasing your saffron from this company. An entire ounce will last you over a year! And that is if you cook a saffron dish each week!