I shared last week that we were filming 2 fun segments for television and our first segment with WFLA Daytime aired this week!
Even though it is cooling down, it is still super important to stay hydrated and electrolyte dense foods are just the trick to do so!
Most people think of sugary sports drinks when they think of electrolytes, but really there are so many foods loaded with hydrating properties that are great for your body!
In this week's segment I shared how to make a late summer/fall Spinach, Kale and Avocado Salad with Buttermilk Dressing Recipe!
You will have to watch as I had to sneak in a joke about my tips for kale and how it is related to the bedroom! Ha!
Watch to learn more about hidden electrolytes, make a delicious dressing and make sure to share this segment with someone who might enjoy it!
Click here to watch the WFLA segment and find the recipe!
If you are curious to check out a small sneak peak into what it looks like behind the scenes of shooting from home with my team, you can watch on my Instagram!
Click here to check out the behind the scenes!
Recipe of the Week:
Warm Bacon Potato Salad Recipe
Speaking of fall salads, this is a perfect twist on a traditional side dish salad!
Made with roasted potatoes and no mayonnaise like your traditional potato salad! Quick to make and full of texture and bold flavors, this easy to make potato dish is perfect to serve with grilled meats and fishes.
Jaden's Weekly Tip:
Replace Butter with Avocado
Okay – we all know that nothing truly replaces good old fashioned – BUTTER!
But if you are looking for a way to get some healthy fats the next time you make toast or a sandwich, the answer may be avocado. Simply mash up avocado and use as you would butter!
What's your favorite butter substitute? Tell us at our facebook page!
P.S. We are already 1 week into 30 Days Of Giveaways!
How are you enjoying having a new giveaway launch each day? Keep checking in daily for a new exciting prize to enter for!
Check out the giveaways below!
Have a great week!
With love,
STEAMY KITCHEN CURRENT GIVEAWAYS
ENTER VIP GIVEAWAY ROOMNEW GIVEAWAYS!
30 Days Of Giveaways:
1. Asus Ultra Thin Laptop Giveaway
2. Ninja Professional Blender Giveaway
3. Staycation AirBnB $100 Gift Card Giveaway
4. Robot Vacuum Giveaway
5. Get Grillin Electric Indoor Grill Giveaway
6. Let's Move! Portable Gym Giveaway
7. Dream Clean Cleaning Bundle Giveaway
8. Amasoo Vacuum Sealer Giveaway
THIS WEEK'S WINNERS
Congratulations to our Week's Winners:
Darlene Alexander from Nekoosa, WI who won the AeroGarden Giveaway
Paul Haddock from Leesburg, VA who won the Hi-Sense 40 inch Smart TV Giveaway
Mary Rudy from Hockessin, DE who won the Sunshine Jewelry VIP Giveaway
Congratulations to our Week's Instant Winners:
Steven Finnamore from Maple, ON who won the SK Appreciation Instant Win
Lay Basden from Palm Bay, FL who won the Starbucks Instant Win
Cheryl Ann Shields from Johnson City, TN who won the Wealthy Walmart Instant Win
Virginia Rommel fromUtica, NY who won the Kitchen Gadget Instant Win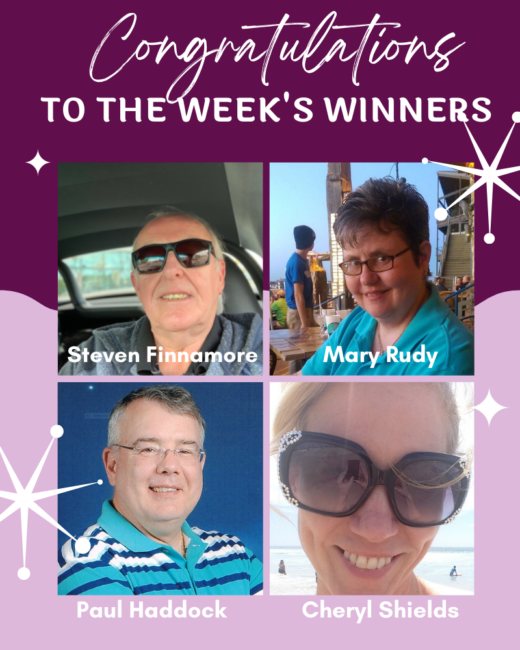 NEW:
30 Days Of Giveaways:
1. Asus Ultra Thin Laptop Giveaway
2. Ninja Professional Blender Giveaway
3. Staycation AirBnB $100 Gift Card Giveaway
4. Robot Vacuum Giveaway
5. Get Grillin Electric Indoor Grill Giveaway
6. Let's Move! Portable Gym Giveaway
7. Dream Clean Cleaning Bundle Giveaway
8. Amasoo Vacuum Sealer Giveaway
ENDING SOON:
– VIP ROOM: Wine Cooler Giveaway
– Rice Cooker Giveaway
– Precision Cooker Giveaway
– Crab and Pineapple Rice Recipe and Giveaway
MORE:
– VIP ROOM: Arctic King Freezer Giveaway
– Bread Maker Giveaway
– Paddle Board Giveaway
– ThatBlanket Review and Giveaway
– VIP ROOM: Dyson Vacuum Cleaner
– Korean BBQ Grill Giveaway
– Rowing Machine Giveaway
– VIP ROOM: Toshiba Microwave
– Matchaful x Willa's Oat Milk Review and Giveaway + Matcha Recipe!
– Zest Energy Tea Review and Giveaway
– Target $100 Gift Card Giveaway
– Vacos Security Camera Review and Giveaway
-VIP ROOM: Complete Kitchen Cookware Set
– Air Purifier Giveaway
– Frozen Yogurt Machine Giveaway
-VIP ROOM: Cash Blitz $250 Cash Giveaway
– $100 Best Buy GIft Card
– Apple Airpods Giveaway
– VIP ROOM: FitBit Versa 2
– $100 Winners Choice E-Gift Card
– TaoTronics 9-in-1 Air Fryer
-VIP Room: Fall Home Fresh: $200 Ikea Gift Card
– Cosmetic Fridge Giveaway
– 4K Digital Camera Giveaway
– VIP Room: Cricut Explore Air 2 Machine
– Laptop Tray Desk Giveaway
– $100 Nordstrom Gift Card Giveaway