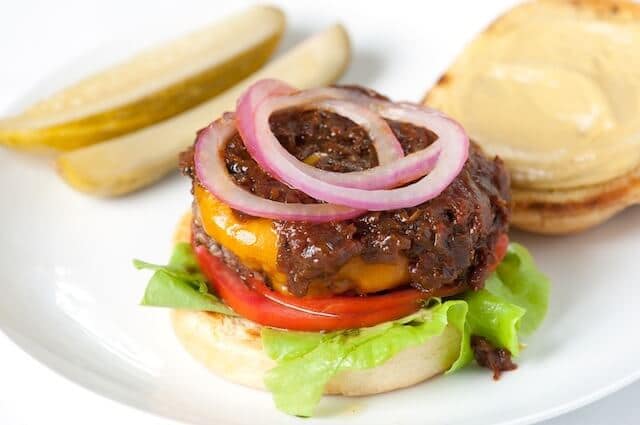 I want you to meet a friend of mine, Aarti — though you've probably have seen her mesmerizingly happy smile on the Food Network already as she was the winner of The Next Food Network Star last year!
Aarti and I used to create cooking videos together with Good Bite (remember this Miso Soup?!) That was about 2 years ago, before Food Network discovered her and I'm so proud to announce that today, Aarti launches her brand new show, Aarti Party!
We're sharing one of her recipes from Sunday's show, Ketchup Chutney from scratch, a perfect compliment to your cheese plate or to slather on your burger. Make your own ketchup!? Absolutely! It's a chunky, warmly spiced version of our All-American favorite condiment.
Here's what Aarti emailed me when she suggested we try this recipe, "Alright, so I was thinking that a good recipe to share might be my "Ketchup Chutney". It's a classic example of what I'm trying to do — introduce people to Indian flavours through the foods they recognise and love. Ketchup, a condiment found in nearly every American fridge, is actually a chutney… which most people think of as an Indian invention. Cool, huh? So I make mine from scratch, which takes about 20 minutes, and it doesn't have any stinky preservatives or high fructose corn syrup in it. Plus, it's got some gusto… packed with brawny Indian flavours like mustard seeds, cumin seeds, garlic and ginger (of course), garam masala and a little turmeric."
Enjoy not only the recipe but a little Q&A with Aarti! Big thanks to Adam and Joanne for cooking the amazing recipe! ~Jaden
***
Tell us a little bit about life before Food Network Star, how has life changed since?
Well, before Food Network Star, my husband and I were scraping by on his unemployment checks (thank Goodness for those, or else I'm not sure what would have happened). While that was really hard, what was harder was not knowing what I wanted to do with my life – my husband has always known that he wanted to be an actor, since he was 4 years old, and he's great at it… but I didn't feel like I had a clear talent, something that I felt really unquestionably passionate about. Winning Food Network Star, heck COMPETING on FNS uncovered this passion that I never knew existed, or perhaps knew was there but never felt like I had anything to offer in that arena (cooking show host). It is such a gift. I wake up every morning thanking God for this new career. I have received emails from people who either watched the competition or my cooking show now, that I would like to print out and frame – I never dreamed that I'd be able to touch people's lives in this way. It's really breathtaking.
Where does your love of cooking come from, how about your love of teaching us about it?
I think we all ache for connection to each other… real, lasting connections that touch from the inside out. Food is one way to do that. I have NEVER been one of those eat to live types of people. I live to eat. And I live to eat with people, break bread with them – something magical happens when you do that. You're kind of bonded forever. Whether it's a first date, a special birthday, a comforting plate of food shared by two people in mourning… I just love that. I think that's where my love of cooking comes from. That, and a really healthy appetite, that started from before birth – I was 10lbs when I was born!!
What is a day like in the life of a Food Network Star? How long will an episode take to shoot?
I spend a couple of months coming up with show themes and recipes, testing them and re-testing them. When it's time to shoot, we shoot 13 episodes in about 10 days – 1.5 episodes a day, with an extra few days to shoot the party scenes featuring my real friends and family. I start at about 7am, with two hours in hair and makeup (yup, I need that much work!), then we start shooting at about 9am, and we go until about 730pm. The shoot days are exhausting (I had no idea how much energy you need to be "perform") but invigorating. I love the production team that makes my show – they are fonts of knowledge and talent, and I can feel the cogs in my head turning just a bit faster when I'm around them.
How do you come up with recipes for Aarti Party?
Well, I eat a lot. Ha! But seriously, what joy to know that whenever I eat out, it's for inspiration! LA has some of the freshest and most creative food around. I love finding new flavour combinations that I never knew worked together. Then there's old family favourites I can't wait to share. And, I take requests! I often ask people on my Facebook fan page what they'd like to learn to make. My fans (um, it's still so crazy that I can say that!) are awesome.
What is your favorite comfort food or indulgence?
Ice cream, ice cream, ice cream. One of the first presents that we bought for ourselves after I won was an ice cream maker, so that I could make ice cream whenever I wanted. I am slowly working my way through David Lebovitz's The Perfect Scoop. I wasn't allowed a lot of dessert growing up, because I was such a portly child, and so the thrill of eating a big bowl of ice cream hasn't gotten old yet. HA!
What is in your fridge right now?
We're moving house right now so it's mostly condiments: fig butter, sriracha, homemade apple-ginger chutney, some carrots, turnips and beets that I pickled, aged gouda, leftover chicken curry with apricots that I'm perfecting, a bottle of green Kombucha and some gluten-free beer. I'm all over the place!
Aarti's Burger Station Epsidoe will air on The Food Network 9am/8c Saturday, August 13, 2011!
making ketchup chutney
Ketchup Chutney comes together quite quickly, so we found it best to slice, dice and measure out everything in advance.

First, thinly slice 3 cloves of garlic.
Then, finely dice one medium onion.
And finally, use a microplane to grate about a 1-inch length of fresh ginger. You could also peel, then mince, but we found this method to be a bit easier. (The peel of the ginger gets pushed back from the microplane when grating).
Next, get all those spices ready! Aren't the colors just beautiful?
Then, measure out the wet ingredients and make sure some salt is handy for later.
Making the chutney is easy. First, start with a medium saucepan. Aarti says to warm the oil over medium-high heat until nearly smoking, then toss in the mustard and cumin seeds.
Since the oil is so hot, they might start to jump around the pan a bit, so having a lid near by to make sure the seeds don't all jump ship is a good idea. Just cover until the popping stops.
Next, add the onion, ginger and garlic to the pan.
Saute for 10 minutes or so until the onions are softened and just start to brown. Just watch the ginger does not burn.
Now, toss in the turmeric, garam masala and paprika. Stir well and cook for about 30 seconds.
Now, add the apple cider vinegar. Stand back when you do this, the fumes can be a bit overwhelming. Cook until the vinegar has reduced by about half.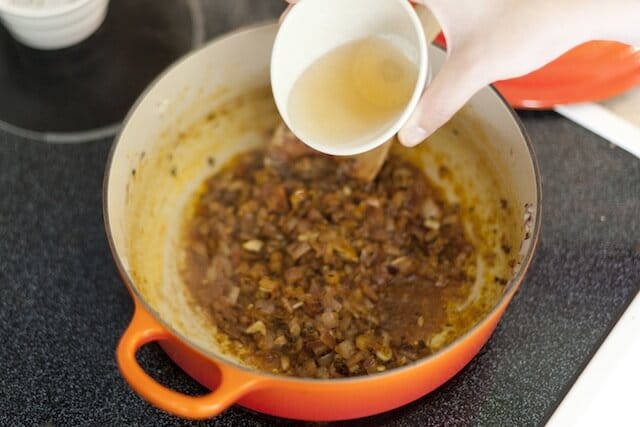 Add in one 14.5 ounce can of diced tomatoes, liquid and all.
Then, the molasses.
And season with some salt and freshly ground black pepper.
Allow the the chutney to cook at a generous simmer for about 10 minutes – it will thicken nicely. If you would like, Aarti says you can puree the chutney, but we chose to keep it as is, we liked the texture. Just cool, jar and store in the refrigerator. We served a dollop of chutney on some sharp cheddar cheese and crusty bread, but you could certainly slather some on top of a burger, sandwich or anything else you desire.
Ketchup Chutney
Ingredients
3

tablespoons

canola or grapeseed oil

1

teaspoon

mustard seeds

1/2

teaspoon

teaspoon cumin seeds

1

medium red onion, finely diced

3

cloves

garlic, thinly sliced

1-inch

thumb

ginger, minced

1/2

teaspoon

turmeric

1/2

teaspoon

garam masala

1/2

teaspoon

paprika

1/4

cup

apple cider vinegar

1

14.5 oz can diced tomatoes

2

tablespoons

molasses

1/2

teaspoon

kosher salt

freshly ground black pepper
Instructions
Warm oil over medium-high heat in a medium saucepan, until nearly smoking.

Keep your lid handy. Add the mustard seeds and the cumin seeds; they should start enthusiastically popping upon contact with the oil, so cover the pot until the spluttering subsides.

Add the onions, garlic and ginger. Saute until softened and just starting to brown, about 10 minutes.

Add turmeric, garam masala and paprika. Stir and cook about 30 seconds. Then add the vinegar (standing back so you don't inhale the fumes!), and cook until vinegar has reduced by about half.

Add tomatoes, molasses, salt and lots of freshly ground black pepper. Stir, bring to a boil, then cook at a generous simmer about 10 minutes until thickened. You can puree it if you like. Set aside to cool, then jar. Store in the refrigerator, ready for your next burger or sandwich or grilled meat or or or...!
Notes
Recipe by Aarti Sequeira of the Food Network Show, Aarti Party