This is my quick-fix snack, Rolo Pretzel Turtles. In a matter of 10 minutes, I can satisfy my sweet tooth, my salty tongue and my fat ass. Can you imagine anything more heavenly than glorious chocolate hugging a salty pretzel, topped with a crunchy toasted nut and oozing with warm caramel? All in one bite.
Life does not get any better than this.
If you aren't interested in my recipe, still read on…as I have a funny video to share with you!!! It involves live on-air webcast, Chinese beer "snacks" and unsuspecting hosts. I was a bad, bad girl. Story after the recipe…

Rolo Pretzel Turtles Recipe
Ingredients
Rolo chocolate candies

Mini pretzels

Nuts - toasted pecans/almonds/hazelnuts/walnuts
Instructions
Unwrap your Rolos. Place pretzels on baking sheet. Top with a Rolo.

Bake in oven for 3-5 minutes, until the chocolate just begins to melt. The Rolo should be soft but not completely melted.

Remove from oven, place on cooling rack and immediately squish the chocolate with a nut. Watch the caramel oooze out.

IMPORTANT: Eat as many as you can while they are still warm. Go ahead, I give you permission to stuff yourselves with sugar.
* * *
Making People Eat Funny Things Live On Air
I'm so so so mischievous. Such a naughty girl, maybe I should get whipped with a wet dishtowel. Wait. I just might like that. Ok, never mind.
I was invited to participate on a live webcast called Media Talk last week. To spice things up a bit, I decided to bring a bag of Chinese beer "snacks," since we were taping from the Tampa Bay Brewing Company. By "snacks," I mean:
Spicy Duck Tongue – whats that pointy thing at the end?
Spicy Duck Giblets – they look like duck balls.
Spicy Chicken Claws – looks arthritic
Here's a play-by-play:
Jaden, the evil tempress, "I will take over the WORLD with spicy duck tongue! bwahhhaaahaaa!"
What's that gray blob on the left screen? Is that my angelic aura of innocence being smashed into smithereens by the spirit of the evil temptress? Ultrasound?
They look so excited to try my Spinach 'n Spam Fried Rice. Oh, just wait until I make you eat the beer snacks.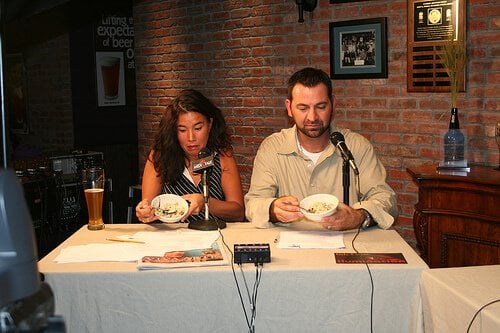 Rob chooses the duck tongue, Janet gets the duck gizzard
But I told her it was, "duck balls" – and you have to watch the video to see her full expression.
Ladies, and gentlegeeks, here is the
video.
And….if you thought that I've just ruined my live-on-air career, wrong.
Yowza. They've already invited me to come back once a quarter.