Today we are giving away a Govee Smart Table Lamp! Lamps have come along way, and there is very few things this lamp can't do! Read more about it below.

About The Govee Smart Table Lamp
Creative DIY Mode: The intuitive DIY mode, via the Govee Home app, allows you to personalize light effects and save them for later. With Finger Sketch, you can draw color patterns on the app and apply them to your portable table lamp.

Create Your Scene: Table lamp with 43 Scene modes, you can jazz up your romantic dinners or casual get-togethers. The scenes are dimmable on the Govee Home app and were designed to fit any indoor occasion.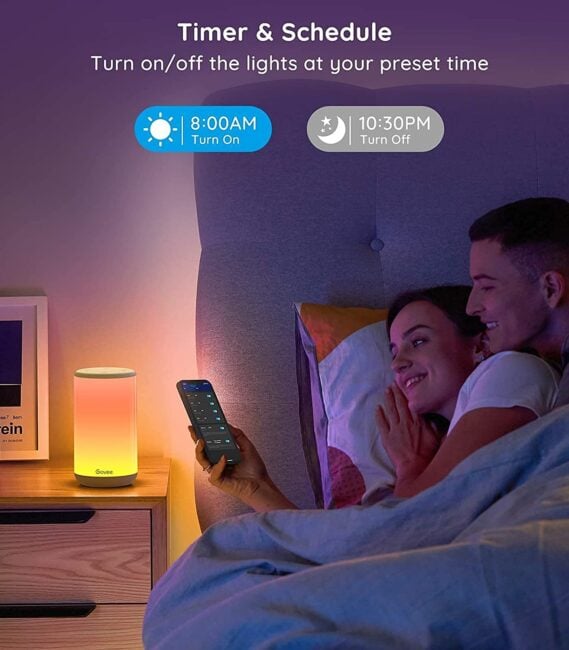 Hands-Free Control: The smart table lamp is compatible with both Alexa and Google Assistant. Free up your hands and manage your bedside lamp with simple voice commands.

Sync Your Music: With a built-in mic, the portable desk lamp can sync to any music type. Choose from 4 music modes and watch in glee as your lights dance to the rhythm of your favorite songs, energizing your mood effortlessly.

Create Helpful Schedules: Program the bedside lamp to power on or off automatically and adjust its brightness, helping you fall asleep peacefully or wake up with warm color.
Vibrant Rainbow Mode
Govee's latest light displaying technology allows multiple colors to display on the table lamp simultaneously. Say goodbye to single-colored lamps and liven up your next party with our Rainbow Mode.
Soothing Sunset Mode
Enjoy warm & calming shades of orange and yellow with our Sunset Mode, helping you drift off peacefully under soft glows of light.
Lively Fish Tank Mode
Your children will enjoy the fun and colorful display of animated fish, continuously swimming across the lamp in style.
Treat yourself to this modern and unique smart table lamp! Shop our Amazon Page to support our small business!
Click here to shop:
Govee Smart Table Lamp Giveaway
Enter below.