Happy Monday Steamy!
Upgrade your summer landscaping and say goodbye to your rake by using the SnapFresh Leaf Blower!
Read more and enter to win below.
About the SnapFresh Leaf Blower
Advanced Motor and Turbo Engine Tech – The Snapfresh leaf blower is equipped with a copper motor; With advanced turbo technology, the motor provides a longer product life span and reduces energy consumption than traditional engines, you can blow the leaves efficiently in your yard

Dual Speed Mode with Adjustable Blowing Tubes – Its two modes, 60mph to 130mph by simply pushing a switch, help you to easily change from indoor work to outdoor work; With adjustable blowing tubes, people of all heights can find a comfortable user experience

Ultra-lightweight and Ergonomic Design – Snapfresh's cordless leaf blower has a super light body, which weighs less than 2.7lb, and can be comfortably operated with one hand; The handgrip is wrapped with flexible rubber, helping you prevent slipping when in use.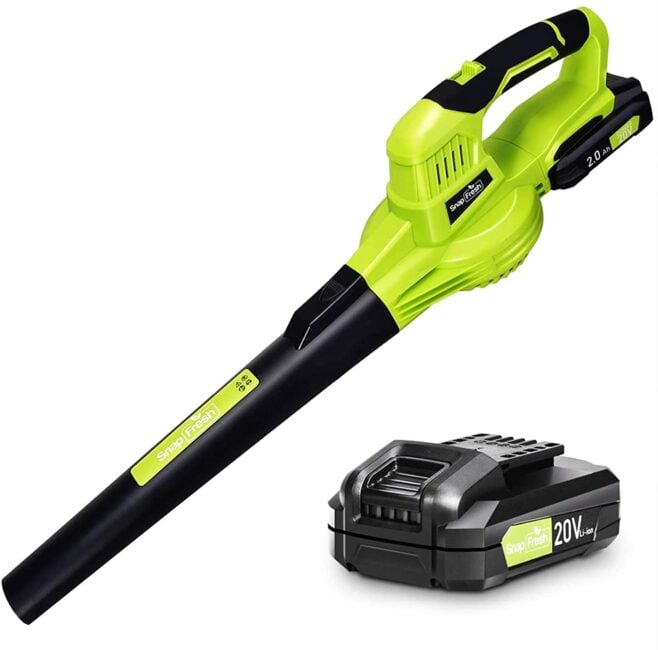 Full Accessories, Battery and Charger Included – We provide all the accessories you need to start your work immediately; The 2.0ah 20v battery (included) can last for up to 15-20-min of work; A full charge will take 1 hour using the included fast charger (please do not charge overnight)

Quick Assembly – Snapfresh's mission is "to make people's life easier", therefore all products from Snapfresh are designed based on this mission; our products are lightweight, well fitted and can be assembled within minutes

Battery Maintenance Tips – To maximize your battery life and lifespan, please leave the battery fully charged when not in use; It will not affect your charging even if you do not hear the click sound while placing the battery in the charger; The batteries are delivered in a fully charged state, so please turn on the machine for 30 seconds before charging for the first time
Before cleaning and maintenance, always switch off the machine and remove the battery pack.

Clean the machine casings regularly with a soft cloth, preferably after each use. Make sure that the ventilation openings are free of dust and dirt.

Remove very persistent dirt using a soft cloth moistened with soapsuds. Do not use any solvents which will damage the tool.

In order to maintain the battery's capacity, please store the leaf blower with the battery fully charged while not using it.
Thank you for supporting Steamy Kitchen!
Starting your Amazon shopping at this link helps our small family business! We get a small commission from Amazon and it helps keep this site running free. Thank you! Jaden
Disclaimer:
Product links provided are monetized affiliate links that go towards support the continuation of Steamy Kitchen recipe content. Users are neither incentivized or required to purchase mentioned products through these links.
SnapFresh Leaf Blower Giveaway
Enter giveaway below.