Hello! And welcome to the 30 Days of TV & Laptop Giveaways series! We have 15 Laptops lined up for you to enter to win! Yes you heard that right, 15 of all different sizes, price values and models! If you have been in the market for a new laptop this giveaway series is for you!
Read below about the Lenovo Chromebook S330 Laptop and enter to win!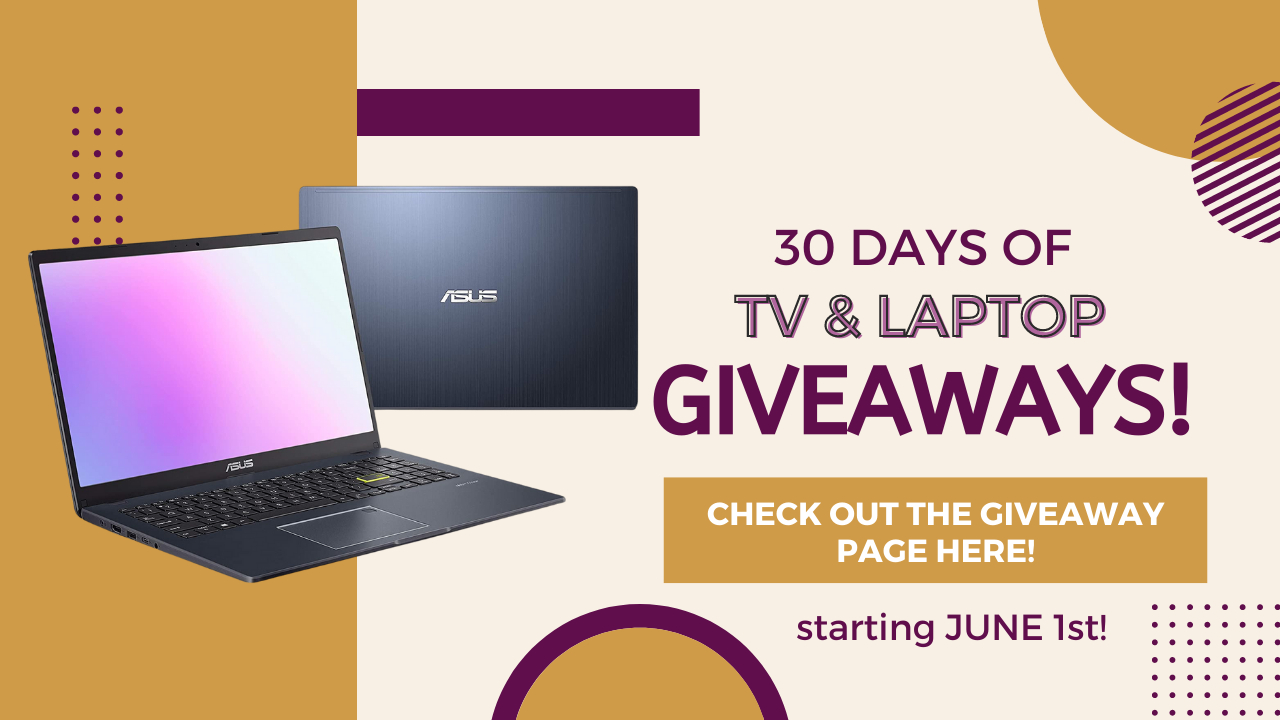 About the Lenovo Chromebook S330 Laptop
High performance laptop: The Chromebook S330 is equipped with a MediaTek MTK8173C Processor, Chrome OS, 4 GB LPDDR3, 64 GB eMMC 5.1 and so much more

Sleek and stylish design: Sleek, stylish and secure, the Lenovo Chromebook S330 is less than one inch thin and 3.3 pounds light with a 14-inch FHD display. Perfect for day-to-day computing and multimedia, on or offline

Powerful processing: Perfect for all your daily computing needs, The Lenovo Chromebook S330 delivers a host of performance features. Enjoy powerful processing for daily tasks, LPDDR3 memory for multitasking, eMMC storage for quick boot-ups, fast software loading and additional 100 GB of cloud storage via Google Drive

Built to connect us: Full I/O support comes standard on the laptop computer with USB-C, micro SD and USB 3.0 for effortless connectivity. Further, this Chromebook also features powerful 2 x 2 Wi-Fi ac with Bluetooth 4.1, a 720p webcam and two 2W speaker systems for effortless collaboration, all supported via a suite of collaborative apps via Chrome OS

Easy to use: The Lenovo Chromebook S330 is easy to use, Offers built-in virus protection and keeps going with long battery life. Further, no setup is needed, just a Google account so your stuff stays with you via cloud storage of your emails, maps, docs, pics and more
Faster, simpler, and more secure, the Lenovo Chromebook S330 brings the latest Chromebook features to you—housed in a sleek, stylish, and durable slim laptop chassis in Business Black. Bringing the latest multimedia in high definition, this Chromebook features an FHD display that is near-edgeless, for effortless enjoyment of your favorite multimedia content. Never slowing down and always up to date, the Lenovo Chromebook S330 offers the latest in digital security while delivering perfect day-to-day performance via powerful processing with integrated graphics(Power VR GX6250), eMMC storage, and DDR3 1866 MHZ soldered memory, 200nits anti glare display —all with up to 10 hours of battery life.
Information and Product Photos from Amazon.com
Shop Our Amazon Page for your own!
Lenovo Chromebook S330 Laptop Giveaway
Enter below.