In this dim sum favorite, Chinese Steamed Spareribs with Black Bean Sauce recipe, learn:
How to buy the right type of spareribs for this recipe
Use pre-made Chinese black bean sauce in a jar for shortcut
This recipe is ready in 30 minutes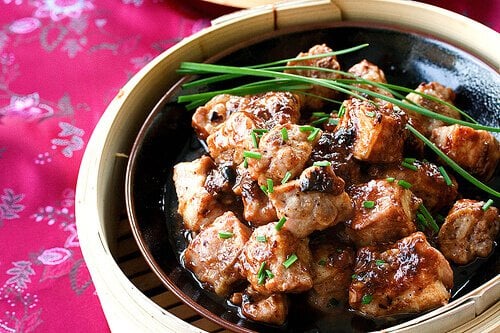 A dim sum favorite dish is steamed spareribs in a black bean sauce, pronounced, "pai kuat" in Cantonese. My family is from Hong Kong. I remember my Gong Gong (grandfather) taking me to dim sum every weekend. The dim sum cart pushers would rattle off the specialties in her cart, and we'd order at least 2 dishes of black bean spareribs.
How to buy the right type of spareribs
If you are lucky enough to live near a large Asian supermarket that has a meat section, the pork riblets are easy to find.
Cut the ribs in between the bones to get bite sized pieces, easy for steaming and eating.
No Asian market? Bribe your butcher to cut normal spareribs cross-wise to get small 1-1/2″ riblets.
Black Bean Sauce Shortcut
Traditionally, whole black beans are used in this dish. However, they are hard to find outside of Chinese markets. I've substituted with jarred black bean sauce – which you can normally find in any supermarket ethnic section. This recipe only took about 5 minutes to prepare and 20-30 minutes to steam.
A brand that's easy to find is Lee Kum Kee (even Walmart sells this brand.)
There are many different types of bean sauce, so make sure you get the right one. It should say BLACK bean sauce.
This is NOT black bean sauce:
Toss the riblets with the Black Bean Sauce and the rest of the sauce ingredients.
Chinese Style Steamers
There are different sizes of bamboo steamers. Some very small, for single serving (like you see at Dim Sum restaurants), and others larger that are meant for family-size.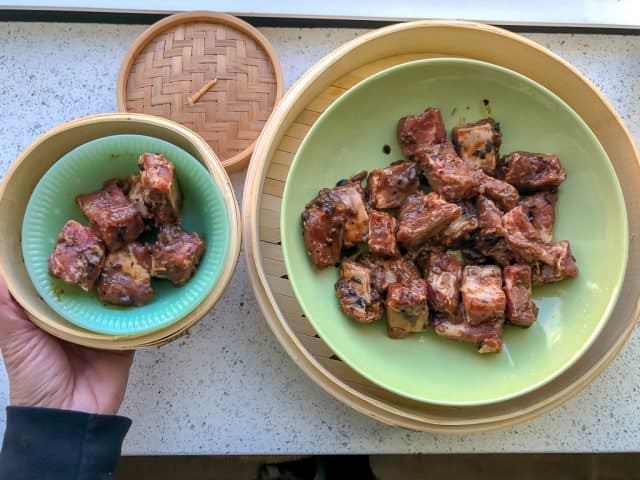 Fill up a large pot or wok with water and place a steamer stand (or upside down shallow bowl) into the water to prop up the steamer basket.
The bamboo steamer should NOT sit in the water.
Cover and steam.
It's important to make sure you don't run out of steaming water! If you don't see steam rising, add more water.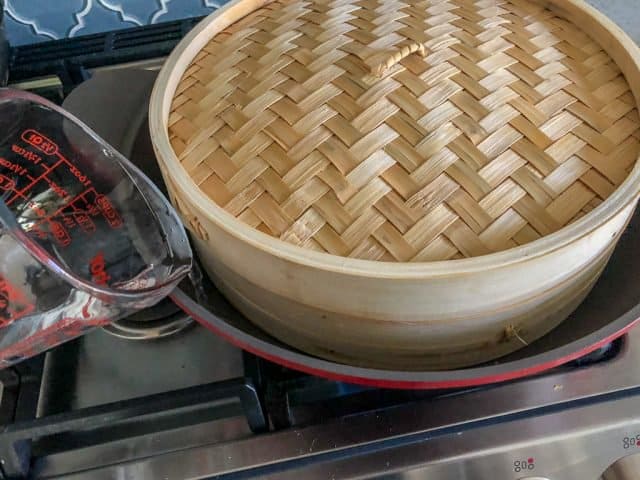 Done!
Serve hot.
Chinese Steamed Spareribs with Black Bean Sauce
Ingredients
1

pound

pork sparerib tips

2

tablespoons

black bean sauce

1

tablespoon

Chinese rice wine

or dry sherry

2

teaspoons

cornstarch

1/2

teaspoon

grated fresh ginger

grate on microplane grater

2

cloves

garlic

finely minced

1/4

teaspoon

freshly ground black pepper

or ground white pepper

1

tablespoon

cooking oil

1

teaspoon

sesame oil

1

teaspoon

sugar
Instructions
Cut between each sparerib to separate each rib tip. In a large bowl, combine the rest of the ingredients. Add in the ribs and toss well to coat the spareribs evenly.

Transfer spareribs and sauce into a shallow, heatproof pan that will fit inside your wok (a pie plate or 9" cake pan works great.)

Set steaming rack inside of wok and fill with water almost up to height of rack. Turn heat to high and when water is boiling, turn heat to medium-high. Set pan with spareribs on top of a steaming rack in wok. Steam on med-high heat for 18-20 minutes until ribs are no longer pink. Make sure that when you are steaming that you don't run out of water in the wok. Replenish with additional water, if needed.
Nutrition
Calories:
386
kcal
Carbohydrates:
6
g
Protein:
17
g
Fat:
31
g
Saturated Fat:
8
g
Cholesterol:
90
mg
Sodium:
143
mg
Potassium:
299
mg
Sugar:
1
g
Vitamin C:
0.5
mg
Calcium:
20
mg
Iron:
1.2
mg