Hello Steamy Kitchen Family!
We have something very special in store for you – and especially for those who love Cash and Gift Card Giveaways!
Over the next 30 days we will be launching a NEW giveaway each and every day. We have 30 specially selected, fan favorite gift cards or cash prizes ready for you to enter throughout this holiday season.
Of course everyone loves to win extra money or gift cards to our favorite places!
We are kicking things off with our Day Three $100 Amazon Gift Card Giveaway.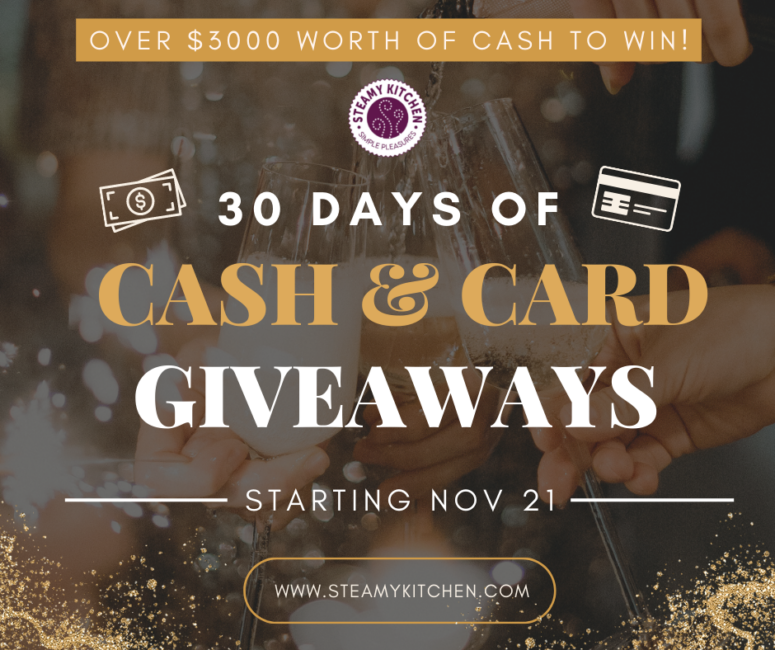 We will be sending out daily emails letting you know when a new giveaway is live over the next 30 days! So be sure to sign up for our newsletter if you haven't already!
(If you haven't, simply enter the giveaway below and you will be added to our list.)
30 Days Of Giveaways: Day Three
Today's giveaway is for $100 Amazon Gift Card to kick things off! We are excited for you to enter and to be apart of the next 30 days of giveaways.
30 Days Of Giveaways Frequently Asked Questions:
How long will the giveaways run for?
The giveaways will run for a full 90 days from the day that they launch.
How do we know if we win?
After each giveaway is over, my team and I will draw winners and you will be notified by email. Winners will also be posted on out winner list.
What is the total prize value over the next 30 days?
We have over $3000 USD in cash and gift cards to enter to win over the next 30 days! This is one of our biggest giveaway series to date!
Will you be launching other giveaways in addition to the giveaway series?
Yes! We will continue to be launching our weekly 3 regular giveaway and 1 instant win in addition to the 30 days of cash and gift cards. For those of you who prefer physical items, gadgets, electronics and review items – don't worry we will still be sharing those as well.
If you have more questions head to our giveaway FAQ page or leave a comment below.
Here's our 5 TOP Picks and BEST Gift Ideas for Holiday you can purchase in Amazon!
Dreo Air Purifier Macro Pro
Dreo Macro Pro Air purifier brings air quality to the next level. Backed by class-leading authorities including AHAM, ECARF, SGS, Reddot, IF, and ENERGY STAR. Dreo air cleaner keeps your home free of allergens and pollutants, all thanks to its exceptional cleaning efficiency. Perfect for living rooms, bedrooms, studios, offices, etc. Macro Pro 360°air intake drags pollutants from all sides and circulates clean air up to 5 times per hour in large rooms. Powered by a pioneering brushless motor, this air purifier takes only an hour to clean a 1358 sq ft room.
Rechargeable Laser Tag Set
Delivers hours of action-packed, adrenaline-pumping fun wherever you set up the battleground! With quick setup and long-life rechargeable gear, you'll be up and running – and shooting – in no time. This Laser Tag Set is not just for kids but for the whole Family!
Vancasso Mandala Dinnerware Dish Set
This Vancasso 6 Pieces Porcelain Dinner Set is perfect Companion for Dinner Service. Excellent use at any family get-together, formal banquet or just for everyday use, Or as an elegant gift for Thanksgiving & Christmas.
Marc Jacobs Daisy Daze Women 1.6 oz EDT Spray
The floral fragrance of Marc Jacobs Daisy Daze Women is suitable for Women in all ages. A best gift idea we recommend for your mom, wife or girlfriends.
NutriBullet Blender
NutriBullet blender is the ultimate cooking companion, with multiple speeds blend up any recipe, both quickly and precisely. The high-capacity, super-durable vented pitcher can handle warm soups, sauces, and hot stuff of all kinds, and makes multiple servings of your favorite creations for the whole family.
Let us know in the comments what you are most excited to win – cash or gift card!
What would you use cash towards or tell us what is your favorite place to win a gift card from?
$100 Amazon Gift Card Giveaway
Enter to win below.