Hello Steamy Kitchen Family!
We have something very special in store for you – and especially for those who love Cash and Gift Card Giveaways!
Over the next 30 days we will be launching a NEW giveaway each and every day. We have 30 specially selected, fan favorite gift cards or cash prizes ready for you to enter throughout this holiday season.
Of course everyone loves to win extra money or gift cards to our favorite places!
We are kicking things off with our Day Nine $100 Sephora Gift Card Giveaway .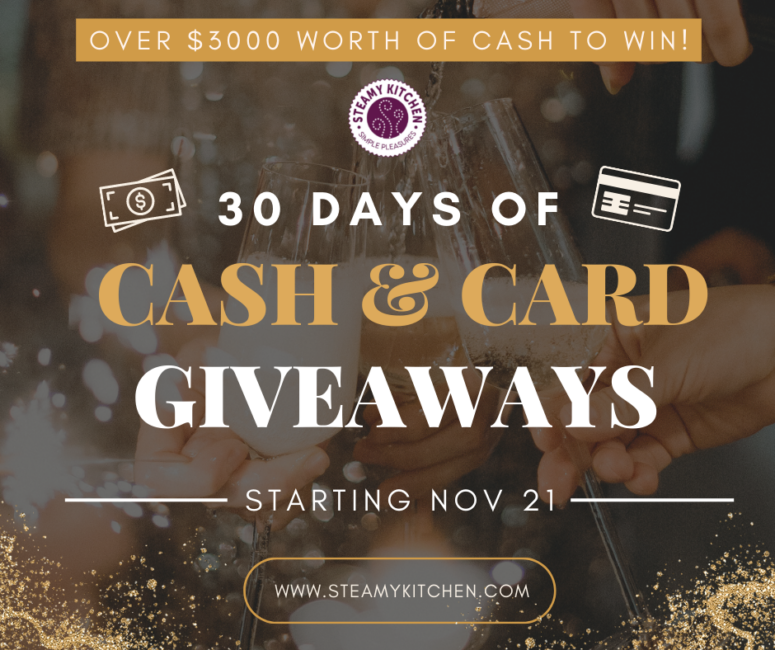 We will be sending out daily emails letting you know when a new giveaway is live over the next 30 days! So be sure to sign up for our newsletter if you haven't already!
(If you haven't, simply enter the giveaway below and you will be added to our list.)
30 Days Of Giveaways: Day Nine
Today's giveaway is for $100 Sephora Gift Card to kick things off! We are excited for you to enter and to be apart of the next 30 days of giveaways.
Shop your favorite beauty and skin products with a chance to win some extra spending money in Sephora! For the guys here, Sephora also has a wide variety of skin care products and mens lines as well! So this giveaway is for you too!

$100 Sephora Gift Card Giveaway
Enter to win below.