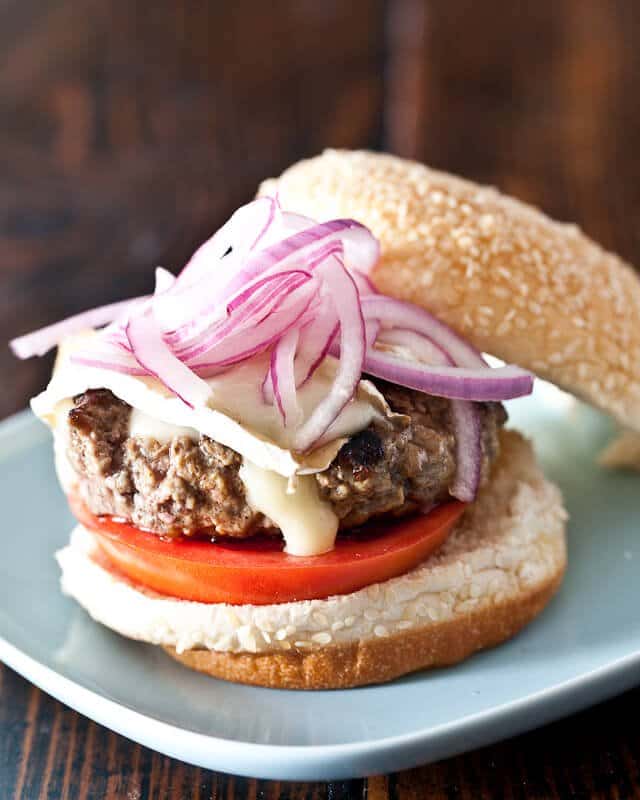 Lamb is crazy-expensive at our markets, it's actually cheaper to go to a fancy restaurants to order lamb chops than it is for me to cook at home. Ground lamb prices are a little better, but still a splurge when compared to beef. Splurge I must (yum….lamb….) and decided that I need to fancy the lamb burger up with warm, melty brie and quick pickled onions. Quick as in 10-minute, 3 ingredient quick.
The quick pickled onions is essential to the recipe, in my opinion, because the lamb has a strong, distinctive flavor and the brie is ooooey, goooey, rich. The pickle helps cut that fat and richness and provides a contrast to the gamey lamb.
Wow, do I sound cheffy or what!?
The 10-minute red onion pickle only takes 3 ingredients – rice vinegar (or red/white vinegar), water and a pinch of sugar. The onions mellow out in the vinegar and water – so you won't get the hot bite that you would from regular raw onions.
You can even throw in some chopped chile pepper if you want the red onion pickle to be a little spicy.
Lamb Burgers with Brie and Quick Pickled Onions
Slice the onion as thin as you can - use a mandoline if you want! I've found with the Quick Pickled Red Onion and Melted Brie, there's no need for mustard or ketchup. You may prefer a little spread of mayo or butter on the bread.
Ingredients
1

red onion, very thinly sliced

1/4

cup

vinegar (rice vinegar, cider vinegar white wine vinegar or red wine vinegar)

1/2

teaspoon

sugar

1 1/2

pounds

ground lamb

salt and freshly ground black pepper

8

ounces

brie cheese, sliced

4

slices

tomato

4

burger buns
Instructions
Fill a small bowl with the vinegar, sugar plus 1/4 cup of water. Add in the red onion slices and let sit at room temperature while you complete rest of recipe.

Season the ground lamb with salt and pepper. Form into 4 equal sized patties. Heat a grill pan over high heat. When hot, add in the patties. Grill for 2 minutes, then flip the patties. Turn the heat to medium and let cook for 5 minutes. Flip again and cook an additional 3-5 minutes, depending on doneness preference. During the last 30 seconds of cooking, add the brie cheese slices on top of each burger.

Serve the burgers with the quick pickled red onion, buns and tomato.