Cauliflower Mashed "Potatoes" Recipe
This is a recipe for low-carb Cauliflower Mashed Potatoes (but no potatoes are used!) with a tip on how to prevent a soggy mashed cauliflower.
We recently went to Ruby Tuesdays for dinner and guess what? They have Cauliflower Mashed Potatoes!! It looks like mashed potatoes, its texture is similar to mashed potatoes and the taste is mashed potato-y enough to make those who are on the Paleo diet or low carb diet happy.
It's been a family favorite recipe, we have this dish at least once every couple of weeks. Leftover Cauliflower Mashed Potatoes make a great accompaniment for breakfast sausage. Simply form cold mashed cauliflower into flat patties, and lightly pan-fry a few minutes each side to get them nice and crispy.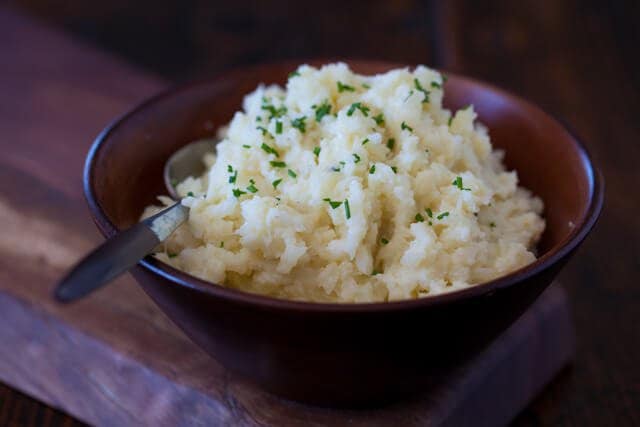 I like the mashed cauliflower to be a little chunky (like I like my mashed potatoes) so instead of using an immersion blender, I just use a potato masher to mash and stir with the butter and sour cream.
Top with chives (or whatever you normally like on your mashed potatoes) and you've got one heck of a side dish.
If you're looking for more lower-carb side dish recipes, try Roasted Brussels Sprouts with Grapes, Cauliflower Fried "Rice" (Chinese style!), Korean BiBimBap with zero carbs, and Vietnamese Noodle Salad recipe (uses jicama instead of noodles).
Cauliflower Mashed Potatoes Recipe
This recipe is very flexible. Feel free to use your favorite mashed potato toppings and seasonings. Some love adding a big spoonful of cream cheese. Or how about chopped crispy bacon on top?
Course: Side Dish
Cuisine: American
Servings: 4 people
Calories: 120 kcal
Ingredients
1 head cauliflower
3 tablespoons milk
1 tablespoon butter
2 tablespoons light sour cream
1/4 teaspoon garlic salt
freshly ground black pepper
snipped chives
Instructions
Separate the cauliflower into florets and discard the core.

Bring about 2 cups of water to a simmer in a pot, then add the cauliflower. Cover and turn the heat to medium. Cook the cauliflower for 12-15 minutes or until very tender.

Drain and discard all of the water (the drier the cauliflower is, the better) and add the milk, butter, sour cream, salt and pepper and mash with a masher until it looks like "mashed potatoes." Top with chives.
Nutrition Facts
Cauliflower Mashed Potatoes Recipe
Amount Per Serving
Calories 120
* Percent Daily Values are based on a 2000 calorie diet.