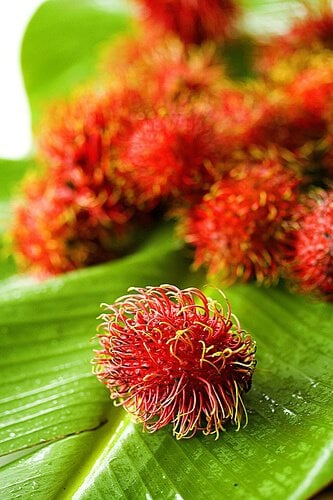 Why is it that Asian fruit is just so strange looking? This is called Rambutan from Southeast Asia. The outer skin is almost leathery and the spines are piable, plasticy. Maybe whoever inveted velcro stumbled upon a basket of Rambutan.
The texture of the fruit is firm, slightly crisp/crunchy, juicy with hints of melon, honey and very similar to Lychee. But don't just throw away the pretty shell – it has many uses including:
A mini-bowl for my homemade Matcha White Chocolate Ice Cream
A very trendy hat for teddy….

forget Sanjaya's faux-hawk…this is just so much more stylin'! What shall we call this hairstyle?

p.s. I really didn't mean to hit "PUBLISH" on this post…in fact, this was an old post from months and months ago that I never published.  (yeah…Sanjaya WHO???) I was cleaning up old posts and meant to "DELETE" this one…and hit the wrong button. That's what happens when your Pandora decides to mess with you and plays Barry Manilow in your music mix at 2:30 a.m.    Spontaneous brain farts.
p.p.s Don't forget to enter the free
Saffron drawing! Only a few days left!
p.p.p.s. Congrats to Rasa Malaysia! I'll be cooking her
Malaysian Coconut Butter Prawns live on television on Tuesday morning!!! We had 746 votes – and her dish won 282 votes. Actually, it was a really close race between her prawns and The Delicious Life's Bulgogi Burger – in fact, the score was tied up to the very last day. Ok…it's 4:00 a.m. and I'm still blogging. Damn. I better go to sleep before my eyeballs fall out and roll in the couch crack. I'd never be able to find them!
p.p.p.p.s. I know, I know…"OH JUST SHUDDUP ALREADY!"   I'm comin' to So.Cal second week of December and will teach a hands-on Dim Sum class! Date and location has been finalized – will tell you in next post.
zzzzzzzzzzZZZZZzzzzzzzzz