Split Pea and Ham Soup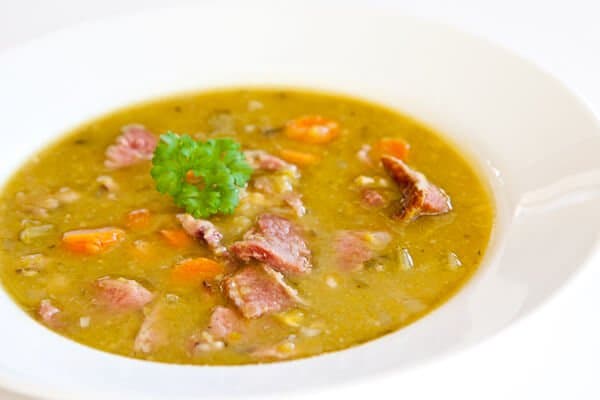 Usually sometime during the holiday, we'll bake an entire bone-in ham.
Split pea and ham soup is so surprisingly easy, especially in a pressure cooker. It takes about 3 minutes of chopping, 4 minutes of pressure cooking time and then 20 minutes to just let it sit. My friend, Wendy taught me her version, which actually comes from the back of the package of split peas!
No soaking necessary (which makes the recipe even simpler!)
Split Pea and Ham Soup Recipe
Servings: 8
Prep Time:5 mins
Cook Time:25 mins
Ingredients:
1 pound split peas
3 cups diced ham
bone from ham or smoked ham hock (optional)
3 carrots, diced
3 stalks celery, diced
1/2 onion, diced
2 cloves garlic, minced
1 bay leaf
3 tablespoons chopped fresh parsley (or 1 teaspoon dried parsley)
2 teaspoons kosher salt (or 1 teaspoon table salt)
freshly ground black pepper
1 1/2 quarts water


Directions:
Rinse peas and drain. Pick out anything that's "not-pea" 🙂
Place all ingredients into pressure cooker, set on high for 4 minutes. When cooking is done, leave the pressure cooker to sit for an additional 15-20 minutes to let pressure and steam escape.