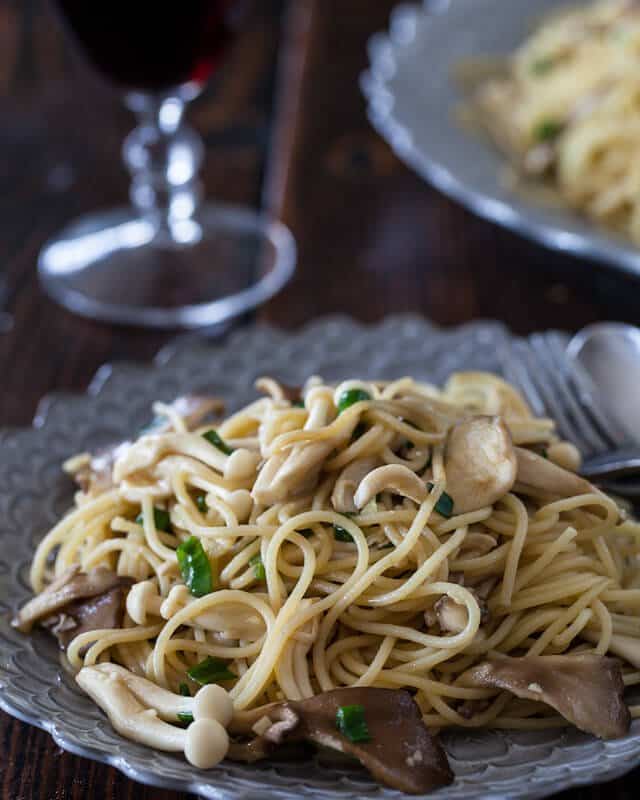 This is a variation of one of the most popular recipes from my cookbook (Todd & Diane posted the recipe for Garlic Butter Noodles) and SteamyKitchen.com (Garlic Scallion Noodles).
I've one-upped the recipe by adding in a spoonful of miso paste and throwing in fresh mushrooms, which is like upgrading from (okay, I just deleted a lame analogy of something related to stereos….too doiky, too predicable….deerrrrrr….)
Anyways, the miso paste, even just just a spoonful of it, melted into butter gives the entire dish richness (without adding meat!) I've created this recipe for my client, Miso & Easy, who makes ready-to-use miso paste.
Garlic Noodles with Miso Butter
You can use any type of noodles that you want, Asian noodles or even spaghetti noodles (which is what I used). The secret ingredient is miso paste and Maggi Sauce….but soy sauce will work just as well.
Get your wok out (or a large saute pan with high sides) and add saute the garlic and green onions in butter, but for the love of Buddha, don't burn the garlic – keep the heat in control!
Add in the mushrooms.
Just as the mushooms are softening, add in the miso (you might want to make a little space in the pan and stir the miso with the butter to melt it)
Maggi or soy sauce.
Cooked noodles and toss! toss! toss!
And toss more!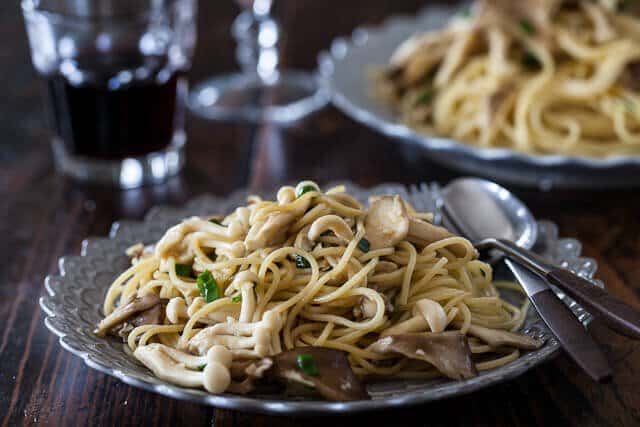 Garlic Noodles with Miso Butter Recipe
Use any noodles that you like - I prefer either Chinese egg noodles or thin spaghetti noodles.
Ingredients
1/2

pound

dry pasta or noodles of your choice

2

tablespoons

butter

2

cloves

garlic, finely minced

1

stalk

green onion, chopped

12

ounces

fresh mushrooms of your choice

2

tablespoons

Miso & Easy (or 1 tablespoon regular miso paste)

2

teaspoon

Maggi Sauce (or 1 1/2 tablespoons oyster sauce)
Instructions
Cook the pasta according to package directions. Drain and set aside.

Heat a wok or large saute pan over medium heat. When hot, add the butter, garlic and green onion. Cook for 1 minute or until very fragrant, making sure to keep an eye on the heat so that the garlic does not burn. Add in the mushrooms and cook for 2 minutes. Add in the miso, Maggi Sauce (or oyster sauce) and stir.

Add in the cooked pasta and toss well.