A few months ago, I thought it would be fun to make hazelnut milk. Yes, fun to make, fun to sip, but the concoction was so rich that sipping was all we could do….that is….until we discovered that adding a shot of Bailey's Irish Cream to it made it fantastically addictive.
We haven't made hazelnut milk since – but with a giant bag of happy round hazelnuts still in my refrigerator (hey, is is weird that I keep nuts in the refrigerator?) I came up with several recipes to use them up.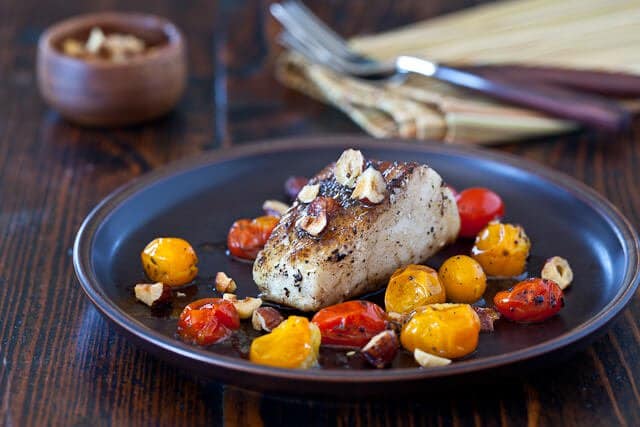 Even though this dish looks fancy, even restaurant-worthy, the elements of this dish are relatively simple. Well, it has to be, in my opinion – nutty and luxurious-tasting hazelnut browned butter shouldn't have to compete with anything too complicated on the plate.
The cherry tomatoes are from the garden, I can't pick them fast enough – I'll finish picking one side of the plant, turn around and zoinks!! another 10 have ripened just like that.
Since I'm the only one in the house who eats tomatoes (!#!$@!#) I've resorted to sharing the lot with the hens, chucking a handful every day into their coop.
pssst…..Hey, has anyone tried hypnosis to get your kids and husband to like a certain food?
Throw those babies into the pan with the fish, they'll burst open (sometimes I'll even use my spatula to squish 'em a bit in the pan to release the juices).
Cod Fish with Hazelnut Browned Butter Recipe
Lots of flexibility here - Substitute dried sage for your favorite dried herb mix. Instead of cod, you can use any fish you like, just adjust the cooking time based on thickness of the fillet.
Ingredients
4

5oz cod fillet

salt and pepper

1

tablespoon

dried sage

1/2

cup

hazelnuts, chopped

3

tablespoons

butter, divided

1

pint

cherry tomatoes
Instructions
Season the cod fillet on both sides with the salt, pepper and dried sage. Set aside.

Heat a saute pan over medium heat and add just 1 tablespoon of the butter. When the butter is bubbling and starting to get light brown, add the the chopped hazelnuts. Toast the hazelnuts in the butter, stirring constantly for 2 minutes. Remove the hazelnuts and let cool on paper towel. Keep the pan on the stove.

Add the remaining butter to the hot pan and add the cod. Cook for 2 minutes on one side, then flip the cod fillet. Turn the heat to medium-low. Add in the cherry tomatoes to the pan with the cod.

Cover loosely with a sheet of tin foil and let cook for an additional 2-4 minutes, gently shaking the pan every so often to turn the tomatoes. [fillet 1" thick = 2 minutes; fillet 2" thick = 4 minutes]

Serve the cod and tomatoes with chopped hazelnuts - make sure you drizzle a bit of the browned butter on each dish.