UPDATE: The Steamy Kitchen wok has sold out!!! We are currently looking for another manufacturer that can help us produce more ASAP!!
One of the most asked questions I get is, "what kind of wok do you recommend?" To me, the perfect wok has to be:
– easy to cook with, easy to clean
– made of cast iron material for superior heat retention, but light enough to lift with one hand
– enamel on the outside so that it wouldn't scratch the stovetop surface
– friendly for gas, electric, glasstop and induction stovetops
– glass lid so I can see what's going on in the wok
– steamer rack insert
All of these qualities were a must for the perfect wok. Since I couldn't find one on the market, I designed one myself with the help of my friends at Cooking.com.
Steamy Kitchen Wok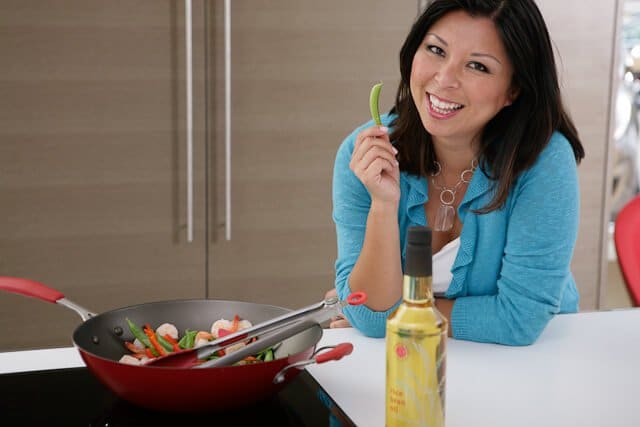 After a loooong year in the design, prototype, testing and manufacturing, I'm so thrilled to announce that the Steamy Kitchen Wok has launched! The wok features everything that I've described above!
There are 3 layers: the outside features an enamel coating so that it won't scratch your countertop, cabinets or stove top. The middle is a thin, light cast iron material so that it heats evenly and retains the heat, and the inside is a durable nonstick coating to make cooking and cleanup simple.
The handle is silicone so you don't burn your hands and there's even a helper handle on the other end to make carrying easy.
The glass lid! Finally I can see how the vegetables are steaming or when the stir fry is perfectly cooked. I've also included a removable rack inside so that you can steam vegetables, steam buns, make Chinese steamed fish or make dim sum.
How to steam in the wok
To steam foods, all you have to do is pour in about an inch of water.
Place the steamer rack in the wok.
Put whatever you want to steam in a deep dish (like a cake pan, pie pan or glass dish)
Cover with lid.
Let it steam! The glass lid also has a steaming hole so that some steam can escape, which keeps the lid in place without rattling. The glass lid also lets you see the progress of your cooking without having to lift off the lid.
If you have a silicon steamer insert or one of those collapsable steamer inserts, you can use that too.
The wok is deep enough to accommodate all sorts of dishes.
You can buy the Steamy Kitchen Wok online at the store!
Steamy Kitchen Rice Bran Oil
Another question I tend to get is, "What's the best oil for stir-frying?"
I've been using rice bran oil in cooking and salad dressings almost exclusively for the past 5 years, since I read Fine Cooking Magazine April 2004 rave and more recently, San Francisco Chronicle's article, "Rice Bran Oil Offers Lighter Way to Fry."
Rice Bran Oil has one of the highest smoke points – meaning you can heat it up super-hot and it won't smoke like crazy. It's smoking point is 490°F, even higher than canola (450°) peanut (460°) and grapeseed oil (485°).
Steamy Kitchen Rice Bran Oil features:
– One of the highest smoke point of all cooking oils, which prevents fatty acid breakdown at high temperatures
– Clean, neutral, light taste, versatile. Use in stir frying, deep frying and as a salad oil.
– From non-GMO rice
– Best balance of saturated, monounsaturated and polyunsaturated fats as recommended by American Heart Association and the World Health Organization.
– Hypoallergenic
– Trans fat free, high levels of antioxidants
The best part is that Steamy Kitchen Rice Bran Oil is made from the bran and germ of the rice kernal.
Love it yet? I hope so!
You can buy a large 750ml bottle of Steamy Kitchen Rice Bran Oil for less than $10!
Thank you, thank you to all my readers who've followed our Steamy Kitchen adventures. Scott, Andrew, Nathan and I so appreciate your love and support! This is a dream come true and we are so proud of the wok and rice bran oil.
Big kisses 'n hugs 'n silly faces!