Quinoa Fried Rice Recipe
I really had a lot of trouble naming this dish. It's Fried Rice. But with quinoa, not rice.
Fried Quinoa?
That just sounds funky. Anyways, it's subbing the heart-healthy, protein high ancient grain, QUINOA for the rice. I cook the Quinoa Fried Rice exactly in the same style that I cook Chinese Fried Rice.
You know what? I like it even better than rice. (shhhh…don't tell my mama!)
If you've never cooked with quinoa before, don't fret. It's super easy. Easier than rice. Easier than mac 'n cheese. Almost as easy as couscous.
Grab a box from the market and experiment with it. I promise quinoa is a friendly grain. It's even got a cute curly-q tail!
Oh yes, don't be a dork and pronounce it wrong like I did years ago.  It's KEEN-wah.
Watch – this dish is easy to make – I'll even show ya!
Other recipes that use quinoa:
Double Broccoli Quinoa Recipe (101 Cookbooks)
Zucchini, Fresh Corn and Quinoa Bowl with Feta and Basil (Aggie's Kitchen)
Quinoa Breakfast Skillet (How Sweet It Is)
Quinoa Cakes with Lemon, Olive, and Parsley (Love & Olive Oil)
Stuffed Pattypan Squash with Quinoa and Fresh Corn (Oh My Veggies)
Quinoa Salad with Black Beans, Corn, and Tomatoes (Simply Recipes)
Cilantro Lime Quinoa (Two Peas & Their Pod)
Jaune Flamme Tomatoes & Quinoa Salad (White On Rice Couple)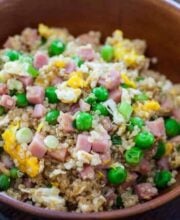 Quinoa Fried Rice Recipe
Servings: 4
Prep Time:10 minutes
Cook Time:10 minutes
For best results, use leftover quinoa that's been chilled in the refrigerator. If you don't have time, cook the quinoa but using only 80% of the water that the recipe calls for on the package. Once the quinoa is cooked, spread it out on a baking tray or large bowl and place in freezer for 10 minutes. This will chill the quinoa for the recipe.
Fish sauce is the secret ingredient to this dish - if you cannot find it, substitute with additional soy sauce.
Ingredients:
1 tablespoon cooking oil
2 eggs
1 cup diced ham
1 stalk green onion, chopped
1 clove garlic, finely minced
1 teaspoon grated fresh ginger
1/2 cup frozen peas
2 cups cooked, chilled quinoa (about 1/2 cup raw)
1 1/2 teaspoon soy sauce
1 teaspoon fish sauce
freshly ground black pepper


Directions:
1. Heat a wok or large saute pan over high heat. When hot, swirl in the oil. Add in the eggs and scramble for 15 seconds. Once the eggs have just set, remove the eggs to a clean plate or bowl.
2. Return wok to stove and turn to medium-high heat. Add in the diced ham and cook for 2 minutes until warmed through and browned. Push the ham to one side of the wok to leave room to fry the next ingredients. Add a bit of cooking oil if necessary. Add in the green onion, ginger and garlic, stir fry for 30 seconds until fragrant. Mix in with the ham.
3. Add in the cooked eggs, frozen peas and quinoa. Toss and stir fry for 2 minutes, spreading everything out over the surface of the wok. Pour in the soy sauce, fish sauce and add in the black pepper. Toss again and stir fry for an additional minute. Taste and add in additional soy sauce or fish sauce if needed (remember that the ham is salty so make sure you grab a bite that includes ham.)