Thai Seafood Curry Recipe
This is one of my go-to dishes when I've run out of time, have barely any fresh ingredients in the house and in need of a spicy fix. Thai curry only takes 15 minutes to make, from start to finish, including the rice if you use my microwave method.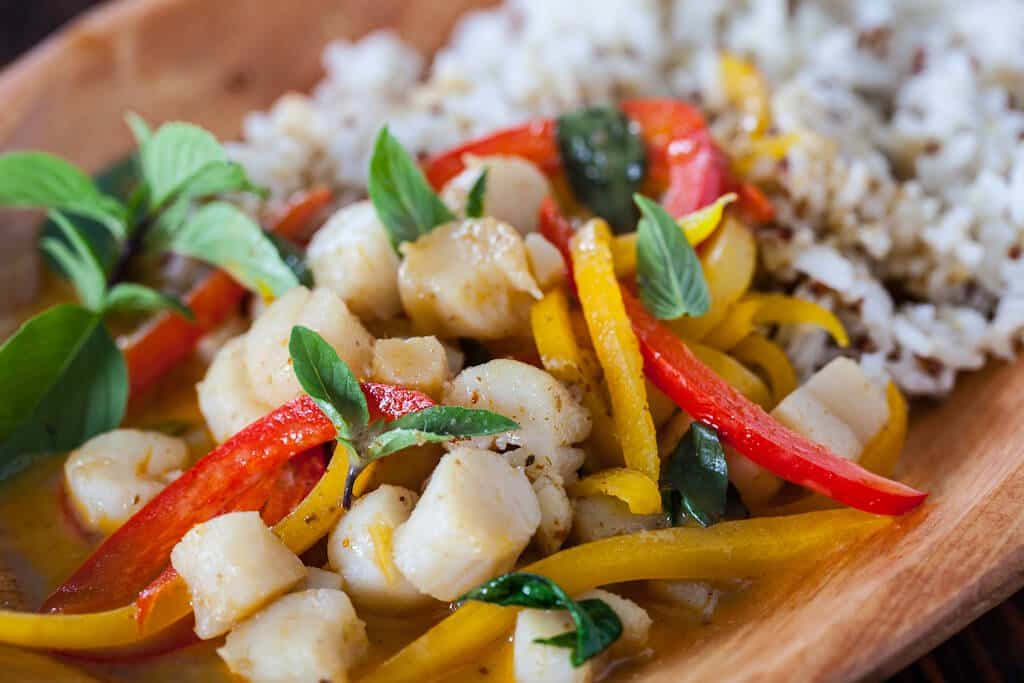 The recipe is crazy flexible – use whatever seafood you'd like – I happen to have a bag of frozen bay scallops in the freezer and a couple of bell peppers. The Thai curry paste and coconut milk both are from a can, the rice from the pantry.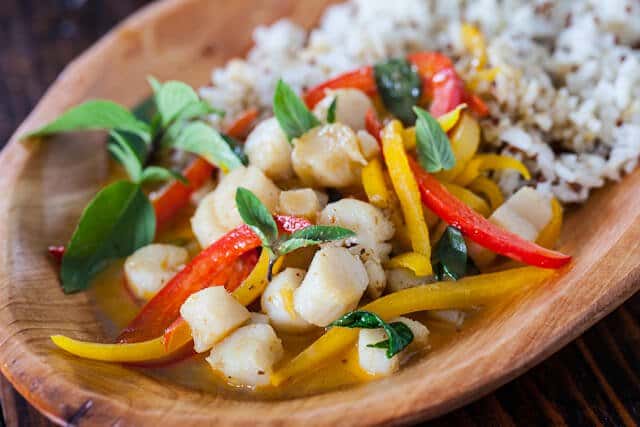 Oh yes, the rice! It's actually a blend of quinoa and jasmine rice. All you need to do is stir in a couple of spoonfuls of quinoa grains to the raw rice and cook them together.
The boys LOVE rice, but aren't big fans of quinoa – but it's so healthy for them that I mix it in (sorry, boys!)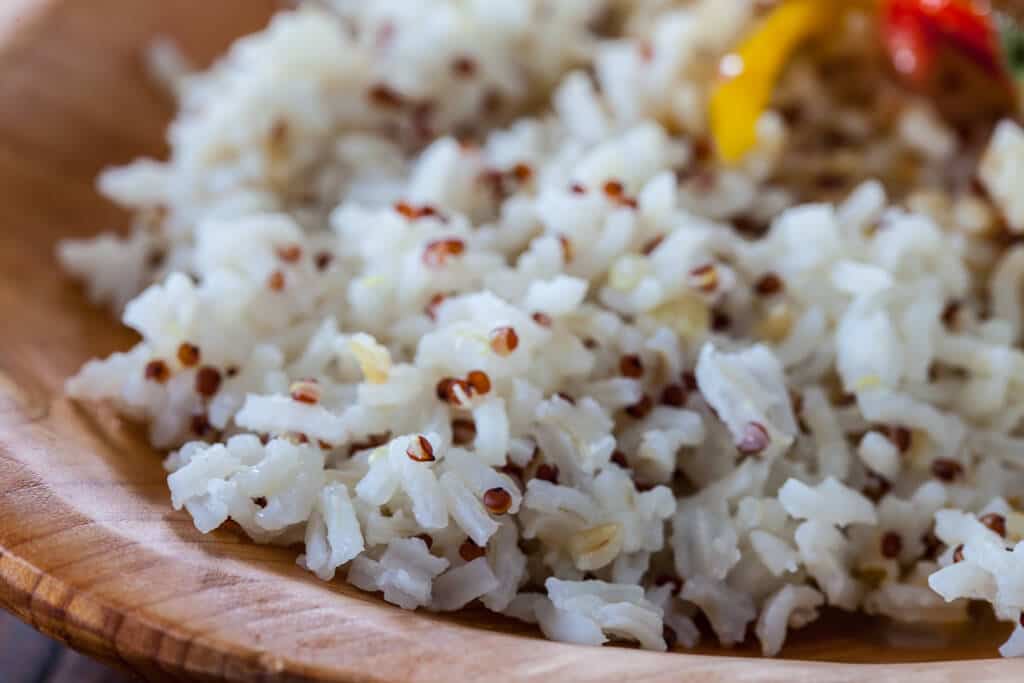 The Thai basil is from my garden, but you can use regular fresh basil that you can find at the market. Or leave it out if you don't want it!
I've been busy creating videos for each recipe – it doubles the work required in creating recipes, but I think the video is worth it. Generally, from start to finish, a recipe now takes me and my team 15 hours.
If you're curious, I'll have to detail out what we do step by step in recipe development and publishing soon!
How to cook Thai Seafood Curry video
Thai Seafood Curry Recipe
Servings: 4
Prep Time:5 minutes
Cook Time:10 minutes
This Thai Seafood Curry Recipe only takes 15 minutes to cook. You can cook the rice in the microwave (see link in the recipe below) while you cook the curry on the stovetop.
Ingredients:
1 1/2 cups rice
1 teaspoon cooking oil
4 ounce can of Thai curry paste
14 ounce can of coconut milk
1 tablespoon fish sauce
2 bell peppers, thinly sliced
1 pound seafood: bay scallops, shrimp, fish, etc.
sprig of fresh basil, leaves torn


Directions:
1. Cook the rice according to package instructions. Here are my instructions for how to cook rice in the microwave.

2. In a wok or saute pan, heat up the cooking oil over medium-low heat. When shimmering, carefully add in about half of the curry paste and stir for 15 seconds to release its flavors. Whisk in just 1/4 cup of the coconut milk until the curry paste is fully mixed in. Pour in the remaining coconut milk, turn the heat to medium-high and bring to a simmer.

3. Whisk in the fish sauce and taste. If you'd like it more spicy, add in more curry paste. If the curry needs more flavor (not necessarily spice), add in additional fish sauce.

4. Add in the bell peppers and the the scallops. Simmer for 4 minutes or until the scallops are just cooked through. Turn off the heat. Stir in the fresh basil. Serve over rice.

i