Easy, healthy Japanese chicken salad enhanced with miso and sesame!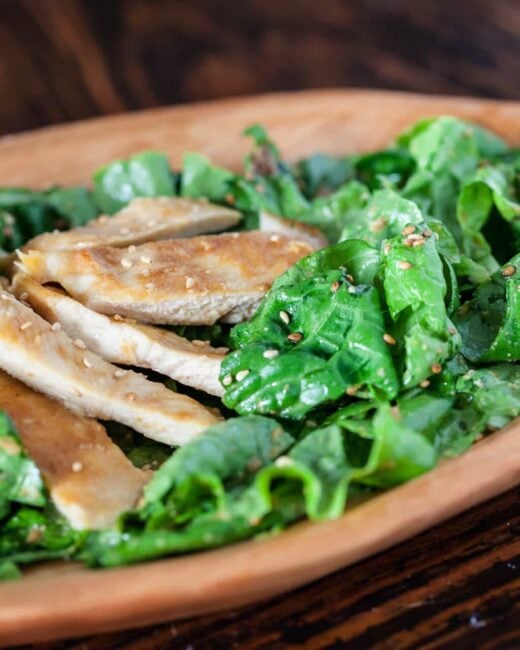 I first met Nancy Hachisu in Mexico at our very first Food Blogger Camp that a few of us hosted back in 2010. What surprised me was not that she attended, but that she flew all the way from Japan to come and hang out with us. It gave me kick in the pants, "You best deliver a killer event, Jaden!" And we did, because she came back the following year.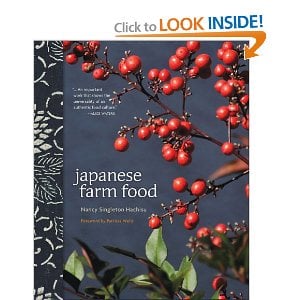 Ever since then, I've been lucky to see Nancy at least once a year, sometimes twice, at food conferences. Those conferences are like reunions for us bloggers – giddy hugs, wine glasses clinking and catching up in person on all the exciting things happening.
Nancy has been working on her very first cookbook for the past couple of years. I remember in Seattle seeing her very first cookbook photos shot by a famous Japanese photographer over lunch. I'm proud to say that her book, Japanese Farm Food, has just come out.
Nancy, a native of California, traveled to Japan and fell in love with an organic farmer. They married and now run an English immersion school at their rural farmhouse. That's the 2 sentence version of their love story, and I hate to tell you more because you really should read the wonderful story that Nancy has written in the book.
I own and have-owned over 1,000 cookbooks (I have given the majority of them away) — I'll be absolutely honest and tell you that Nancy's book is one of the most beautiful I've ever seen. From the fabric binding, lovely photos and Nancy's stories, it's a treasure. Oh, and the recipes! Simple Japanese farm food featuring produce from their garden, eggs from their chickens and trips to the local market.
***
Chicken Salad with Sesame-Miso Dressing Recipe Video
Chicken Salad with Sesame-Miso Dressing Recipe
Adapted from Nancy Hachisu's Japanese Farm Food Cookbook.
If you cannot find thin sliced chicken tenderloin, purchase skinless, boneless chicken breast. Place breast between plastic wrap and pound thin with the smooth of the meat tenderizer to thin it out to 1/2" thick.
Ingredients
1

pound

thin sliced chicken tenderloin

2

tablespoons

sake

2

teaspoons

grated ginger

1

tablespoon

low-sodium miso paste or 2 tablespoons Miso & Easy

1

teaspoon

sea salt

2

small heads of butter lettuce, leaves torn
FOR THE SESAME-MISO DRESSING:
2

tablespoons

sesame seeds

1

tablespoon

low sodium miso paste or 2 tablespoons Miso & Easy

2

tablespoons

rice vinegar

4

tablespoons

rapeseed, grapeseed, rice or olive oil
Instructions
Turn oven to broil (high) and place rack 8" below heating element. Slice the chicken breast into thick strips. Combine the sake, ginger, miso and salt. Toss the chicken strips into the mixture. Place chicken on a baking pan. Broil for 8 minutes or until chicken is cooked through.

In the meantime, add the sesame seeds to a frying pan and roast over medium-high heat while shaking the pan to avoid burning the seeds. When the seeds start to pop, remove from the heat.

Reserve 1 teaspoon of the toasted seeds and set aside.

For the dressing, slide the remaining seeds into a Japanese grinding bowl or mortar and grind roughly. Mash in the miso to form a thick paste and add the vinegar to lighten (and brighten) the miso-sesame mixture. Whisk in the oil slowly until emulsified. (Be sure to whisk again right before dressing your salad.)

Toss the lettuce with the dressing. Place the chicken on top of the lettuce and sprinkle with the reserved toasted sesame seeds. Serve immediately.
In an effort to curb food waste and encourage adding variety to your diet, we've come up with a Buddha Bowl initiative.
Buddha bowls always have their place at the table, whether you're repurposing leftovers from this recipe or making them for the first time.
It's basically a big bowl full of whole foods, mostly vegetables, atop a bed of grains – super customizable for any meal and anybody!
Use these easy tips to turn this Chicken Salad with Sesame-Miso Dressing recipe into a Buddha Bowl!
Make your bed!

Add a base of quick-cooking grains, rice, or noodles.
Quinoa, Bulgur Wheat, Farro, Freekeh, Rice, Rice noodles, Zucchini "noodles"

Make some friends!

Place a serving of the chicken on top.
On either side, arrange a handful of any veggies you have on hand:
Anything from basic salad greens, tomatoes, carrots, and cucumber, to sliced radishes, shredded cabbage, grated daikon, pickled red onions, stir-fried mushrooms, and roasted sweet potatoes.

Make it rain!

Drizzle any sauce/flavorings from the recipe atop the dish.
Sprinkle something crunchy on top – tempura scraps, toasted panko, nuts, fried onions, seeds, pickled ginger bits, scallions, etc!
Usually a dead giveaway for a Buddha Bowl is how colorful it is, but it's all up to you. There's more than one way to enjoy this Chicken Salad with Miso-Sesame Dressing recipe!