Photo of Vietnamese Spring Rolls (Cha Gio) courtesy of Secrets of the Red Lantern Cookbook! It's gorgeous!
One of the books that is always near my nighstand is the absolutely stunning Secrets of the Red Lantern by Pauline Nguyen. I was in Los Angeles at the famous Cook's Libarary bookstore and was drawn in by the gorgeous cover artwork. I picked up the volumous 345 page book and simply could not put it down. No, seriously, I did not let this baby out of my sight the rest of the trip and even chose to pack my laptop in my suitcase and instead brought Secrets of the Red Lantern in my carry-on baggage.
Baby, that's true love.
I got a chance to chat with the lovely Pauline Nguyen last night and just couldn't wait to share her recipe for Vietnamese Spring Rolls or Cha Gio with you. At her restaurant, Red Lantern, this dish is called "Red Lantern Crisp Parcels."
Secrets of the Red Lantern book is part cookbook, part bittersweet memoir of the Nguyen family's escape from war-ravaged Vietnam and their struggles as they adapt to the harsh refugee life and finally making their lives in Australia. Pauline bares her soul in this debut book – it will make you smile, laugh, cry and even fume with anger. There are links at end of post to others who have written fabulous reviews of her book, so I won't go in much detail here, but I wanted to give you a glimpse of Pauline, mom of Mia and soon to be mom of baby #2. Oh yes, and to give you her recipe for Vietnamese Spring Rolls too!
Pauline Nguyen, author of Secrets of the Red Lantern
Pauline lives in Australia and I live in Florida, so you can imagine the very thin snippet of the day where our two schedules can meet for an uninterrupted phone call! Luckily, I'm a total night owl and call her 12:30AM my time, which was 4:30PM her time. And guess where she took my call?
Summer.
35C/95F degrees
Beach.
Sydney, Australia.
Ooooh….I wanted to be right there on the beach with her! Oh yeah.
Pauline Nguyen took two years off from the busy restaurant business (oh yes, Red Lantern is the name of her restaurant she owns with her brother Luke and partner Mark) to write this book, and she penned this memoir as a heirloom for her now 4-year old daughter, Mia.
More on my phone chat with Pauline Nguyen in another post (and yes, another recipe from her book in the next post too). In the meantime, enjoy her recipe for Vietnamese Spring Rolls (Cha Gio).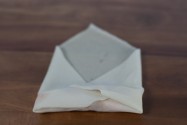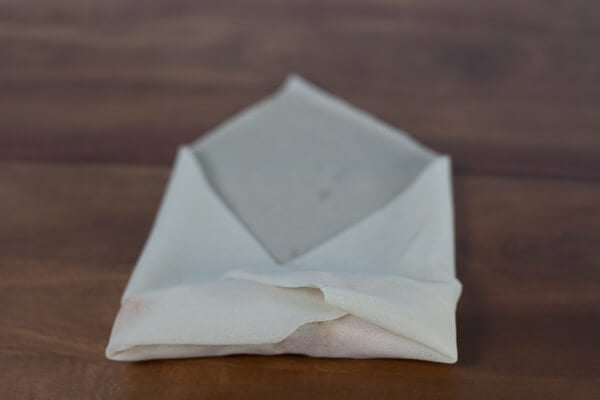 If you'd like to learn step by step photo instructions on how to roll the Vietnamese Spring Rolls correctly – come see the recipe of My Mother's Famous Chinese Egg Rolls.
The Chinese version uses similar wrapper and same wrapping technique, just different filling inside. If you'd like a gluten-free version, use rice paper instead of these Spring Roll or Egg Roll wrappers. These are wonderful fried as well. Just follow instructions on package of rice paper to use.
Vietnamese Spring Rolls Recipe (Cha Gio) (Red Lantern Crisp Parcels)
From Secrets of the Red Lantern by Pauline Nguyen with recipes by Luke Nguyen and Mark Jensen.
These can be cooked and eaten on their own, dipped in dipping fish sauce, or placed on top of a dressed vermicelli salad. At Red Lantern, we like to wrap the parcels in lettuce with herbs and serve with dipping fish sauce.
Note: Be sure you use the spring roll wrappers as soon as they thaw.
Ingredients
For the Vietnamese Spring Rolls:
2 3/4

ounces

dried bean thread noodles (or mung bean noodles)

1 3/4

ounces

dried mushroom strips, such as wood ear mushrooms or Chinese black fungus

1/2

pound

ground pork

1/2

pound

ground chicken

1

pound

carrots, grated

1/2

onion, finely diced

1

tablespoon

sugar

1

tablespoon

salt

2

teaspoons

fine white pepper

1

tablespoon

Asian fish sauce

20

spring (egg) roll wrappers, 8½ inches square

Dipping fish sauce, for serving
For the Dipping Sauce Recipe (Nuoc Mam Cham):
3

tablespoons

Asian fish sauce

3

tablespoons

rice vinegar

2

tablespoons

sugar

2

cloves

garlic

1

bird's-eye chili

2

tablespoons

freshly squeezed lime juice
Instructions
Soak the noodles and mushroom strips separately in cold water for 20 minutes, then drain and drip dry in a colander. Cut the noodles into 1½-inch-long pieces, then combine with all of the filling ingredients in a large bowl and mix well.

Cut the spring roll wrappers diagonally to form two triangles, then separate them into single sheets. Place a piece of wrapper on a plate with the base of the triangle facing you. Spoon about 1 tablespoon of the mixture onto the middle of the bottom edge of the wrapper and fold the two adjacent sides, one on top of the other into the center. Roll toward the apex to form a nice firm roll, and secure with a dab of flour mixed with some water. Repeat until you have filled all of the wrappers.

When freshly rolled, the cha gio can be deep-fried in oil preheated to 350 degrees F or until a cube of bread dropped in the oil browns in 15 seconds. Alternatively, you can store them in the freezer and cook when needed. Just carefully slide frozen spring rolls (do not defrots) in the oil and cook an additional minute or so.
To make the Dipping Sauce (Nuoc Mam Cham):
Combine the fish sauce, rice vinegar, 1/2 cup of water, and sugar in a saucepan and place over medium heat. Stir well and cook until just before boiling point is reached, then allow to cool. To serve, finely chop the garlic and chile and stir in the lime juice. To liven it up, add pickled vegetables.
***
Reviews on Pauline Nguyen's Secrets of the Red Lantern Cookbook
White On Rice Couple – plus recipe for Tamarind Crab and Tamarind Shrimp
Global Gourmet – plus recipe for Steamed Cockles or Periwinkle, Bittermelon Stuffed with Pork and Black Fungus, Wok-tossed Water Spinach
with Fermented Bean Curd Sauce
and of course good 'ol Amazon.com where you can purchase the Secrets of the Red Lantern book.