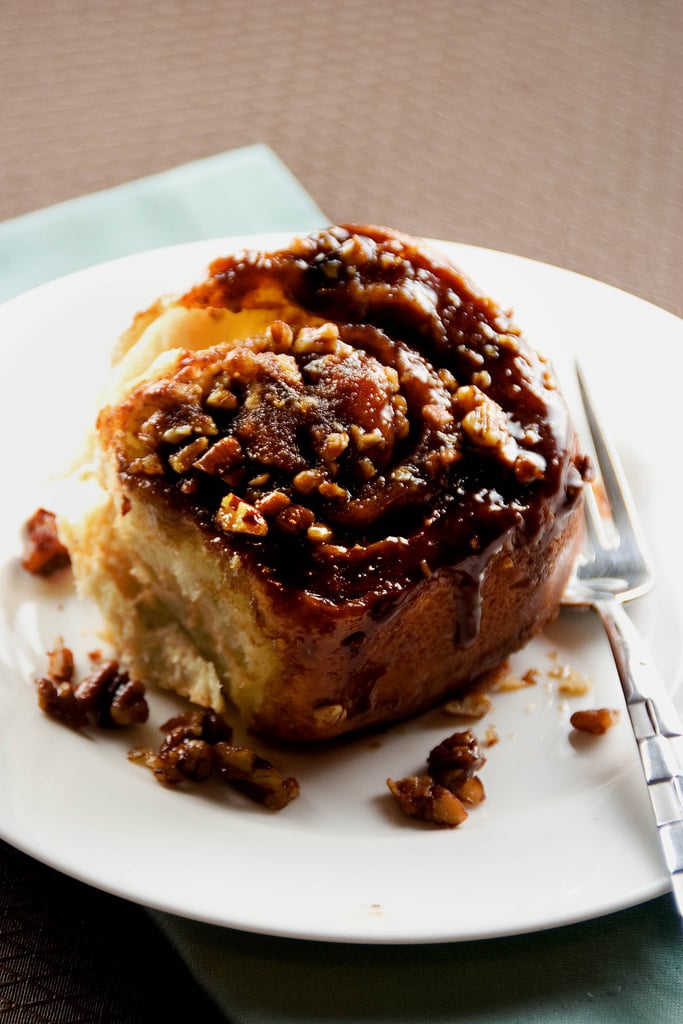 Do you know what I call smart? Taking something from "works awesome" (No-Knead Bread) to the level of "KICK-ASS." Which is exactly what authors of the book
Artisan Bread in Five Minutes a Day
, Jeff Hertzberg and Zoe Francois have done.
Oh yeah, and I hold them both directly responsible for the extra 3lbs I've just gained testing their recipes.
Keep reading for the recipe and a free cookbook drawing!
So, they've taken the
basic No Knead Bread recipe and added 2 big concepts to it:
1) Make enough dough to store in the refrigerator for 2 weeks. Pinch off what you need and bake. Return the rest to refrig. This allows you to bake a loaf of artisan bread in as little as 20 minutes rest + 25 minute bake any day of the week. Perfect for spontaneous cooks like myself. Want dinner rolls for just 2 tonight? Pinch off a smaller chunk of dough. Plus, the "aging" of the dough produces the most amazing flavor, something that was lacking in the original No Knead bread.

2) Create over 100 different bread/pastry recipes, all no-knead. Um. Let me see if I can whet your appetite (I love the ones in red)

PEASANT LOAVES: Baguette, Batard, Pain d'Epi, Ciabatta, Crusty White Sandwich Loaf, Olive Bread, Caraway Swirl Rye, Limpa (Scandinavian bread wit honey and orange zest), Portuguese Corn Bread, English Granary Style, Oatmeal-Pumpkin, Raisin Walnut Oatmeal, Vermont Cheddar Bread, Caramelized Onion & Herb Dinner Rolls, Spinach Feta, Sun-Dried Tomato & Parmesan, Granola Bread, Roasted Garlic Potato Bread, Eastern European Potato Rye, Bagels, Bialys, Soft Pretzels, Montreal Bagels

FLATBREADS/PIZZAS: Pizza, Spinach & Cheese Calzone, Philadelphia Stromboli with Sausage, Prosciutto & Olive Oil Flatbread, Pissaladiere, Focaccia with Onion & Rosemary, Olive Fougasse, Fougasse Stuffed with Roasted Red Pepper, Sweet Provencal Flatbread with Anise Seeds, Pine-Nut Studded Polenta Flatbread, Arabic Za'atar Flatbread, Pita, Amenian Lavash, Moroccan Anise and Barley Flatbread, Naan, Scandinavian Rye Crisp bread

ENRICHED: Challah, Turban Shaped Challah with Raisins, Onion Pletzel, Sticky Pecan Caramel Rolls, Brioche, Brioche a Tete, Almond Brioche "Bostock", Brioche Filled with Chocolate Ganache, Beignets, Chocolate or Jam Filled Beignets, Panettone, Soft-Style American White, Buttermilk Bread, Cinnamon Raisin Bread, Chocolate Bread, Swiss Muesli Breakfast Bread, Sunflower Seed Breakfast Loaf, Chocolate Prune, Chocolate Raisin Babka, Apple & Pear Coffee Cake, Sunny Side up Apricot Pastry, Blueberry Lemon Curd Ring, Braided Raspberry Almond Cream Pastry, Cinnamon Twists
Wipe that drool off the keyboard!

The first recipe I tried was to satisfy my sweet tooth. I love the No-Knead Bread from Lahey, but after an entire year of spoiling myself with crusty, homemade round loaves, I yearned for a sweet bread. This Sticky Pecan Caramel Cinnamon Roll truly is a no-knead, no-brainer! Read the recipe first, then the free cookbook contest!
This is what orgasm on a plate looks like.
Master Dough
from Artisan Bread in Five Minutes a Day
The book contains several master dough recipes, and this is an enriched, sweet dough, perfect for a loaf of Challah (the braided dough) and the Sticky Rolls. You start by mixing the master dough first, Let that rest overnight in the refrigerator, then the next day, pinch off a cantaloupe sized hunk-o-dough to make your Sticky Pecan Caramel Cinnamon Rolls! Return the rest to the refrigerator to use for another day.
1 3/4 cups lukewarm water
1 1/2 tbl instant yeast
1 1/2 tbl kosher salt (or 1 1/2 tsp table salt)
4 lg eggs, slightly beaten
1/2 cup honey
1/2 cup unsalted butter, melted
7 cups unbleached all-purpose flour
In a large bowl, mix together the eggs, water, honey, melted butter, yeast and salt. Stir well with a wooden spoon. Add in the flour. STIR, BABY STIR!!! Stir until you don't see any more dry bits of flour (about a minute). Cover (not airtight) and stick it in the refrigerator overnight, or up to 4 days. The longer you let it fart around in the refrigerator (literally!), the better tasting the dough will be.
pssst….if you want, you can let it rise for 2 hours on the counter, pinch off the dough that you need to make your rolls. However, I've found that with only a 2-hour rise, the bread isn't very flavorful. Still good, but definitely not as good as if you had let it sit 1-4 days in the refrigerator.
NOTE: When you let the dough hang out in the refrigerator, it's not going to "rise" like a normal dough
Sticky Pecan Caramel Cinnamon Rolls
adapted from Artisan Bread in Five Minutes a Day
Ingredients
The Dough:
A cantaloupe sized chunk of the Master Dough (about 1.5 lbs)
The Gooey Sticky Caramel Topping:
6

tablespoons

unsalted butter, softened

1/2

teaspoon

salt

1/2

cup

brown sugar

30

pecan halves
The Heavenly Sweet Cinnamon Butter Filling:
4

tablespoons

unsalted butter, softened

1/4

cup

sugar

1

teaspoon

ground cinnamon

1/4

teaspoon

freshly grated nutmeg

1/2

cup

chopped and toasted pecans

pinch of freshly ground black pepper
Instructions
Use a 9" square or round cake pan

The first thing you need to do is take that master dough out of the refrigerator, grab a small cantalope sized chunk of dough. Return the rest of it to the refrigerator to use another time (psst...get the book for all the other recipes using this dough!). Generously flour your hands and the dough. Shape the dough into a ball by stretching the surface of the dough and tucking it to the bottom all around, rotating hte ball a quarter-turn as you go. This creates a taut, smooth surface. Let the dough rest, covered with a towel to take the chill off while you prepare rest of ingredients.

While the dough is unchilling, mix the topping and the filling.

FOR THE TOPPING: Cream together the butter, salt and sugar. Spread this topping evenly on the bottom of the cake pan. Scatter with pecan halves (I used chopped pecans in my photos).

FOR THE FILLING: Cream together all ingredients except the pecans. Set aside.

Dust your counter with flour and roll out the dough with a rolling pin to 1/8" thick rectangle. Try to get it 13" x 17"  I had trouble with the rectangle shape, so I we just rolled it into a large oval. Spread the sweet butter filling evenly on the surface. Scatter chopped pecans all over. Here is Andrew, the bad-ass baker boy at work. (hey, if your kid wants to eat sweets, make him cook or bake it himself - that's my rule!)

Roll it up, starting with the long side.

Flour your SERRATED knife and cut roll into 9 even pieces (square pan) or 8 pieces (round pan).

Set it in the pan on top of the caramel, cover with towel and rest for 1 hour

Preheat your oven to 350F. The book says to bake for 40 minutes, or until golden brown and well set in the center. But take a peek at the rolls around the 35 minute mark.

While still hot, run a knife round the edge of pan and invert immediately onto a plate. If you wait until it cools, the caramel will harden and it will be difficult to turn out.
Notes
YUM. Soft, pillowy dough. Sweet cinnamon and nutmeg butter dribbling down your chin. Sticky, gooey caramel. Crunchy pecans.
Wanna bite?
The photos I have on this post was the book's recipe followed exactly. However, the recipe is modified a bit, increasing the amount of caramel and amount of filling, as I like my rolls to be oozing, dripping of the sweet cinnamon butter and sugar.
Due to popular demand, I'm cutting back on the butter!  The recipe is as-is from the book!
Think of Cinnabon, that chain store found in every American mall, except EVEN BETTER.
***
The Free Cookbook!
Ok, so now that I've seduced you all into sweet, sticky, submission, do as I say and enter the contest!
Jeff and Zoe have generously offered 4 free cookbooks to give away. Which is AWESOME, considering the book is sold out in many stores and they are in their 3rd printing. (try Amazon: Artisan Bread in Five Minutes a Day
)
All you have to do is comment below and tell me which bread/pastry you would love to make from this book! The list of recipes is above. There are so many choices.
Random drawing takes place Friday, January 18th at 7pm. I'll take submissions until then.
Good luck!
***
More No Knead!
The Original No Knead Bread
No Knead Pizza Dough: Pear & Gorgonzola Flatbread with Baby Arugula and Shaved Parmesan
No-Knead Nutella and Roasted Hazelnut Challah