Vegetable Spring Rolls Recipe (Egg Rolls Recipe)
Authentic vegetable spring rolls recipe from my Chinese mom. The spring rolls are crispy, not greasy and light. This recipe features lots of wrapping tips, including step by step video.
In the video for Vegetable Spring Roll, you'll learn:
The right type of spring roll wrappers that give you thin, crispy rolls (NOT thick, bubbly starchy rolls)
Letting the filling cool on tilted baking sheet drains the liquid – preventing soggy spring rolls
How to wrap the spring rolls tightly, to prevent oil from seeping into the rolls. This gives you light spring rolls, not greasy spring rolls
How to freeze the spring rolls to cook later
How to properly fry the Vegetable Spring Rolls so that they turn out ultra-crispy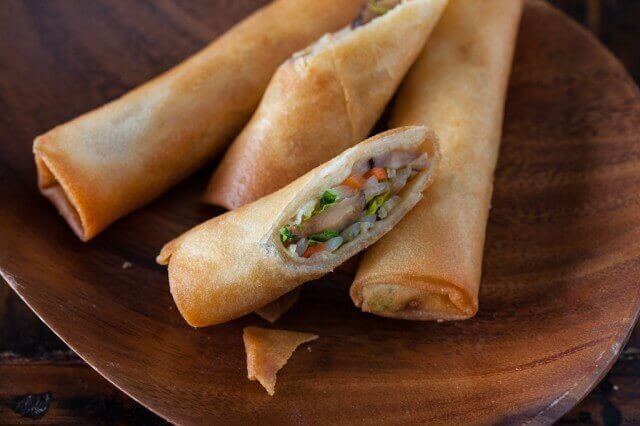 Real Chinese spring rolls (sometimes they are called egg rolls) are incredibly light, with a wrapper that's so thin and crispy that it's like "shatteringly crisp!" The filling is also light, delicately flavored and addictive.
This is my Mom's signature recipe.

Along with celebrating Chinese New Year, I'm also celebrating that Steamy Kitchen's Healthy Asian Favorites debuting as the #1 Asian cookbook on Amazon! whoop! whoop! Did you get your copy yet?! 🙂
We'll be enjoying these Vegetable Spring Rolls on Chinese New Year – they represent wealth and prosperity because they are shaped like gold bars. Learn more about other Chinese foods that bring you wealth!
Vegetable Spring Rolls Recipe Video (Egg Rolls)
Bonus Tip! The Chinese Sauce for Spring Rolls
At Chinese American restaurants, you may be accustomed to being served a sweet, sticky "duck sauce" or "sweet chili sauce" with your Vegetable Spring Rolls. That's fine if you enjoy the sweetness.
But the authentic way to eat Spring Rolls is to take a bite of the roll, then dribble a few drops of Chinese black vinegar down the middle. Just a few drops is all you need! Chinese black vinegar is very similar to tart balsamic vinegar. In fact, I've used cheap, tart balsamic when I've run out of Chinese black vinegar. Look for "Chinkiang Black Vinegar" or "Chinese Black Vinegar" – it should cost just a few bucks per bottle.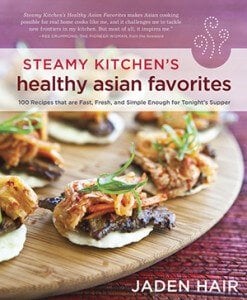 My cookbook is available for purchase now wherever books are sold! You can also pick up a copy on Amazon!
More recipes to explore:
My Mother's Famous Chinese Egg Rolls Recipe (Steamy Kitchen)
Chinese Spring Rolls with Chicken Recipe (Steamy Kitchen)
Vietnamese Spring Rolls with Orange-Almond Sauce (Steamy Kitchen)
Vietnamese Spring Rolls with Slow Cooker Pork (Steamy Kitchen)
Thai Shrimp Spring Rolls (Food Network)
Vegetable Spring Rolls Recipe
It's best to watch the video first, you'll get step by step in the video how to properly wrap the spring rolls so that they are tight (and prevent the oil from seeping in).
In this recipe, we use shiitake mushrooms (also called Chinese black mushrooms), which come either fresh or dried. If you are using DRIED shiitake mushrooms, you'll have to soak them in water to rehydrate first. Soak the dried mushrooms for 30 minutes in a bowl of very hot water. When soft, cut and discard the thick stem.
Course: Appetizer
Cuisine: Chinese
Keyword: chinese, egg rolls, spring rolls
Servings: 50 rolls
Calories: 72 kcal
Ingredients
1 tablespoon cooking oil for stir frying
2 teaspoons grated fresh ginger grate with microplane zester
2 cloves garlic finely minced
1 stalk green onion minced
8 fresh shiitake mushroom caps or Chinese dried mushroom caps very thinly julienned
3 cups cabbage shredded (about 1/2 small cabbage)
1/2 cup julienned carrots (about 2 med carrots)
4 ounces canned bamboo shoots drained and julienned
1 cup fresh bean sprouts
1 tablespoon soy sauce
1 teaspoon Asian sesame oil
1 tablespoon cornstarch
50 spring roll wrappers defrosted
cooking oil for deep frying (about 3 cups)
Instructions
In a large saute pan or wok, swirl in 1 tablespoon of the cooking oil. Turn on the heat to medium-high and immediately add garlic, ginger and green onion, stirring frequently. By the time the oil is hot, add the mushrooms, cabbage, carrots and bamboo shoots.

Turn heat to high and stir-fry the vegetables for about 2 minutes. and then toss in the bean sprouts. Add in the soy sauce and sesame oil. Cook for another minute. Then spread the filling out onto a large baking sheet. Prop the baking sheet up on one side to allow any juices to accumulate at the bottom (and discard to juices)

In a small bowl, whisk together the cornstarch and 1/4 cup of cool water to form a slurry.

Place a wonton or spring roll wrapper on a flat surface, add 1 tablespoon of the vegetable mixture into a corner of the wrapper, and then roll the edge of the wrapper tightly around the mixture. Fold the two side corners towards the middle of the wrapper while continuing to roll up. Paint the top edge with the cornstarch slurry mixture and wrap tightly the rest of the way. Make sure all edges are tightly sealed. Place seam side down. Cover with plastic wrap to avoid drying out.

In a large wok or medium saucepan over high heat, add about 1-2 inches of cooking oil.

Slide several egg rolls into the oil and allow them to cook for 2-3 minutes, turning them over a couple times, or until the wonton wrappers are golden brown. Remove the egg rolls to a cooling rack or paper-towel-covered plate to allow them to drain. Serve hot.
Nutrition Facts
Vegetable Spring Rolls Recipe
Amount Per Serving
Calories 72 Calories from Fat 9
% Daily Value*
Fat 1g2%
Cholesterol 1mg0%
Sodium 130mg6%
Potassium 39mg1%
Carbohydrates 11g4%
Protein 2g4%
Vitamin A 225IU5%
Vitamin C 2mg2%
Calcium 12mg1%
Iron 0.7mg4%
* Percent Daily Values are based on a 2000 calorie diet.