Vegetable Spring Rolls Recipe (Egg Rolls)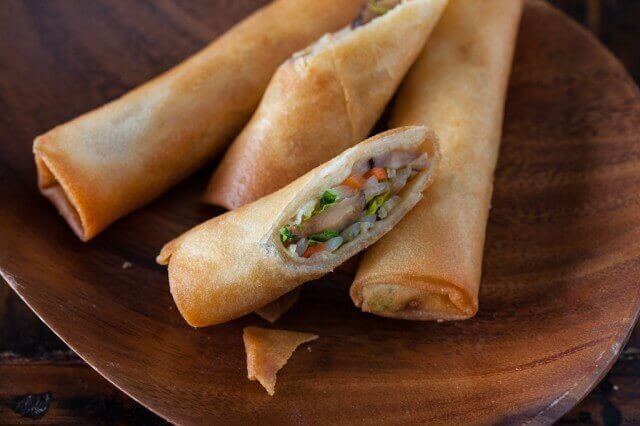 This Sunday is Chinese New Year, the year of the s-s-s-snake! I haven't fully researched what the forecast for the year will look like, but according to Chinese feng shui master, it's best to wear a monkey around your neck to avoid getting bit by the snake. Here is a great infographic I created to show what to and not to eat:
Those crazy Chinese superstitions!
Along with celebrating Chinese New Year, I'm also celebrating that Steamy Kitchen's Healthy Asian Favorites debuting as the #1 Asian cookbook on Amazon! whoop! whoop! Did you get your copy yet?! 🙂
We'll be enjoying these Vegetable Spring Rolls (or what I call Egg Rolls) on Chinese New Year – they represent wealth and prosperity.  As you can see, I tend to only believe in the Chinese superstitions that are beneficial.
 ***
Vegetable Spring Rolls Recipe Video (Egg Rolls)
Vegetable Egg Rolls Recipe
Servings: 50 egg rolls
Prep Time:25 minutes
Cook Time:30 minutes
Ingredients:
8 fresh shiitake mushroom caps or Chinese dried mushroom* caps, julienned
1/2 small cabbage (about 3 cups), shredded (napa or regular cabbage)
2 medium carrots, julienned
8-ounce can bamboo shoots, drained and julienned
cooking oil
2 cloves garlic, finely minced
2 teaspoons grated fresh ginger
1 stalk green onion, finely chopped
2 handfuls of fresh bean sprouts
1 tablespoon low sodium soy sauce
1 teaspoon dark sesame oil
1 tablespoon cornstarch
50 spring roll wrappers, defrosted
cooking oil, for frying


Directions:
*If using Chinese dried mushrooms, soak them in very hot water for 20 minutes to rehydrate. Cut off and discard the stem.
In a large saute pan or wok, swirl in 1 tablespoon of the cooking oil. Turn on the heat to medium-high and immediately add garlic, ginger and green onion, stirring frequently. By the time the oil is hot, add the mushrooms, cabbage, carrots and bamboo shoots.
Turn heat to high and stir-fry the vegetables for about 2 minutes. and then toss in the bean sprouts. Add in the soy sauce and sesame oil. Cook for another minute. Then spread the filling out onto a large baking sheet. Prop the baking sheet up on one side to allow any sauce or oil to accumulate at the bottom (and discard)
In a small bowl, whisk together the cornstarch and 1/4 cup of cool water to form a slurry.
Place a wonton or spring roll wrapper on a flat surface, add 1 tablespoon of the vegetable mixture into a corner of the wrapper, and then roll the edge of the wrapper tightly around the mixture. Fold the two side corners towards the middle of the wrapper while continuing to roll up. Paint the top edge with the cornstarch slurry mixture and wrap tightly the rest of the way. Make sure all edges are tightly sealed. Place seam side down. Cover with plastic wrap to avoid drying out.
In a large wok or saucepan over high heat, add about 1-2 inches of cooking oil
Slide several egg rolls into the oil and allow them to cook for 2-3 minutes, turning them over a couple times, or until the wonton wrappers are golden brown. Remove the egg rolls to a cooling rack or paper-towel-covered plate to allow them to drain. Serve hot.
***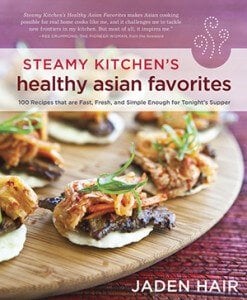 My new cookbook is available for purchase now wherever books are sold!
You can also pick up a copy on Amazon for $13.98!
More recipes to explore:
My Mother's Famous Chinese Egg Rolls Recipe (Steamy Kitchen)
Chinese Spring Rolls with Chicken Recipe  (Steamy Kitchen)
Vietnamese Spring Rolls with Orange-Almond Sauce (Steamy Kitchen)
Vietnamese Spring Rolls with Slow Cooker Pork (Steamy Kitchen)
Thai Shrimp Spring Rolls (Food Network)