These Chicken Spring Rolls are light with crisp-crackly skin and small enough to enjoy in 4 bites. The filling is also light, full of tender-crisp vegetables and you should be able to taste and distinguish every single ingredient in the filling. Delicious and authentic!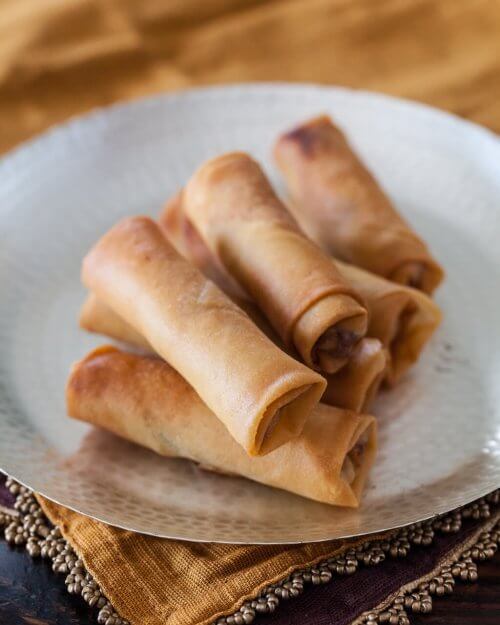 Why this is the best Chicken Spring Rolls Recipe
An authentic spring roll recipe – my mother's famous recipe!
A tip to prevent soggy, greasy spring rolls
The best wrappers to use for crispy, delicate, light spring rolls
Step by step the best way to wrap the chicken spring rolls.
Ingredients
Soy sauce
Rice wine
Black pepper
Cornstarch
Ground chicken
Cooking oil
Garlic
Ginger
Green onion, cabbage, carrots
Oyster sauce
Spring roll wrappers
For the Cornstarch Slurry
How To Make These Chicken Spring Rolls – Step By Step
You can julienne cut carrots and cabbage by hand or use mandoline like this to first get thin slices.
After slicing thin with a mandoline, use knife to thinly slice further into very thin matchsticks. Notice how many times I've purposely used the word, "thin."
Whisk together marinade ingredients for the ground chicken.
Mix with ground chicken.
Saute the ground chicken with just a bit of oil. Then, remove chicken to a bowl and set aside.
Next wipe the wok clean and stir fry the vegetables along with ginger, garlic and green onion.
Meat and vegetables are cooked separately. This ensures that the meat browns well – and prevents everything from being an overcooked, soggy clump. Meat will taste like meat, and the vegetables will have a crisp, clean flavor.
Add the meat back into the wok.
Add in oyster sauce.
Toss!
Let cool on a baking sheet.
Folding Spring Rolls
Fold over the corner. Roll tight.
Fold over left side. Leave no space or air pockets. Air pockets = oil seepage = oily egg roll.
Fold over the other side. No air pockets!
Here are examples of the WRONG WAY TO WRAP.
The right way: Imagine if you were Martha Stewart folding up her bedsheets. Or a clerk at the Gap folding t-shirts. Or the abs of male Olympic swimmer. Nice, tight and even.
Paint a little cornstarch slurry along the edge – just as if you were lickin' an envelope. But don't lick it. Finger paint.
Close it up. See how nice and neat the egg roll is wrapped? No holes, no air pockets. Very Martha Stewart.
Place them seam side down (helps secure the corner so that the corner doesn't pop out)
Keep them all covered with plastic wrap to prevent drying out. They dry out easily.
When you're ready to fry, heat up 1 1/2″ of cooking oil (canola, vegetable, rice bran, corn, peanut) to 350F.
Carefully SLIDE the spring rolls in. Inspect each spring roll for corners that have popped open. Fix with more cornstarch slurry if needed.
Fry a few at a time.
Keep turning 'em to brown evenly. Once they are golden brown, they are done.
Place them on a rack to drain.
Spring Rolls Or Egg Rolls?
Spring Rolls or Egg Rolls? Well, either one is fine. Some people call these crispy fried rolls "Spring Rolls" and others, like my Mom, refer to them as "Egg Rolls." I use both terms. There is no official English term.
What are summer rolls?? I refer to the uncooked Vietnamese rolls wrapped in rice paper as either "Summer Rolls" or "Spring Rolls!" So confusing, right?
Can You Freeze These Chicken Spring Rolls?
Yes! Single layer only. If you put them on top of each other (without layer of plastic wrap between them, they will stick together. You can put another layer of spring rolls on TOP of the plastic wrap (but don't' forget to cover them too).
If you want to freeze spring rolls – freeze them just like this. If you don't have a freezer this big, then line up the spring rolls on a plate, with plastic wrap between each layer. Freeze. Once frozen, gather up all the spring rolls and put them in a freezer safe plastic bag. They have to freeze in a single layer, not touching. Otherwise, they'll all stick together. Once they are frozen, you can store them however you want.
A Super Popular Roll!
I've seen too many Chinese-American takeout joints feature massive spring rolls the size of a soda can, a thick, chewy, bubbly textured skin and wet, soggy filling. That's not good eats.
We've made many variations of egg/spring rolls, from pork, shrimp, crawfish, seafood, beef, vegetarian and even with tofu (yum!) I'm sharing my Chinese spring rolls with chicken recipe version with you, which is my boys' filling of choice.
Which Wrappers Are Best For These Spring Rolls?
Here's my favorite brand of wrapper. It comes frozen, so you'll have to defrost.
The best 2 ways to defrost spring roll wrappers: 1-overnight in the refrigerator 2-on the counter for 30 minutes. Once the wrapper are defrosted, open the package and immediately cover with a barely damp towel or paper towel to keep moist. The wrappers will dry out and crack quickly if left uncovered.
If the wrappers dry out and are stiff, you can put a few wrappers on a plate, cover with a damp towel and microwave on medium for 10 seconds. The wrappers will soften up.
Good spring roll wrappers are found in Asian markets. These are thin, fry up to a shatteringly thin crispy spring roll. Do not buy spring roll wrappers that you find in regular supermarkets near the produce section (usually refrigerated, next to the tofu). Those "pasta sheets" are way too thick and fry up to a chewy, thick, bubbly, hot mess.
Keep the spring roll (or egg roll) sheets under barely damp cloth or paper towel. They dry out very easily. If they dry out, they break apart.
Top Tips For These Chicken Spring Rolls
Do not use a box grater to grate the vegetables, grating releases too much liquid/water. Use either a food processor with thin slicing attachment, a mandoline like I've used here (I LOVE this one by Oxo for $15) or shred by knife.For deep frying, the wider the pot, the more oil you'll need. But too small of a pot, you'll only be able to fry a couple of egg rolls at a time. Woks are perfect – the round shape, concave shape means less oil is needed to fill wok.
Ancient Chinese secret: Stick a wooden chopstick straight down in the oil. If the oil bubbles around the wood, it's hot enough. If no little bubbles around the chopstick = not hot enough. Mom taught me that. But make sure it's wood or bamboo chopsticks – plastic ones melt. If you don't have a wood chopstick, use end of a wooden spatula.
Wide deep woks or skillets are good. Because of the shape of the wok, you'll end up using less oil. Buy a wok. (wink!)
Let the filling cool. Hot filling = steam = makes wrapper wet = not good
Tilt the baking pan on one side. This lets any extra liquid/juice dribble down, away from the filling, Discard the liquid. Liquid = makes wrapper wet = not good. The drier the filling, the better. You can also blot the filling with a wad of paper towels to get rid of any excess oil.
Don't over-crowd the spring rolls in the pan. They won't cook evenly.
For the truly fanatical, there are 2 sides to the spring roll wrapper – but you have to look very very carefully. One side is smoother than the other. The smoother side should be outward facing. It's really not absolutely necessary to even pay attention to this tip unless you a) want to have the very best looking spring roll and b) have good eyesight because the difference is really minor. The smoother side fries up just a tiny bit nicer looking. It's purely aesthetics. Something my Mom taught me, so I'm teaching you.
Place wrapper like diamond, as shown, on a clean, dry surface. Place 1 tablespoon of filling near corner. No more than that
Less filling, the better. Overstuffed spring rolls break apart in the oil. 1 tablespoon is all you need!
More Asian Recipes to Explore
Red Lantern Crisp Parcels (Cha Gio or Spring Rolls) (Steamy Kitchen)
Vietnamese Spring Rolls with Orange-Almond Sauce (Steamy Kitchen)
My Mother's Famous Chinese Egg Rolls (Steamy Kitchen)
Vegetable Spring Rolls (Egg Rolls) (Steamy Kitchen)
Have you tried these Chicken Spring Rolls? Feel free to leave a star rating and i'd love to hear from you in the comments below!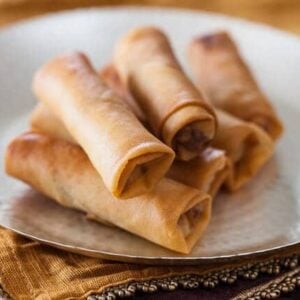 Chinese Spring Rolls Recipe
Authentic Chinese Spring Rolls Recipe from Steamy Kitchen.
Ingredients
1

tablespoon

soy sauce

1

teaspoon

rice wine

or white wine

1/4

teaspoon

freshly ground black pepper

1

teaspoon

cornstarch

1

pound

ground chicken

2

tablespoons

cooking oil

divided

2

cloves

garlic

finely minced

1

teaspoon

grated fresh ginger

1-2

stalks

green onion

chopped

1/2

head of small cabbage

about 8 ounces, shredded

2

carrots

thin julienne cut

2

tablespoons

oyster sauce

50

frozen spring roll wrappers

defrosted

2

cups

cooking oil

vegetable, canola or peanut oil for deep frying
For the Cornstarch Slurry
1

tablespoon

cornstarch

1/4

cup

water
Instructions
Prepare the Filling
In a large bowl, combine the soy sauce, wine, pepper and cornstarch. Add in the chicken and mix well. Let marinate for 10 minutes (or up to overnight in the refrigerator).

Heat a wok or large saute pan over high heat. When hot, swirl in just 1 tablespoon of the cooking oil. Stir fry the ground chicken until browned. Remove browned ground chicken from wok to a bowl and set aside.

Wipe the wok clean and turn heat to medium. When just starting to get hot, swirl in the remaining cooking oil. Add in the green onion, garlic and ginger and cook for 30 seconds. Take care not to burn these aromatics. Add in the carrots and cabbage. Stir well and turn the heat to medium-high. Stir fry the vegetables for 2 minutes, or until the carrots have softened. Add the cooked chicken back into the wok, stir well. Add in the oyster sauce and toss again. Spread the mixture out on a baking sheet to let cool. Prop up the baking sheet on one end so that any liquid collects on the other side. When the mixture is cool, discard the liquid.
Wrapping Spring Rolls
Mix cornstarch slurry: in a small bowl, whisk together the cornstarch and water. Open the egg roll wrapper package, cover with barely damp towel to prevent drying out.

Add 1 tablespoon of filling to egg roll (see photos for instructions) and roll up. Secure with cornstarch slurry. Keep rolled egg rolls covered with plastic wrap to prevent drying.
Frying Spring Rolls
When ready to fry, heat 1 1/2" of oil in a wok or deep, heavy skillet to 350F (see tip in photos if you don't have thermometer). Carefully slide in the egg rolls, a few at a time, to the oil to fry. Turn the egg rolls occassionally to brown evenly and fry for about 3 minutes. Let cool on rack. Repeat with remaining.

Notes
Feel free to use ground pork, beef, chicken or turkey in this recipe. Chinese rice wine is an optional ingredient, substitute with dry sherry (or just leave it out).
To Freeze Spring Rolls: After rolling the spring rolls (but before frying), insert them in a freezer bag, in a single layer. Try not to overcrowd. Close bag, freeze.
Frying Frozen Spring Rolls: When ready to cook, you'll go from freezer to frying, no defrosting necessary. Defrosting the spring rolls will make them soggy, wrinkly and ugly. Prepare your deep fryer (or wok with frying oil). When oil is 350F, use long tongs or a spider gently lower a few frozen spring rolls into the oil. Please be careful, any ice crystals will splatter in the oil.
To Reheat Leftover Spring Rolls: Heat your toaster oven or oven to 300F. Place Spring Rolls on a rack and into the oven. Bake for about 5-7 minutes, until crispy.
Nutrition
Serving:
1
roll
Calories:
162
kcal