I very rarely veer off my "tried and true" basic recipe for Vietnamese Nuoc Cham (dipping sauce with lime juice, fish sauce, chili peppers, sugar, water) for Vietnamese Spring Rolls. It's easy, predictable and I can make the sauce just by taste without measuring anything!
But just because I *LOVE* something doesn't mean that my entire family loves it too. My fish-fearing husband won't touch it….and therefore my kids won't dip in it either. Sigh. I keep telling the kids that, "Buddha is a happy eater (see his belly!?) and he would want you to eat like Mama, not Dad."
My friend, Blender Girl (okay, her name is really Tess) just came out with a cookbook called The Blender Girl: Super-Easy, Super-Healthy Meals, Snacks, Desserts, and Drinks–100 Gluten-Free, Vegan Recipes.
I found a recipe for Orange Almond Sauce for Vietnamese Spring Rolls. Big massive hit all around. It's creamy, light and made with almond butter and fresh citrus juices for something a little different.
If you vow to cook a little healthier this summer – take a look at Tess' book with 100 recipes that are good for you. The blender does all the hard work! The book features smoothies you'd expect from a blender book – as well as sauces, soups, marinades, dressings and desserts.
The book is currently #3 cookbook on Amazon!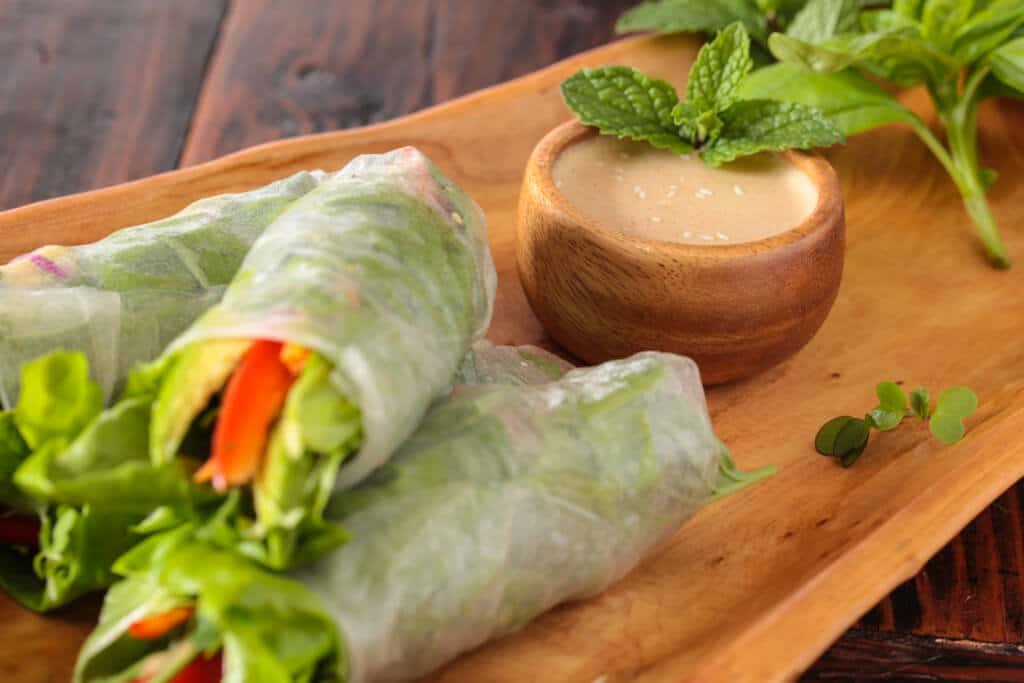 Vietnamese Spring Rolls with Orange Almond Sauce Recipe Video
Vietnamese Spring Rolls with Orange Almond Sauce Recipe
You can make these rolls up to a day ahead. Here's what you need to remember: Place the rolls on a clean, dry plate in a single layer. If you want to stack multiple layers, place a sheet of plastic wrap between each layer. This prevents the rolls from sticking to each other. When all rolls are done, make sure you cover everything with plastic wrap - this prevents the rice paper from drying out in the refrigerator.
If you can't find almond butter - you can use any type of nut butter.
OPTIONAL: Soak the matchstick carrots and julienned cucumbers in 3 tablespoons of seasoned rice vinegar. It will add the amazing "zing" that you'll love!
Recipe adapted from The Blender Girl by Tess Masters
Ingredients
FOR THE SPRING ROLLS:
6

ounces

dried rice vermicelli noodles

16

large dried rice paper wrappers

8

large lettuce leaves, preferably soft ones, halved and hard ribs removed

1

cup

matchstick cut carrots

2

cucumbers, julienned

1-2

avocado, pitted, peeled and sliced

1-2

bell pepper, cored, julienned

1

cup

loosely packed cilantro

1

cup

loosely packed min

1

cup

loosely packed basil
FOR THE ORANGE ALMOND SAUCE:
1/4

cup

water, plus more as needed

2

tablespoons

freshly squeezed lime juice

3

tablespoons

freshly squeezed orange juice

1/2

cup

raw almond butter

1/2

teaspoon

minced ginger

1

teaspoon

honey or coconut nectar

1/2

teaspoon

finely chopped garlic

1/2

teaspoon

wheat-free tamari or soy sauce

1

teaspoon

roasted sesame seeds
Instructions
Soak the noodles in hot water for about 20 minutes, until soft. Drain.

To assemble the rolls, fill a shallow dish half full with hot water (hot to the touch but not boiling. and submerge one rice paper wrapper for 5 seconds, let excess water drop off.

Place wrapper on a clean, dry surface and fold in half to form a half-circle. The wrapper should still be a bit stiff, but will soften by the time you've finished filling with vegetables.

Place a lettuce leaf in the middle of the half-circle and top it with a forkful of noodles, and then add a bit of each of the vegetables and herbs.

Carefully roll up the Vietnamese Spring Roll and set it on a dish, seam-side down in single layer. Repeat with the remaining wrappers and filling. If not serving immediately, chill in the fridge, covered with plastic wrap.

To make the dipping sauce, throw all of the ingredients into your blender and puree on high for about 1 minute, until well combined. You may want to add an additional tablespoon or two of water to thin out the sauce. Stir in sesame seeds. Serve alongside the rolls.
By the way, if you are looking for a juicer to make the orange and lime juice for the recipe, I recommend the Omega Masticating Juicer.