I try not to create recipes using strange Asian ingredients that you all might be intimidated in trying, but there are exceptions. No, don't worry, I won't be having you ask for soy sauce duck tongue (a delicious Taiwanese beer snack!) or ancient Chinese bitter herbal remedies (blech!)
This recipe calls for Chinese Salted Radish or also called Chinese Preserved Radish, is a turnip that has been salted heavily to preserve like a pickle or sauerkraut. The radish adds a distinctive crunch, umami – a salty/savory flavor to any dish.
Usually, it's minced finely and added to stir-fries, omelets or used as a topping for Chinese congee (rice porridge). You'll find the Chinese Preserved Radish at Asian markets, packaged in a plastic pouch or tub. Here's a photo of the package.
If you can't find the Chinese style of preserved radish, try looking for the more popular Japanese and Korean style, which is eaten raw like a pickle. While this is a different style of radish, it will provide the same crunch and saltiness to your dish.
A tip to using Chinese preserved radish is to mince very finely. The radish is very salty, and only a couple of tablespoons minced is all you'll need for the dish. If your radish is extremely salty, you can soak it in warm water for 10 minutes, then drain to get rid of some of it's saltiness.
Green Beans with Chinese Preserved Radish Stir Fry Recipe Video
Green Beans with Chinese Preserved Radish Stir Fry
Ingredients
1

pound

green beans, trimmed

2

tablespoons

Chinese minced preserved salted radish

1

tablespoon

cooking oil

1/2

pound

ground chicken

2

cloves

garlic, finely minced

1

tablespoon

soy sauce

1

teaspoon

sesame oil
Instructions
In a large wok or pan with a lid, add one inch of water and bring to a boil (steaming rack optional). Add the green beans and cover. Steam until green beans have turned bright green and are crunchy-tender, about 5 minutes. Remove and drain the green beans and set aside. Discard the remaining water in the wok and dry the wok thoroughly.

Over high heat, add cooking oil to the wok. When hot, add ground chicken and stir fry until cooked through. Add the Chinese radish and garlic and stir fry for one minute or just until garlic is fragrant. Add the cooked green beans, soy sauce and sesame oil. Stir fry for another minute. Serve immediately.
***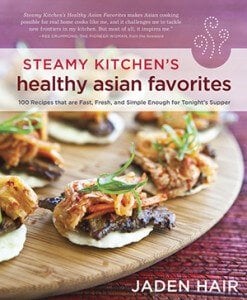 My new cookbook is available for purchase now wherever books are sold!
You can also pick up a copy on Amazon for $13.98!