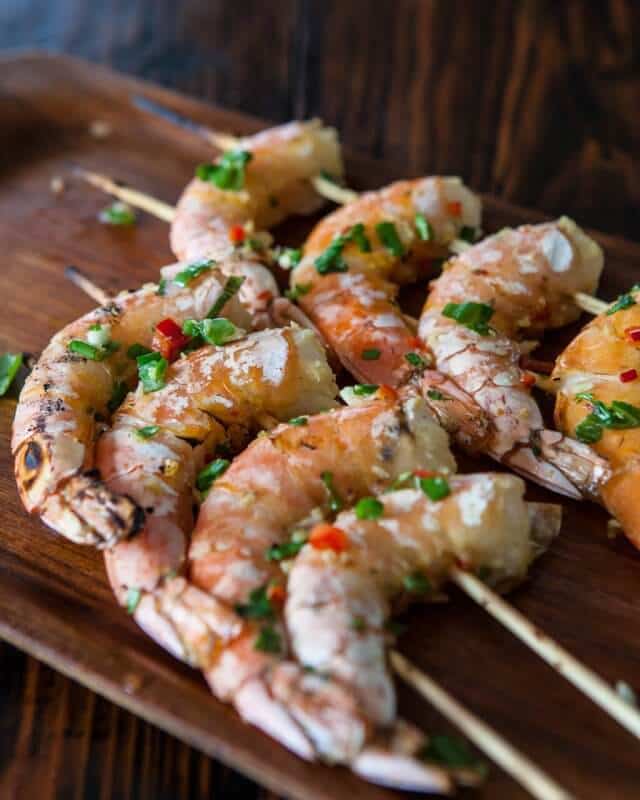 My parents grill outdoors quite often, they live in Las Vegas so they can pretty much grill year-round (though I bet during the hottest summer weeks, you could grill directly on the sidewalk). Mom is one of the best hostesses I know, always making sure that there is plenty of food and drink to feed all the guests plus extra in case 30 more people show up.
I have to confess, I'm the same way too. The extra food never gets wasted – our guests can bring home a leftovers or our animals get a nice treat. Our dogs, Coco and Buster, gets first dibs…..then the 10 hens and then lastly, the compost worms get to feast. If we happen to to have shellfish shells, like lobster shell, clam shell or shrimp shells, the hundreds of little Bluegill fish in our pond get a treat.
This is a recipe that I've learned from Mom, who has such talent for creating simple, but powerful recipes. Shrimp are marinated with what I call the "Chinese Trinity" – the trio of garlic, ginger and green onion. In addition, I've added minced hot chile pepper from our garden.
The Holy Trinity of Chinese Cooking
If you're familiar with New Orleans cooking, you'll know that the "Holy Trinity" begins many Cajun and Creole recipes: a saute of onion, green bell pepper and celery.
In Chinese Cooking, the three key aromatics are a stir fry of garlic, ginger and green onion. These three ingredients dominate much of Chinese recipes. If you have time, read Tiger & Strawberries (one of the very first food blogs that I fell in love with 5 years ago) article on The Chinese Triad. Barbara's post is thorough and also provides some cooking tips on how to use this triad of aromatics.
Mom's Chinese Grilled Shrimp is one of the simplest recipes that highlights how powerful the combination of green onion, garlic and ginger can be. You can marinate the shrimp overnight or even for just a few minutes if you don't have time.
Other ingredients that you can add to The Chinese Trinity that are great with this recipe are: cilantro, minced hot chile pepper, orange zest, Chinese 5-spice powder (just a pinch), sesame oil (just a dribble) , Chinese rice wine (just a splash).
Chinese Grilled Shrimp Recipe Video
Grilled Shrimp Chinese Style Recipe
You can use any size shrimp for this recipe - I love using jumbo shrimp. Asians love to keep the shrimp shell on, it's a deliciously messy, eat-with-hands affair! If you prefer to shell the shrimp, that is fine too. You can broil or grill this shrimp.
Ingredients
1

pounds

shrimp

1

stalk

green onion, green part only, chopped

2

cloves

garlic, very finely minced

2

teaspoons

grated fresh ginger

1

teaspoon

finely minced chile pepper (or to your taste)

1

teaspoon

sea or kosher salt

1

teaspoon

cooking oil

bamboo skewers, soaked in water 30 minutes
Instructions
Preheat grill to high heat. In a large bowl, add all ingredients and mix thoroughly to coat the shrimp. At this point, you can refrigerate for up to overnight or just proceed to next step.

Skewer the shrimp - for jumbo shrimp, you may want to use two bamboo skewers for each (see photo or video). Grill 2-4 minutes each side (depends on how big the shrimp are). Serve immediately.

To broil, set the oven rack to 8" below heating unit. Broil 4 minutes per side or until cooked through.