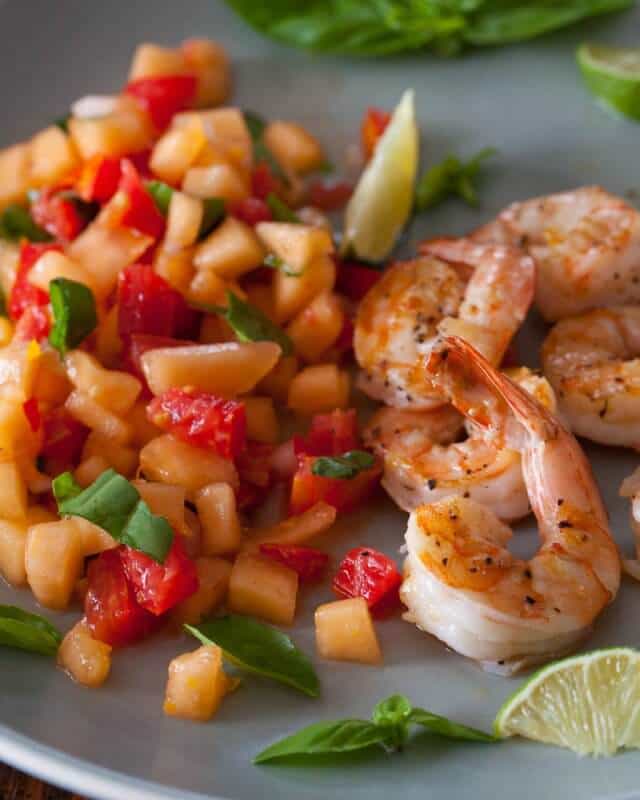 I'm a horrible grocery shopper. I'm compulsive, obsessive and spontaneous all packed into one short human form, pushing a shopping cart. In short, I'm every advertiser's dream.
Grocery shopping and farmer's markets are my absolute favorite activities (next to petting yarn and fabric, as an avid knitter and new quilter). Some of my most creative time is walking back and forth between the produce section and different aisles, creating recipes on the fly.
The shopping cart ends up being an anatomy of a recipe, the grocery clerks are fascinated with the ingredients that go in, get swapped, moved around as I develop a new recipe in my head.
*Sidenote: You know what grocery stores need? A recipe consultant in the produce section! Instead of, "Can I help you find something?" — it should be — "Can I help you create a recipe?" <– great idea, huh?
But what ends up at the end of the grocery journey is A LOT of food in my cart. While it's a "business expense" for Steamy Kitchen, it's still very costly and unfortunately one of the side effects of recipe testing is a lot of food waste.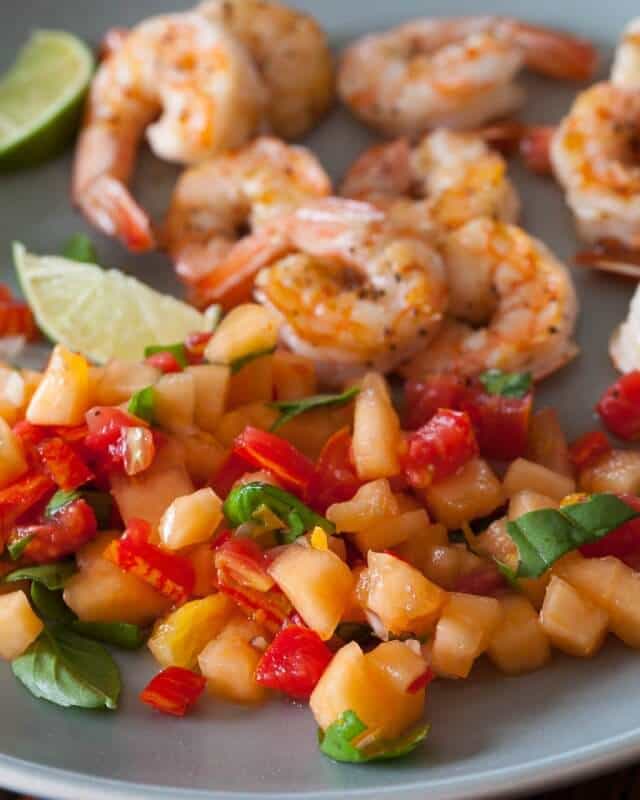 I'm a "DON'T" — one of these days, I'll find myself in the back of a magazine with the black bar over my eyes, pushing a grocery cart piled high with food! (Though, don't fret, my friends, I'm working on being more efficient and conscious of my food waste.)
One of the flavors that I was compiling at the store recently was pairing cantaloupe with basil. The two ingredients are amazingly refreshing as a sorbet and I wanted to try the combo in a savory dish.
A cookbook called Fresh Food Nation came to the rescue with a Cantaloupe Lime Salsa. The sweetness of cantaloupe, bite of jalapeño and lingering herbal basil is a perfect harmony of summer flavors. Pair with grilled shrimp, chicken, fish or pork. I've even had this salsa on top of a bed of greens as a salad.
Fresh Food Nation cookbook by Martha Holmberg. Simple, seasonal recipes from America's farmers. Cantaloupe Lime Salsa recipe from Lattin Farms in Fallon, Nevada. Owned by Rick Lattin and B. Ann Lattin. The Lattin's CSA is the largest in northern Nevada. It is also home to one of the largest corn mazes in the United States.
Rick and B. Ann Lattin
Grilled Shrimp with Cantaloupe-Lime Salsa Recipe Video
***
Grilled Shrimp with Cantaloupe-Lime Salsa Recipe
Ingredients
FOR THE CANTALOUPE LIME SALSA:
1/2

small cantaloupe, diced

2

large tomatoes, diced

1/4

red onion, diced (or sweet onion)

1

teaspoons

jalapeño pepper, seeded and minced (to taste)

1

lime, juiced

1

orange, zested and juiced

1/4

teaspoon

kosher salt, to taste

freshly ground black pepper

handful fresh basil leaves, torn into small pieces
FOR THE GRILLED SHRIMP:
1

pound

shrimp, shelled (though you can leave the tail on if you wish)

1

tablespoon

olive oil

salt and freshly ground black pepper
Instructions
FOR THE CANTALOUPE LIME SALSA:
In a large bowl, combine all ingredients and toss to combine well. Taste and adjust seasoning, if needed.
FOR THE GRILLED SHRIMP:
Pat the shrimp very dry. Toss the shrimp with the olive oil and then season with salt and pepper.

There are several ways you can prepare the shrimp:
BBQ grill:
Skewer and grill over high heat, 2-3 minutes per side.
Broil:
Lay on baking sheet, broil for 3-4 minutes per side on high, with rack set 6-8 inches under heat.
Grill pan on stove:
Heat a grill pan on high heat, grill shrimp 2-3 minutes per side
Stir fry:
Heat wok over high heat, swirl in a bit of cooking oil. When hot, add shrimp and spread out so that they are not overlapping (Give each shrimp some personal space!) Cook 2 minutes. Give it a good toss and spread out again. Cook the other side another 2 minutes.