Sweet and Sour Spare Ribs
[imagebrowser id=12]
This Sweet and Sour Spare Ribs dish is a mouth-watering appetizer and goes-great-with-cold-beer type of dish from China. Normally, the ribs are deep fried, but I wanted to cook a version that didn't require me to waste 3 cups of cooking oil. If you do want to deep fry the ribs, Curiously Ravenous has a recipe from Ye Ye (Grandfather).
And I found the perfect recipe in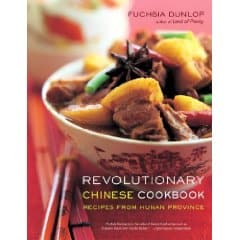 Fushia Dunlop's Revolutionary Chinese Cookbook: Recipes from Hunan Province. When I first heard about Fushia Dunlop and how authentic and thorough her recipes were, I immediately bought this book and the
Land of Plenty: A Treasury of Authentic Sichuan Cooking. If you're a fan of Chinese cooking, I definitely recommend both books. Ms. Dunlop has another book out which is a memior, but I haven't had a chance to read it yet.
About Dark Soy Sauce
Dark Soy Sauce is not regular soy sauce. it's labeled Thick or Dark Soy Sauce and it's more intense, sweeter and less salty than regular soy sauce as it contain molasses. Dark Soy Sauce is used in many Chinese braised dishes.
About Chinese Black Vinegar
Chinese Black Vinegar is an essential ingredient that adds the "sour" to the Sweet and Sour Spare Ribs recipe. The best black vinegar is from the Chinkiang Province of China. My family loves to dribble the tiniest spoonful into my Mom's Famous Crispy Egg Rolls (take a bite from one end of the egg roll, spoon a few drops inside.) You can substitute with balsamic vinegar.
About the ribs
I used baby back ribs, but any type of pork ribs are fine. The ribs are normally cut into 2-inch pieces, and it's something that you'd much rather have a butcher do for you in their fancy machines than try to whack them with your chef's knife. The smaller ribs are easier to cook and absorb the sauce. But if you only have the 3 to 4-inch baby back ribs – you can feel free to leave them uncut.
I cut about half of my ribs – each rib took like 3 big whacks. Finally, I was like "this is stupid. why am I risking my very expensive Shun Chef's knives whackin' bones?"
1) I couldn't find my heavy duty Chinese cleaver
2) Huzb's hack saw was all rusty
3) I think y'all would understand why there are several ribs in the pic that are abnormally long.
So I quit whackin'.
Sweet and Sour Spare Ribs Recipe (tang cu pai gu)
Adapted from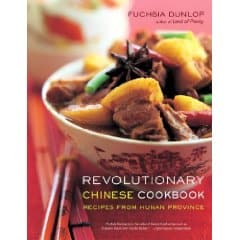 Fushia Dunlop's Revolutionary Chinese Cookbook: Recipes from Hunan Province
serves 4
1 ½ pounds meaty spare ribs, cut into bite-size sections (baby back ribs preferred)
2-inch section of ginger, sliced into 1/2-inch "coins" and smashed
6 green onions, cut into 2-inch sections
1 tablespoon Chinese rice wine
generous pinch of salt
2 tablespoons high heat cooking oil
2 tablespoon dark soy sauce
4 tablespoons white sugar
1 ½ tablespoon Chinese black vinegar
1 teaspoon sesame oil
1. Place the ribs in a saucepan of water and bring to a boil over high heat. Skim the water, then add half of the ginger, half of the green onions, the Chinese rice wine and salt. Turn the heat to low and simmer for 15 minutes until the meat is cooked and tender. Continue skimming the pot. Strain and set aside, reserving the cooking liquid.
2. Heat a wok or large saute pan over high heat until very hot. Pour in the cooking oil and add the remaining ginger slices and green onions. Stir fry until fragrant, about 30 seconds. Add in the strained spare ribs and stir fry for 2 minutes in the fragrant oil.
3. Add 1 cup of the cooking liquid, the dark soy sauce and sugar. Simmer over a medium flame, spooning the liquid over the ribs, until the sauce has reduced to a heavy, syrupy consistency.
4. Add the vinegar and cook for another 1-2 minutes, until the flavors have fused. Off the heat, stir in the sesame oil.