Make this Indian Chickpea Dal a hearty side or the center of a bigger, beautiful bowl!
When we first moved to Florida, we weathered through big hurricanes like Charley, Andrew, Wilma, Jeanne…I can't even remember all of their names! At the start of every hurricane season, (right now) I take inventory proceed to stockpile on food, water, cash, batteries and gas for the generator.
As a foodie, I mentally prepare a list of "gourmet" recipes that I can prepare if and when disaster strikes. I know, it's stupid and silly, but we've been through 3 days without electricity (Hurricane Charley) and it's not fun. Thank goodness this Indian Chickpea Dal came to my attention recently. Might as well make the best of the situation and eat well.
It's been about 8 years since we've experienced a big one – I keep saying that, "we're long overdue." But each of the 8 years past, each time the season passes without a hurricane, we have to deal with the glut of canned foods and dry goods in the pantry.
Indian Chickpea Dal with Coconut Broth puts those ingredients to perfect use. I keep this recipe in the "storm gourmet" file – nearly every ingredient is found in the pantry or will keep well (garlic and onion). It's an Indian dish from the cookbook, Silk Road Vegetarian: Vegan, Vegetarian and Gluten Free Recipes for the Mindful Cook by Dahlia Abraham-Klein. The Silk Road is a network of trade routes spanning between China, Tibet, Persian Empire and Mediterranean countries. Silk and spices were the most popular trading commodities.
Silk Road Vegetarian cookbook will take you on a journey along that route, highlighting Dahlia's family stories (she traces her family's roots back to the Babylonian Exile of the Jewish people in sixth century BCE), and food traditions in Central Asia.
A quote from Dr. Jean M. Layton sums the book up best:
"Imagine a vegetarian and gluten-free excursion along the Silk Road that is redolent with spices and scented with roses, oranges, and herbs. Silk Road Vegetarian will bring you along on a journey through Asia, Africa, Europe and India – with a bit of Latin influence as well."
A sample of recipes from the book, besides this fabulous Indian chickpea dal:
Lentil Tomato Soup Mushroom
Wild Rice Persian Green Frittata
Afghan Cauliflower Curry
Bukharian Tomato Salad
Hamentashen Cookies
Indian Spiced Coconut Cardamom Tapioca
Sweet Potato & Lentil Soup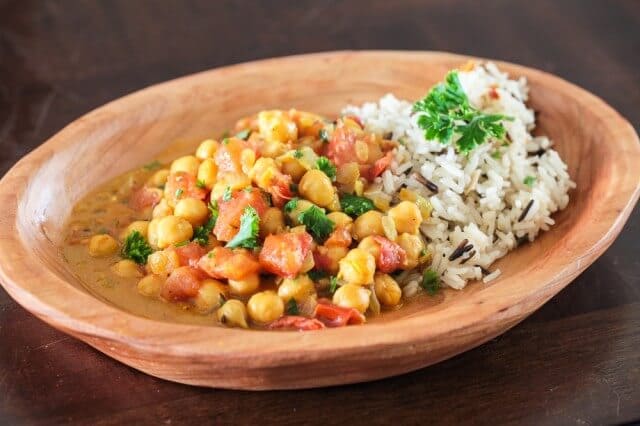 I've modified Dahlia's original recipe to use canned chickpeas (garbanzo) instead of dried to cut down on the soaking/cooking time. Dahlia approved of my using a Garam Masala spice blend instead of the separate 11 spices in the original recipe (see very end of post for the list of the spices in original recipe).
Indian Chickpea Dal with Coconut Broth and Basmati Rice is a wonderfully fragrant, 15 minute, "storm gourmet" recipe that you'll love. The dal is nutty, creamy, and beautifully spiced. Pair with basmati rice.
Indian Chickpea Dal with Coconut Broth Recipe Video
LINKS TO PRODUCTS IN VIDEO
– Cheaper Microwave Rice Cooker
With this wonderful chickpea dal, you're already well on your way towards a mega-nourishing Buddha bowl!
For the finishing touch, nestle in a handful of veg:
Go raw–
Salad greens, green onions, tomato, cucumber, or your favorite fresh herbs
A quick stir-fry–
Onions, cabbage, spinach, mustard greens
Indian Chickpea Dal with Coconut Broth and Basmati Rice Recipe
Adapted from Silk Road Vegetarian by Dahlia Abraham-Klein
If you do not have fresh tomatoes, use 1 can of chopped tomatoes, drained.
Substitute any rice of your choice for the basmati rice - however cooking times for wild rice or brown rice will be different. I have a recipe for cooking brown rice in the microwave - just search on Steamy Kitchen for the recipe.
Microwave-safe vessels for cooking rice can be found in any kitchen shop or Amazon. They are worth the ~$20! I also have a post on Steamy Kitchen on cooking regular rice in the microwave - lots of tips and links to products.
Ingredients
1

cup

dried basmati ric

1

medium onion

3

cloves

garlic

2

medium tomatoes

15

ounces

can chickpeas (garbanzo beans)

1

tablespoon

cooking oil

1

tablespoon

garam masala

1

teaspoon

kosher salt

8

ounces

coconut milk

1

sprig

parsley
Instructions
Cook the rice:
Pour the 1 cup of rice and 2 cups of cold water into a 2-quart microwave-safe dish. Cover. Microwave high for 12 minutes. Let rest for 3 minutes.
Prep the ingredients While the rice is cooking:
Canned chickpeas- drain, rinse and drain again

Chop parsley (leaves only)
Cook:
Heat a large saute pan with the cooking oil over medium-high heat. When hot, add in the onions and saute for 2-3 minutes until translucent and soft. Add in the garlic and saute for 30 seconds until fragrant. Add in the garam masala and cook an additional 30 seconds.

Add in the chopped tomatoes, drained chickpeas, salt and the coconut milk. Stir well, and simmer, covered, for 10 minutes, or until thick and creamy. Top with parsley. Serve with basmati rice.
*The original recipe from the Silk Road Vegetarian Cookbook includes these spices (use in place of garam masala) 1 teaspoon of each: mustard seeds, cumin seeds, ground cardamom, ground coriander, ground cinnamon, ground cumin, paprika, ground turmeric 1/2 teaspoon of each: chili powder, grated nutmeg 1 thread saffron Instead of sauteing the spice blend for only 30 seconds, Dahlia recommends letting all of the spices simmer for 10 minutes (along with the onion and garlic).
PIN THIS RECIPE!