Roasted Brussels Sprouts, Sweet Chili Sauce
For the past 5 years, Ree (The Pioneer Woman), Elise (Simply Recipes) and I have hosted big parties for our food blogging community. It's sort of a tradition now, anytime the three of us are in the same city at the same time, we just have an urge to get people together, eat, dance and have a merry time.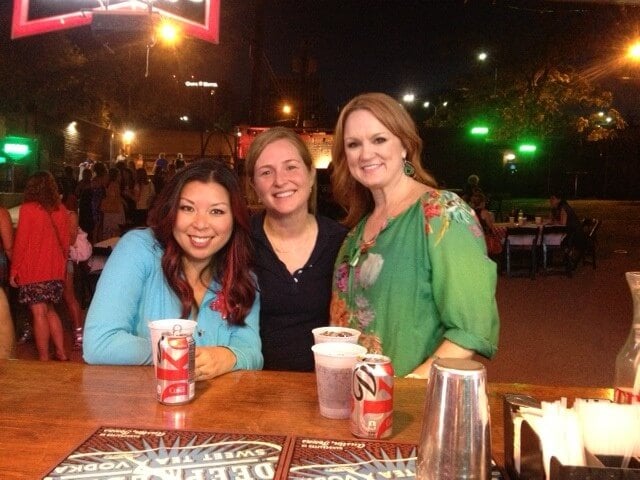 This year's shindig was at Stubb's BBQ Restaurant in Austin, Texas for BlogHer Food Conference. And while I make it sound like the three of us planned, managed and executed the party, the reality was that the three of us just showed up as hostesses. All the work was done by the fabulous crew at BlogHer!
While in Austin, I was on a mission to try the famous roasted brussels sprouts from restaurants Uchiko and East Side King Food Truck at The Liberty Bar. Both treated the brussels sprouts to an oven roasting and Asian sauce. It's a good thing, because the flavor combination of salty/sweet/savory/garlicky/sour PLUS the nuttiness from roasting will make you forget the very first time your mom made you eat plain, soggy, bitter brussels sprouts when you were a kid.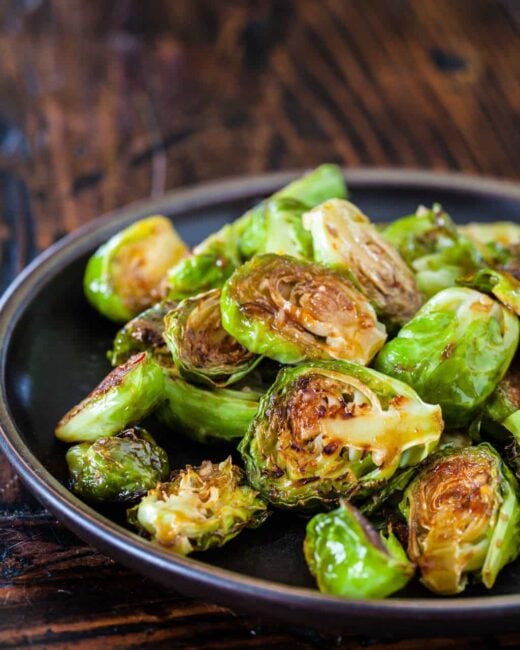 Uchi/Uchiko's official recipe includes two sauces and a ton of ingredients, which makes it just too complicated for this "easy Asian" blog, so I've created a different recipe to include only the bare necessity of ingredients to achieve a similar taste profile….namely: garlic, fish sauce and Thai sweet chili sauce.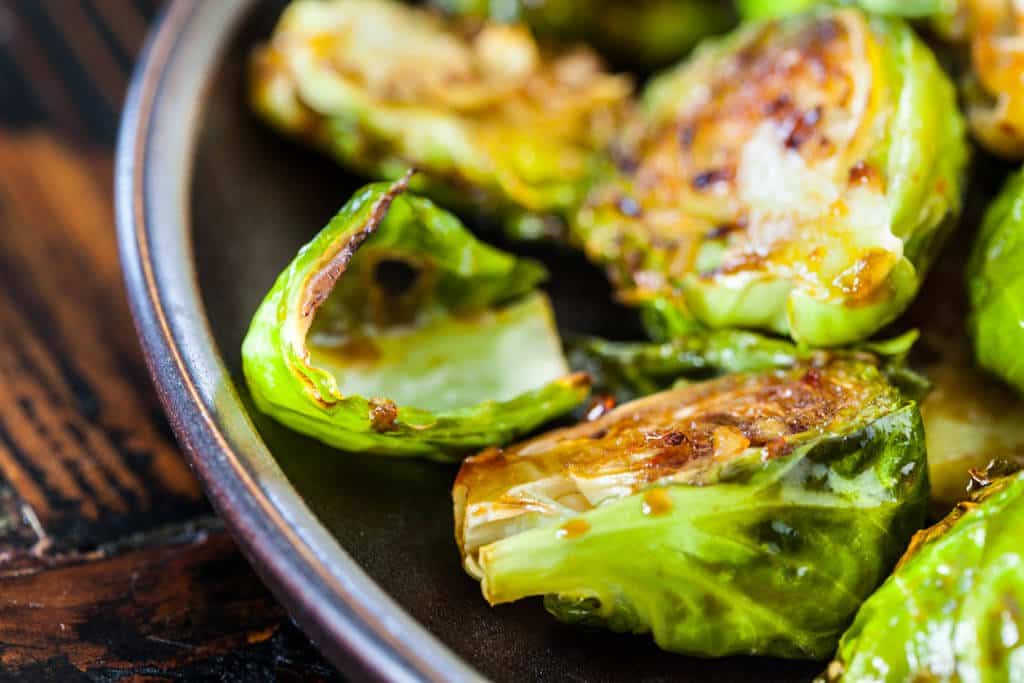 I've converted plenty of brussels sprouts haters with this recipe….
Roasted Brussels Sprouts with Sweet Chili Sauce Recipe Video
***
Roasted Brussels Sprouts with Sweet Chili Sauce Recipe
Servings: 4
Prep Time:5 minutes
Cook Time:25 minutes
Ingredients:
1 pound brussels sprouts, stem trimmed and halved
2 tablespoons cooking oil
2 garlic cloves, finely minced
2 teaspoons fish sauce or soy sauce
2 tablespoons sweet chili sauce
Directions:
Heat the oven to 400F. On a baking sheet, toss the brussels sprouts in cooking oil to coat evenly. Roast in the oven for 20 minutes, tossing them halfway so they cook evenly. Remove brussels sprouts from the oven and turn on oven broiler to high, with the oven rack positioned in the top third of the oven.
In a small bowl, whisk together the remaining ingredients and pour over the brussels sprouts, tossing to coat evenly. Broil the brussels sprouts for 5 minutes or until the sugar in the chili sauce is bubbling and caramelizing. Watch them carefully so they don't burn! Remove from the oven and serve immediately.
***
More sides?
Try this Roasted Cauliflower with Parmesan Recipe
Or indulge in The Pioneer Woman's Buttermilk Biscuits Recipe
Roasted Cauliflower with Bacon and Garlic Recipe