Aged Sriracha Hot Sauce Recipe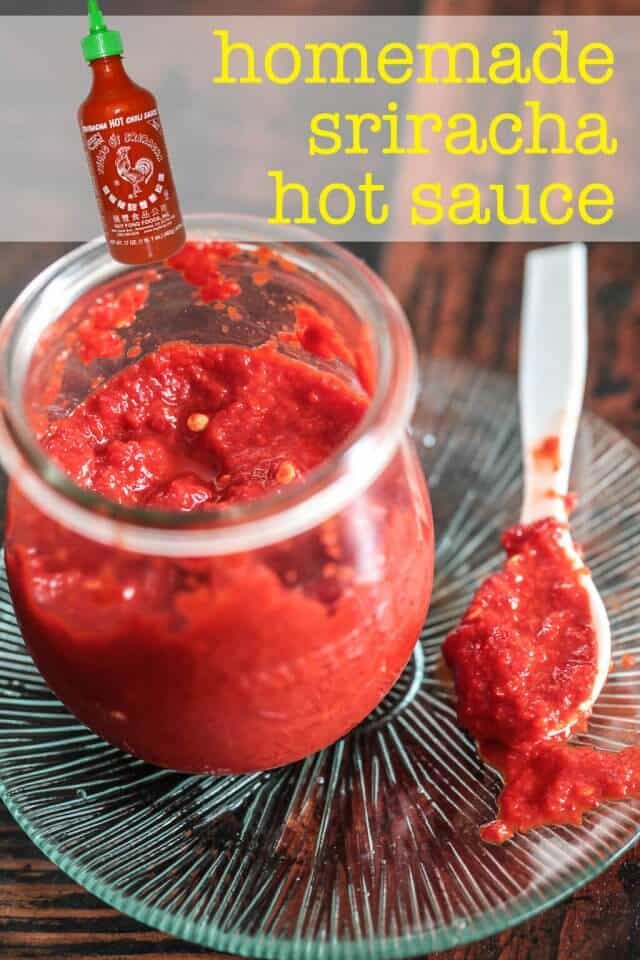 Did you know that the Huy Fong company that makes the beloved "rooster sauce" sells 20 million bottles of its sriracha sauce a year without spending a single dime on advertising? I find the story about David Tran's success so amazing and can't even think of another company that can thrive like this without a PR or marketing strategy.
While I've made many versions of sriracha and hot sauces before, this recipe is the closest homemade version I've ever tasted. The secret is a simple fermentation that I learned from Karen Solomon's brand new book, Asian Pickles.
 The book is a tribute to "sweet, sour, salty, cured and fermented preserves from Japan, Korea, China, India." Here's a sampling of recipes:
Japan
pickled ginger, preserved seaweed, pickled asian pear with lemon, miso pickles
Korea
kimchi, radish kimchi, squid kimchi, water kimchi, gochujang
China
radish in chile oil, pickled shallots, Tianjin perserved vegetable, five-spice pickled carrots, XO sauce, chile-black bean oil
India
South Indian coconut & cilantro chutney, peach, coconut and ginger chutney, sweet mango pickle, pickled chickpeas
SE Asia
daikon & carrot pickle, pickled chiles with lime, thai pickled cabbage, banana ketchup, Malaysian pickled vegetables
Well, there are many more, but this gives you an idea of what type of concoctions to expect. I highly recommend this book, almost all of the recipes are simple and Karen's directions are crystal clear. If you're a lover of the sour and spicy condiments, you'll find Asian Pickles right up your alley.
I followed the "Fermented Cock Sauce" recipe with great success. I had never fermented hot sauce before, but really, it was as easy as opening a dark cupboard and leaving it there for a week undisturbed. In fact, I had almost forgotten about all about it!
My version is much thicker, chunkier than the Huy Fong Sriracha sauce, but that was on purpose. One of the last steps in the recipe is to strain the vinegar (similar to Tabasco) from the chunkier sauce. If I wasn't so forceful in my straining (you'll see in the video), the consistency of my sriracha sauce would be smoother, less chunky. I would also run the sauce through a blender one more time at the end.
The resulting flavor is brighter, fresher and more "fruity" than the bottled version. I'm not sure if fermenting longer would provide a more deeper earthy flavor that I love about the bottled version.
What type of peppers to use? Any that you would like! I use red jalapeño peppers, which is what Huy Fong uses.
Yes, there are red jalepeño peppers! But they are difficult to find. Karen Solomon recommends looking for Red Fresno peppers, which have a similar taste and heat index as red jalapeño.
I found red jalapeños at Super Target as well as Publix. You can also ask the the produce manager to stock them in for you.
The only rule is red peppers = red sauce. Since I like my hot chile sauce…..not so hot….I added baby red bell peppers, which gave the sauce a sweeter, more mellow taste.
The recipe from Asian Pickles will give you a 2-for-1: you'll get the sriracha-like sauce on the left and a thinner, vinegary hot sauce that's similar to Tabasco to the right.
Sriracha Making Notes
-In the video, I only made half of the recipe (to yield 1 cup).
-Vary the spiciness with the type of chilies you use. Use red chilies to keep the sauce red.
-For a thinner sauce, similar to Huy Fong Sriracha sauce, only strain lightly (in the video, you'll see me using a spoon to press down on the hot sauce to extract as much liquid as possible….I ended up with a chunkier sauce!)
-If you find the sauce still too chunky, run it through a blender before bottling
-Both sauces will keep for months (yay for fermentation!) in the refrigerator
How to make Sriracha Sauce video
Aged Sriracha Hot Sauce Recipe
Servings: 2 cups

Prep Time:

Cook Time:15 minutes

Ingredients:

2 pounds Fresno chiles (or other red chilies)
9 cloves garlic
2 teaspoons kosher salt (or 1 tsp regular table salt)
6 tablespoons distilled white vinegar


Directions:
Wash the chiles and chop off their stems. If you like your sauce less hot, remove the seeds and membranes and discard.

Work the next step in 2 batches so you don't overload the food processor. Add the chiles,  garlic, salt to the food processor. Process for 2 minutes until very liquid. The mixture should have consistency of a smoothie and appear a bit foamy on top.

Scrape the sauce into a very clean 1-quart (or larger) glass jar. Don't use plastic. Cover the top of jar with paper towel and secure with rubber band. This prevents bugs from entering and allows sauce to breathe.

Place jar in cool, dark place for 2-4 days. The liquid will settle at bottom, and the thicker sauce will rise to top. The top should be bubbly - which is a sign of fermentation. Taste, and let sit for a few more days if desired. I prefer 7 days of fermentation.

If mold grows, remove the mold with a small spoon - and then proceed to the next step (basically, don't eat the mold directly, but the sauce should be okay).

Pour the sauce through a fine-mesh sieve. Now you'll have the thinner "Tabasco" like vinegary hot sauce and the thicker hot chile sauce. To each, add 3 tablespoons of vinegar and stir well.

You may like to run the thicker sauce through the blender for a finer, thinner consistency.

Store each tightly sealed in refrigerator. The thicker hot sriracha sauce will keep for up to 4 months. The thinner vinegar hot sauce will keep indefinitely.