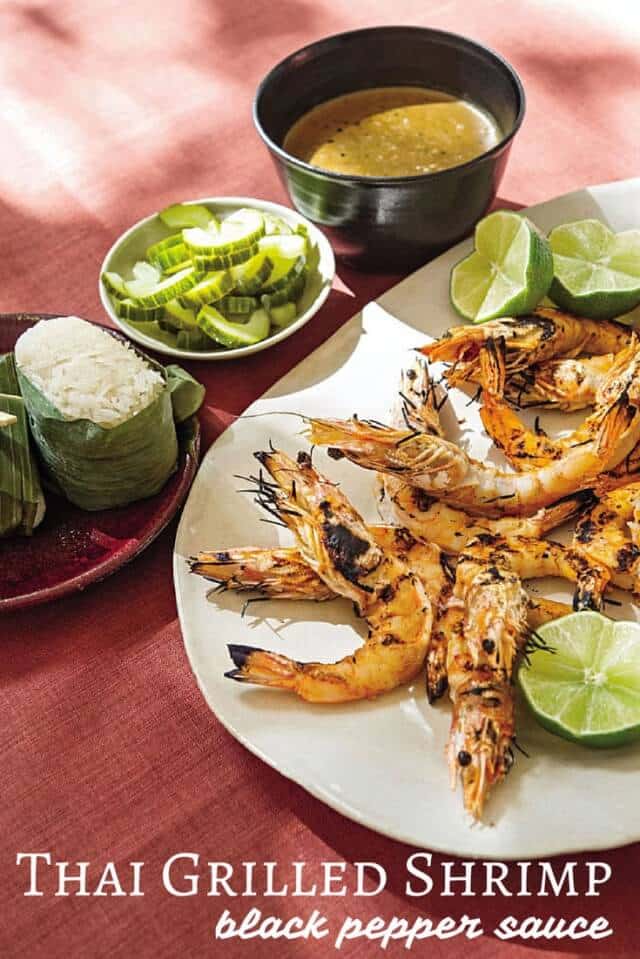 Patience is what we've been practicing for the last two months in our house. Going into a major kitchen remodel is never a "fun" thing (well, except picking out wall colors, flooring options and kitchen bling), but I never expected a 2-week stall. So close, yet so far away.
We're currently hung up on the granite cutter. Counters need to be cut and installed before anything else happens. So, I'm being extra patient and resisting the urge to drive to the granite cutter's shop and doing my Asian mother nagging magic on his team to hurry up!
In the meantime, with no kitchen, I've asked Top Chef Harold Dieterle to write a quick little note and share a recipe from his brand new book, Harold Dieterle's Kitchen Notebook. I asked him, "Harold, I can't wait to try your contemporary Thai restaurant next time I'm in NY. Tell us your love for Thai food!"
Hi Steamy Kitchen readers! My love of southeast Asian cuisine is pretty straightforward, actually. I've always loved the flavors, spices, and freshness of the ingredients and dishes from that part of the world. I also spent some time in Thailand before I opened Perilla Restaurant, and so a lot of the flavors and influences from that trip ended up being worked into the menu.
I traveled to Thailand a few more times before opening Kin Shop (and a few times since), because I realized I had so much to learn about balancing flavor and heat, as well as an endless variety of techniques. It's such a rich culinary culture, and really, I'm still learning something new every day.
Have fun cooking! Harold.
The recipe that Harold is sharing is a powerhouse of Thai flavors! You'll love how the smoky, grilled shrimp pairs so well with Harold's Phuket-Style Black Pepper Sauce that comes easily together in one pot. While I've adapted the grilled shrimp to make it simpler for a weeknight meal, I've kept the Phuket-Style Black Pepper Sauce as-is, because that's where the recipe really shines.
We made this recipe in 30 minutes even without a kitchen! We used our BBQ grill for the shrimp and a little camping stove for the sauce.
About the Phuket-Style Black Pepper Sauce:
From Harold Dieterle's Kitchen Notebook:
"The sauce never fails to remind me of my first trip to Thailand, during which I visited a marketplace on Phuket, an island off the southern coast, where you picked out your own fresh fish and shellfish at various stalls, and the proprietor would cook it for you. I asked on purveyor if I could pay extra and cook my own food. The woman who owned the stall was reluctant, telling me it was dangerous, but after I showed her my burn-covered arms, the pride and joy of every cook, she figured I could take care of myself.
I started making a Phuket-sauce based on ones I've eaten on the trip. She didn't like the direction I was going – she especially didn't appreciate my tossing black peppercorns into her wok – so she began trying to course-correct for me, adding this like coconut milk and hoisin sauce. This recipe is for the sauce we ended up with. I thought it was delicious; she didn't.
Serve this sauce over poached or grilled shellfish, white-fleshed fish such as halibut or cod, grilled pork, and grilled chicken dishes or fried chicken."
Thai Grilled Shrimp with Black Pepper Sauce Recipe
Ingredients
FOR THE PICKLED CUCUMBER:
2

tablespoons

very hot water

1/2

teaspoon

sea or kosher salt

1

tablespoon

sugar

1/2

cup

rice vinegar

1

hothouse cucumber, seeded, sliced
FOR THE BLACK PEPPER SAUCE:
2

tablespoons

neutral cooking oil (like canola)

1

tablespoon

minced garlic

1

tablespoon

peeled, minced fresh ginger

1

tablespoon

minced shallot

1

tablespoon

minced lemongras

2

tablespoons

coarsely ground black pepper

2

cups

unsweetened coconut milk

1

cup

hoisin sauce

1/4

cup

rice vinegar

2

tablespoons

fish sauce

juice of 1 lime
FOR THE SHRIMP:
1

pound

large or jumbo shrimp, on skewers

1

tablespoon

neutral cooking oil

salt and pepper
Instructions
MAKE THE PICKLED CUCUMBERS:
In a bowl, whisk together the hot water, salt and sugar until dissolved. Stir in the rice vinegar. Toss with the sliced cucumber. Refrigerate while preparing the rest of the recipe or up to overnight.
MAKE THE BLACK PEPPER SAUCE:
Heat the oil in a large saucepan over medium heat. When the oil is shimmering, add the garlic, ginger, shallot, and lemongrass and cook, stirring until the vegetables are softened but not browned, about 2 minutes.

Add the pepper and cook, stirring, until fragrant, about 2 minutes.

Pour in the coconut milk, hoisin, vinegar and fish sauce. Stir, bring to a boil and then lower the heat and simmer for 15 minutes to develop the flavor. Stir in the lime juice. The sauce can be refrigerated in an airtight container for up to 3 days.
GRILL THE SHRIMP (while the sauce is simmering):
Heat a grill to high. Brush shrimp with the cooking oil, season with salt and pepper. Grill shrimp 2 minutes, flip and grill an additional minute or two until cooked through.

Serve with black pepper sauce, pickled cucumber and rice.
Notes
Recipe adapted from Harold Dieterle, Harold Dieterle's Kitchen Notebook  Reprinted with permission.
Here are some tips for the Black Pepper Sauce:
-Instead of mincing ginger, I peel the ginger and grate it with a microplane grater.
-If you can't find lemongrass, use a microplane grater and lightly rub the lime in the recipe (before juicing) to zest.
-A great substitute for shallot is red onion
Shrimp tips:
This basic recipe can be used for shrimp, fish, scallops and even lobster. I like to use the largest shrimp I can find, and thread on bamboo or metal skewers to make easy to grill.
Serve with white rice if desired.
Other Thai Inspired Recipes from Around the Web
Thai Shrimp Halibut Curry – Bon Appetit
Steamy Kitchen Pinterest Board on Asian Seafood
Thai Shrimp and Pineapple Curry – RasaMalaysia
Thai Chicken with Sweet Chili Jam – David Lebovitz