This chocolate chip cookie recipe features:
This recipe is from Dorie Greenspan, a James Beard Award winner and New York Times Bestselling author of Baking with Julia and Around My French Table.
The hazelnut or almond flour gives the cookie a extraordinary richy, nutty flavor throughout the cookie, without having chunks of nuts interrupting the smooth, gooey, velvety chocolate chip cookie experience.
Big chocolate chunks throughout cookie, crisp and browned on bottoms, soft and tender in the center.
I first met Dorie Greenspan in a middle of bland lunch buffet at a food conference. You'd think that when feeding a crowd of cookbook authors, food photographers and other important people in the culinary world, one would take the utmost care in providing a feast, worthy of being written about, or at least memorable in a good way.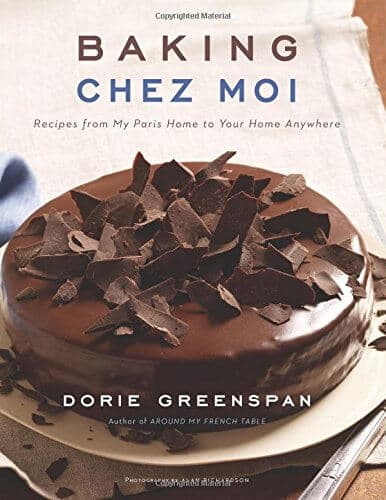 But, we weren't there for the food. There aren't very many times in my life that I can actually say that! At food conferences, we attend to learn, share and connect. The conference lunch buffet is just there for calories and to keep our energy high. After the conference is a totally different story — it's all about food and wine then!
Dorie is instantly recognizable, her short-cropped hair, distinctive, round-rimmed glasses and everlasting smile. She's happy, always happy, always smiling and is one of those people who make you instantly feel loved and special.
If you love baking or French inspired cooking, you'll probably have seen her books: Around My French Table (try the Chicken in a Pot recipe – here's the recipe on Dorie's website), Baking with Julia (as in Julia Child), Paris Sweets and others. Here's her entire list of cookbooks.
From her brand new book, Baking Chez Moi – Recipes from My Paris Home to Your Home Anywhere, I chose her recipe, "Edouard's Chocolate Chip Cookies," a classic American-style chocolate chip cookie with one worthy addition: hazelnut flour.
Here's what Dorie says about the recipe:
"When Edouard Bobin, the co-owner of one of the sweetest small bistros in Pris, Le Pantruche, said he would give me the recipe for his favorite hazelnut cookie, I knew the minute I read the one-word title, Cookies, that chocolate chips would be involved."
"These cookies are good warm or at room temperature; good with coffee, good with tea and terrific with milk (a beverage I've never seen a grown French person sip); and even good with Armagnac."
– Dorie Greenspan
The hazelnut or almond flour gives the cookie a extraordinary richy, nutty flavor throughout the cookie, without having chunks of nuts interrupting the smooth, gooey, velvety chocolate chip cookie experience. You can also use almond meal/flour as well. Both nut flours are made from only from super-fine ground blanched nuts. Sometimes, you'll find it labeled "hazelnut meal" or "almond meal."
Bob's Red Mill makes both the almond meal/flour and hazelnut meal/flour.
I love the hazelnut flour – ground so fine it's almost powdery.
I followed Dorie's instructions exactly, even enjoying the suggested glass of Armagnac with my first cookie!
Our hens provided the eggs – we have a couple of hens that lay olive green eggs. The color reminds me of our 1970's Chevrolet Impala Station Wagon with deluxe wood panels and drab olive green paint that we used to have growing up.
In fact, all of the hens lay very distinctive eggs – I can tell you who laid which egg!
Inside the shell of the olive egg is a creamy, almost blue-tinged color.
Use real sea salt.
Instead of chocolate chips, I used Scharffen Berger 70% Bittersweet Baking Chunks. You can also buy a good bar of dark or bittersweet chocolate and chop it up into chunks.
And enjoy with milk (or Armagnac!)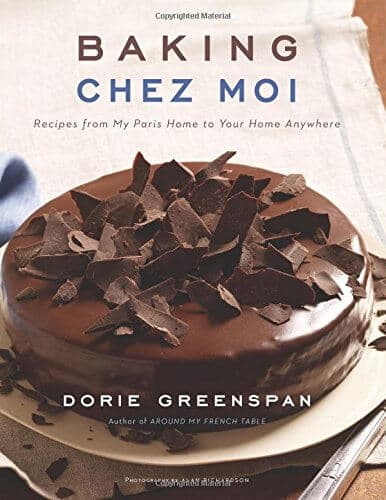 We're also giving away a copy of Dorie Greenspan's Baking Chez Moi Cookbook!
Chocolate Chip Hazelnut Cookie Recipe by Dorie Greenspan
Ingredients
3 1/2

cups

all-purpose flour (476 grams)

1 1/4

teaspoons

fine sea salt

3/4

teaspoon

baking soda

1/2

teaspoon

baking powder

8

ounces

unsalted butter, at room temperature (2 sticks)

1

cup

sugar (200 grams)

1

cup

packed brown sugar (200 grams)

1 1/2

teaspoons

pure vanilla extract

2

large eggs, at room temperature

12

ounces

semisweet or bittersweet chocolate, coarsely chopped (or 2 cups chocolate chips)

1 1/2

cups

hazelnut or almond flour (150 grams)
Instructions
In a medium bowl, whisk the flour, salt, baking soda and baking powder together.

In the bowl of the stand mixer fitted with a paddle attachment, beat the butter on medium speed for 1 minute, until smooth. Add the sugar and brown sugar and beat for 2 minutes, until well blended. Beat in the vanilla.

Add in the eggs, one at a time, beating for minute after each egg goes in. Reduce the speed to low and add in the flour mixture in 4-5 additions, mixing only until each addition is just incorporated (about 5 seconds for each addition - don't over-mix!)

Still on low speed, mix in the chocolate chips and the hazelnut (or almond) flour. Refrigerate dough for 2 hours or up to 3 days. If you are planning to freeze a portion - you can scoop out 1 1/2-inch rounds of dough to freeze.

Preheat oven to 350F with rack centered. Line two baking sheets with parchment paper. Scoop out 1 1/2" rounds of dough onto baking sheet, about 2-inches apart.

Bake the cookies one sheet at a time for 8 minutes, and then, using a spatula, gently press each mound down just a little; rotate the baking sheet when returning to oven. Bake for another 7 minutes, or so, until the cookies are pale brown. They'll still be slightly soft in the center, but that's fine- they'll firm up as they cool. Transfer to rack to cool. Repeat with remainder of dough, always using a cool baking sheet.