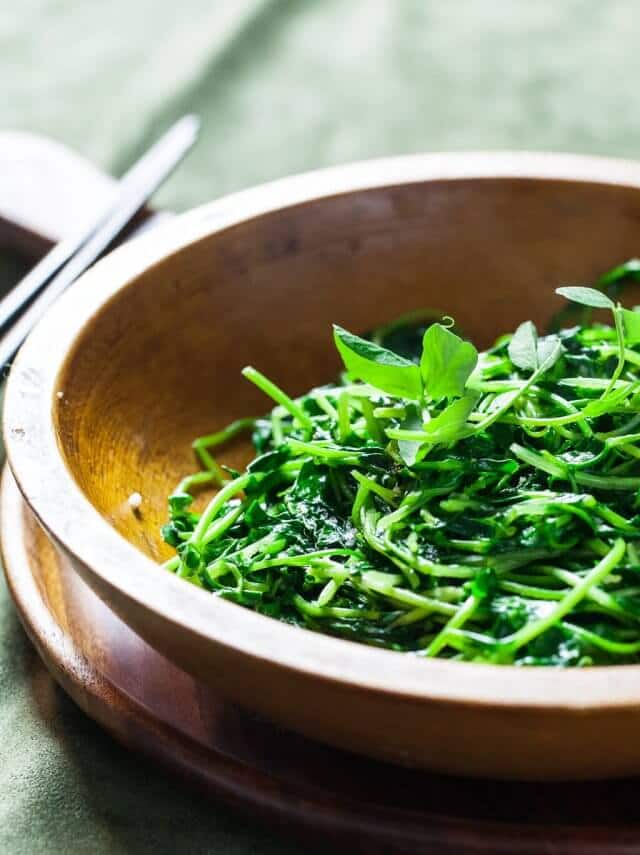 What you'll learn in this Pea Shoots Recipe:
15 minute recipe with step by step photos how to stir fry pea shoots, Chinese style
How to infuse the garlic flavor into the cooking oil
How to grow your own healthy pea shoots!
What are Pea Shoots?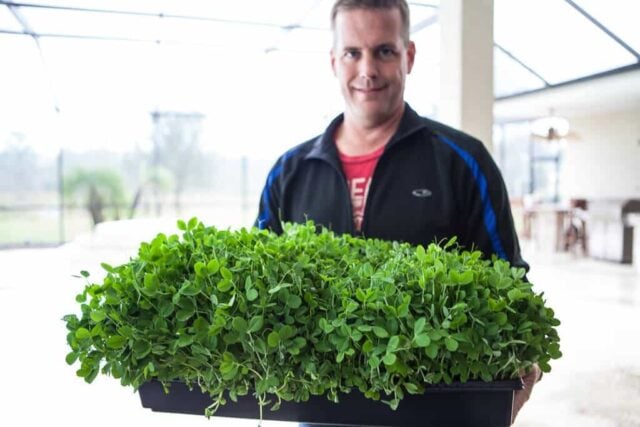 Pea shoots are the baby plants of peas! We grow them like our microgreens, which are so very easy to grow. Here is a post, with step by step photos on how you can grow your own pea shoots at home, even on your windowsill or on your sunny patio.
It only takes 2 weeks from seed to lush pea shoots, ready for stir fry.
Why do we grow our own microgreens and sprouts and shoots?
It's very easy to grow – no special equipment required.
Highly nutritious – microgreens are up to 48x higher in nutrition than its full-grown counterpart. A little sprinkle of microgreens on my salad massive gives a nutritional boost to my meal.
I don't trust store-bought, farm-grown sprouts, shoots or greens. There is too much risk for contamination, especially E. Coli and Salmonella. Small batch, controlled setting is safer.
Learn how to grow pea shoots with our step by step photos.
How to stir fry pea shoots
Pea shoots are delicate, should just be lightly cooked and barely seasoned. The shoots are sweet, tender and light – and should be treated as such!
The main seasoning is garlicky oil. I add in neutral flavored cooking oil (like canola) and garlic to a cold wok or large pan. Then, turn on the heat to medium-low, and let the garlic and oil heat together slowly. Take your time – this is when the garlicky flavor infuses the oil. Just take care to control your heat and not let the garlic burn or brown too much. When you start smelling that garlic – it is time to add the pea shoots.
Now it's time to crank up the heat. Turn heat to high.
You'll have to add the pea shoots in batches – since the tendrils are so light, it looks like a lot of pea shoots, but the shoots will cook down.
As you add the pea shoots, use your tongs to flip, turn, stir all that garlicky oil all over the shoots! Try to get as much garlic in the middle, on top of all of the pea shoots (garlic at bottom of hot wok may burn.) Keep adding more of the pea shoots as the ones on the bottom begin wilting.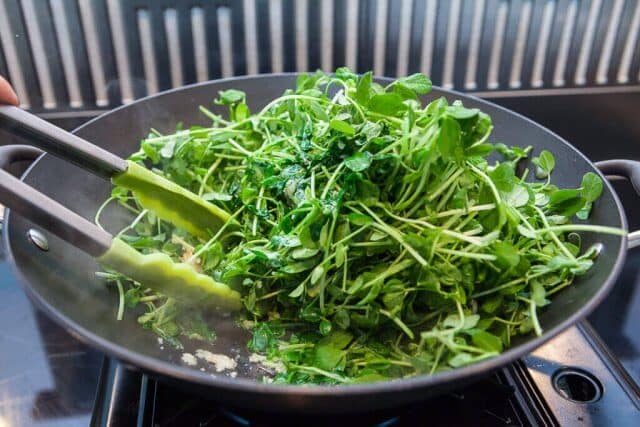 Season with salt and sugar.
See how the pea shoots are just barely cooked? Everything has wilted down, but the shoots are still a little crunchy and bright green. It's perfect! Turn off heat, add in the sesame oil and cooking wine (optional.)
Stir. Done.
There's not much more to it than that!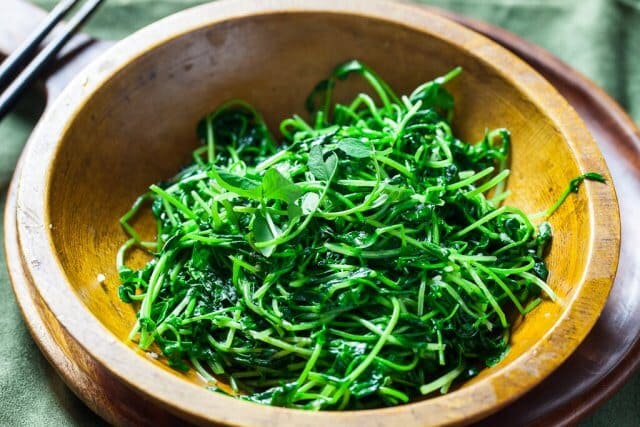 Chinese Stir Fried Pea Shoots Recipe
The key to this dish is not to let the pea shoots overcook. Once the shoots begin to wilt, it is almost done! The beauty of this dish is the limited ingredients - let the delicate pea shoots flavor be the star.
Ingredients
1

pound

pea shoots

2

cloves

garlic, finely minced

1/4

teaspoon

sugar

1/2

teaspoon

salt

1

tablespoon

Chinese rice wine (or dry sherry) - optional

1/2

teaspoon

roasted sesame oil

Neutral flavored cooking oil (like canola or vegetable oil)
Instructions
In a wok or large saute pan, add in the garlic. Pour in about 1 1/2 tablespoons of the cooking oil. Turn heat to medium-low and let the garlic heat up slowly, infusing its flavor and fragrance into the cooking oil. Take care not to let the garlic burn - control the heat so that the oil is slightly shimmering and aromatic.

Turn the heat to high. Add in the pea shoots, you'll probably have to add them in a couple of batches. Quickly, use your tongs to turn over the pea shoots around in the fragrant oil. Get that garlicky oil all over the shoots!

Add in the sugar and the salt. Again, use your tongs to flip, stir, turn the pea shoots. Within a minute or so, the shoots will begin wilting and cooking. Once the shoots begin wilting, the dish is almost done. Don't overcook the delicate shoots. Turn off the heat, pour in the cooking wine and the sesame oil. Toss and serve.