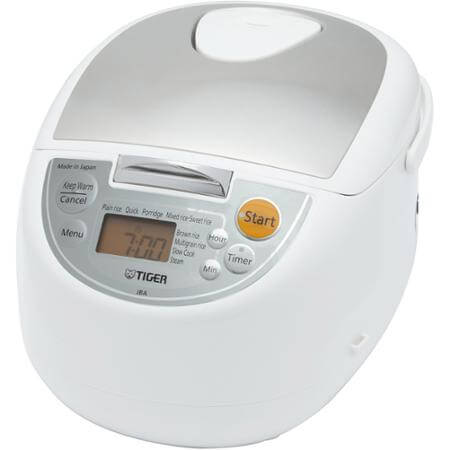 Tiger provided the product for the giveaway.
Tiger JBA-T10U Rice Cooker Review
My Mom is the ultimate tester for this Tiger rice cooker – she cooks rice at least three times a week! Her current rice cooker is nearly 10 years old, so I let her take this one for a spin. Will the Tiger JBA-T10U Rice Cooker pass the Asian mom test?
The cooker is the perfect size for 2-6 people. It's small enough to store in your pantry, yet has the capacity to cook 5 1/2 cups of raw rice. Asian rice cookers are designed very similarly, with a handle for carrying/moving the cooker around, a capsule-shape body and a one-button push for opening lid. American-style rice cookers are more "pot-like", requiring you to lift the lid off and finding a place to put the lid, which is dripping with moisture. Tiger's one-button open keeps the lid attached, and any liquid condensation drips back in, keeping your counters clean.
This rice cooker is computer-controlled, with their Automatic Cooking Logic™, which keeps track of weight, moisture and temperature, so that your rice is never burnt, and always perfectly cooked.
We love the thick inner pot, it's sturdy and keeps the rice cooking evenly.
There are lots of other features too, with 9 preset cooking methods, including slow cooking, steaming, brown rice and multi-grain rice. My Mom was especially excited about the slow cooking capabilities. The pot size is perfect for slow-cooking a meal or soup.
She also tried steaming in the rice cooker, using the steamer insert. It worked just fine, but she wishes that the steamer insert had a little handle, or a notch so that it was easier to lift off and out of the inner pot without burning her fingers, The steamer insert fit very snugly, and there is no good way to lift the pot off.
Like all Asian rice cookers, the Tiger JBA-T10U comes with a rice paddle and a measuring cup. Take note that Asian rice measuring cups are NOT the same as a standard measuring cup. 1 cup of raw rice using the provided cup is about equal to 3/4 cup. Or, you could ditch the cup altogether and use the "finger-method" of measuring rice/water.
Mom's verdict? She loves this rice cooker and gives her "Asian Mom Seal of Approval" 🙂
I've always been a big fan of Tiger products. Tiger is known for their very high quality small appliances made in Japan. Our family has used Tiger products for as long as I can remember – we used to have their Hot Water Heater on our counters for hot tea during the winters. If you like Shabu-Shabu or Chinese hot pot meals, check out their electric pans. We use one similarly designed (but not Tiger brand) for our family hot pots.
Walmart sells the Tiger JBA-T10U for $149.99 – which is a killer price for an Asian style rice cooker with all these functions that's made in Japan! ~Jaden
Tiger JBA-T10U Rice Cooker
The TIGER JBA-T "Soft Touch button" controlled Rice Cooker/ Warmer/ Steamer/ Slow Cooker incorporates the latest in cooking technology, therefore taking the guesswork out of rice preparation. With a press of a button, Tiger's Automatic Cooking Logic™ system actively monitors cooking temperatures and senses when cooking is complete. The cooker then switches to "Keep Warm" mode to keep the rice moist and flavorful until served. Tiger has added a great new feature which allows you to produce soups, stews and other meals using the slow cook function.
 Features:
Thick inner pot (1.4mm)
9 computerized cooking menus including slowcook and brown rice settings
2 preset cooking timers
Detachable steam cap for easy cleaning
Detachable inner lid for easy cleaning
Stainless steel design
Steam basket included
About Tiger
Japan Tiger Corporation USA in Torrance, CA, is a division of Tiger Corporation based in Osaka, Japan. Since Tiger Corporation was founded in 1923, we have continued to deliver accessible household products for daily living. It all started with glass vacuum bottles and went on to expand to rice cookers, stainless steel beverage containers, electric water heaters, and other cooking appliances. Since 1923, with the strength of our vacuum insulation technology and other creative products we introduced, we have been able to deliver convenience and comfort to our customers in a variety of every day scenarios.
In 2012, Tiger Corporation formulated our new Corporate Beliefs. Our mission statement is "We will continue to create new every day essentials for the dining experience with ideas that produce warmth." With this we aim to become a company that will continue to grow for hundreds of years. As globalization of the company has progressed, we have established sales bases in Shanghai, Hong Kong, Taiwan, Vietnam and the U.S.A.
The vacuum bottle, which is the origin on which this company was founded, is a product that not only functions to keep drinks warm; it plays the role of a magic tool that warms the hearts of those who drink from it. Even though the times may change, our resolve remains the same. Tiger Corporation will always continue to help put smiles on peoples' faces so they can share their smiles with others, which will help people create happy and comfortable lifestyles. We hope you continue to enjoy life with Tiger products and we look forward to your continued support in the future.
Enter the Tiger JBA-T10U Rice Cooker Giveaway
Giving away (1) Tiger JBA-T10U Rice Cooker